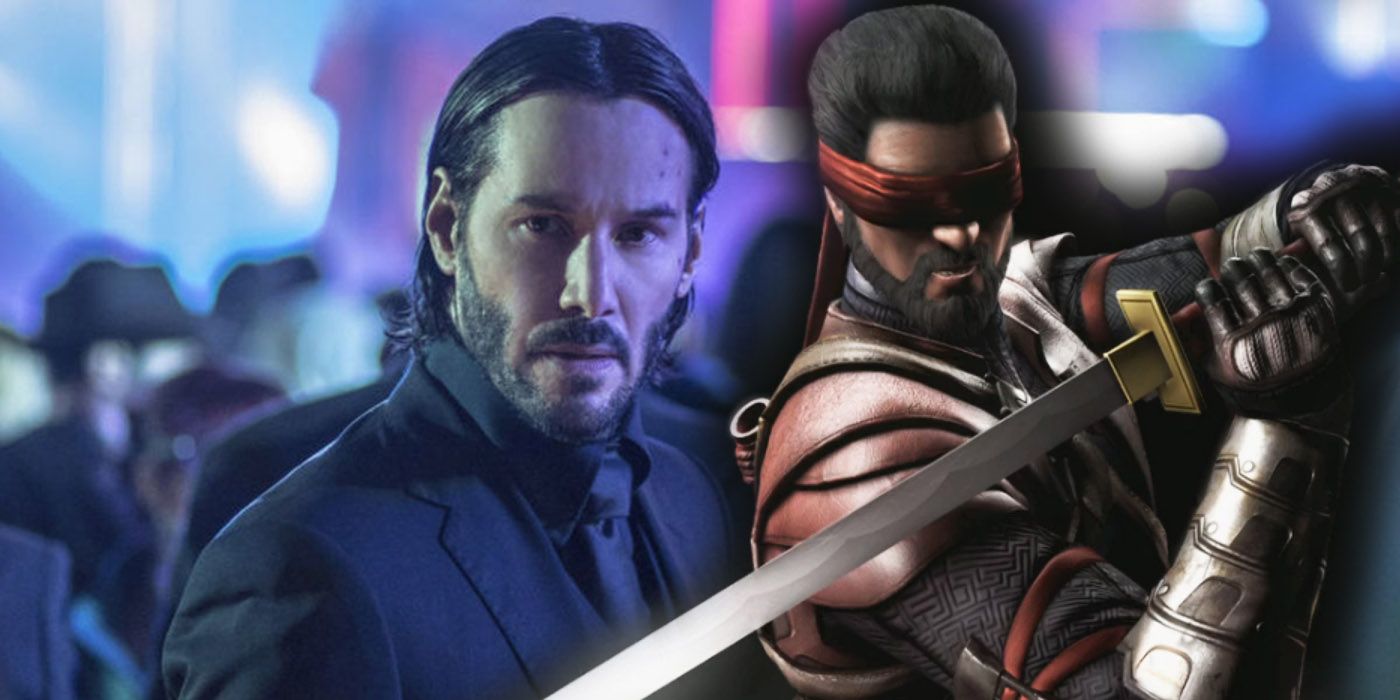 New Mortal Kombat 11 fan art imagines Keanu Reeves as Kenshi. There has been a recent string of Mortal Kombat-inspired fan art lately, likely in response to the upcoming eleventh entry in the Mortal Kombat video game series.
Unlike Jax, Johnny Cage, Scorpion, and the rest of the original Mortal Kombat characters, Kenshi was a relatively late addition to the series. Still, the rogue swordsman has become a staple of Mortal Kombat canon since he joined in 2002's Mortal Kombat: Deadly Alliance. Kenshi popped up in the second season of the Mortal Kombat: Legacy web series – played by actor Dan Southworth – but some new fan art suggests that it could be time someone with a little more Hollywood experience takes over the role.
Related: Every Mortal Kombat 11 Character Confirmed So Far
Posting on Twitter, the artist known as BossLogic shared his version of Reeves as Kenshi. The skilled swordsman was permanently blinded by a great sword that contained the power of magically trapped souls, and BossLogic's drawing is spot on capturing Kenshi's likeness, which should be enough for players to imagine a world where Reeves might pick up the sword himself. The hashtag in his tweet – "#NotABirdBoxChallenge" – refers to the recent success of Netflix's Sandra Bullock-led film Bird Box, which shares a visual likeness to Kenshi's affliction.
BossLogic is on a run of Mortal Kombat-related content after the announcement that Ronda Rousey will be playing Sonya Blade in the upcoming game. Apart from Reeves as Kenshi, he also released artwork that imagined Terry Crews as Jackson "Jax" Briggs. Both Crews and Mortal Kombat 11 director Ed Boon responded to the post; Crews was enthusiastic about playing the character, while Boon neither confirmed nor denied Jax's presence in the new game.
The current roster of characters for Mortal Kombat 11 includes the likes of Blade, Scorpion, Raiden, and Sub-Zero, but whether Kenshi is even in the game remains to be seen. There are also rumors that Reptile and a comic book legend in the form of Todd McFarlane's Spawn might also appear. That being said, Kenshi also has ties to Shao Khan, who is already confirmed to be the game's first DLC for Mortal Kombat 11. With Reeves' plate full with movies including John Wick: Chapter 3 – Parabellum and Toy Story 4, it might be a bit of a stretch for him to join Mortal Kombat 11. Still, stranger things have happened. As with Crews' fan casting as Jax, it would be interesting to see Reeves star in that long-awaited live-action reboot of Mortal Kombat. Fans can dream.
Source: BossLogic