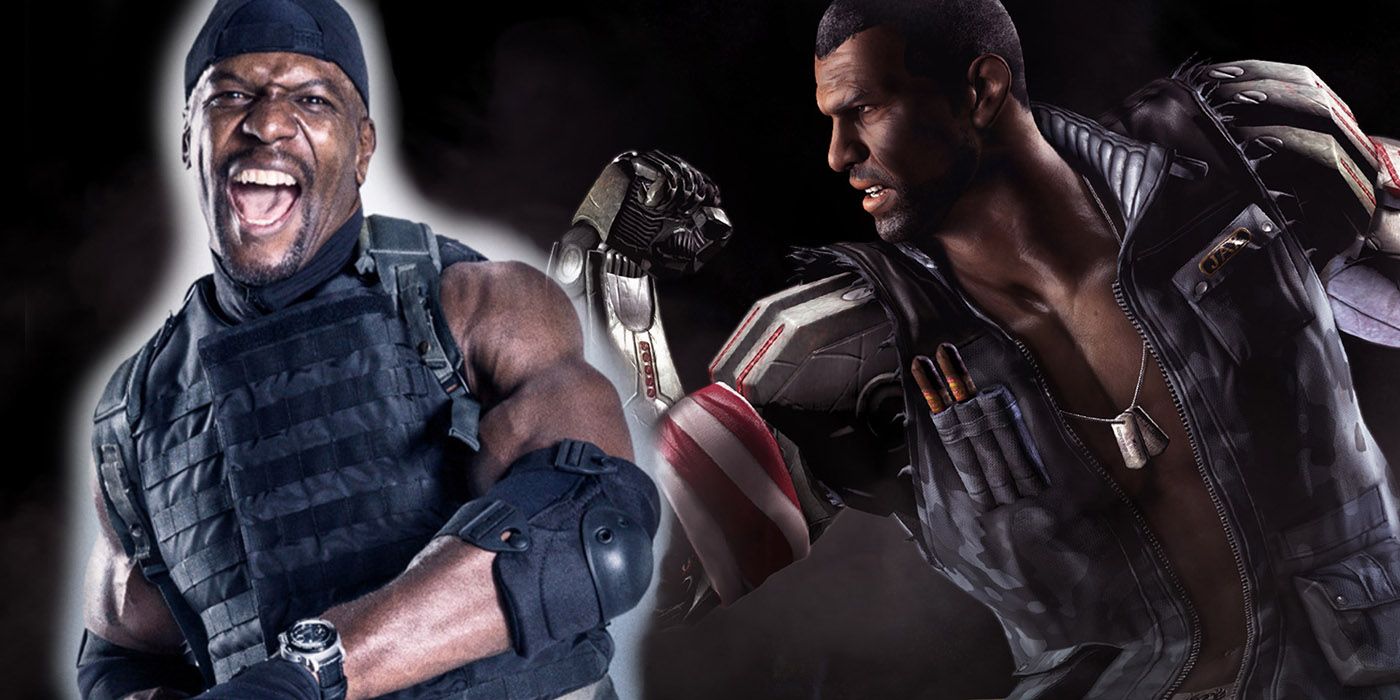 A piece of fan art depicting Terry Crews as Jax in the Mortal Kombat series has caught the attention of Mortal Kombat 11 director Ed Boon and Crews himself. After WWE Raw champion Ronda Rousey was announced to voice Sonya Blade for the upcoming game, could Crews be the latest big name to join the long-running gaming franchise?
Debuting in 1993's Motal Kombat II, Jackson "Jax" Briggs has become a firm favorite of the fighting series. Starting his arc as a US Special Forces officer and Sonya Blade's superior, Jax evolved into a big part of the franchise's canon. Away from the games, Jax had a cameo in the 1995 Mortal Kombat movie and was recast with American Gladiators' Lynn "Red" Williams for a larger role in 1997's  Mortal Kombat: Annihilation. Now, he's being unofficially portrayed by yet another actor.
Related: Every Mortal Kombat 11 Character Confirmed So Far
When fan artist BossLogic shared his interpretation of Crews as Jax on Instagram, it didn't take long for the post to gather traction online. Featuring Jax's signature cybernetic arm and war-torn body, BossLogic made Crews look like he was made for the part. Highlighting Jax's impressive physique, it's easy to imagine Crews in the role if there was ever a need for a live-action version of Jax. Crews retweeted the photo with the caption, "I WOULD LOVE TO DO THIS!!!," while Boon followed suit, but played coy on whether Jax would even be in Mortal Kombat 11, saying, "Um… IF Jax is in Mortal Kombat 11 #DontSayJaxConfirmed."
With Rousey's casting as Blade, it makes sense that Jax also has a part to play. That being said, the current roster of Mortal Kombat players don't include the leader of the Outerworld Investigation Agency. Crews definitely has the muscles to play Jax in either video game or live-action form, and aside from his comedic turn as Sergeant Terry Jeffords in Brooklyn Nine-Nine, Crews has starred in action movies like Deadpool 2 and the Expendables series.
Although there's no news on the long-awaited live-action reboot of Mortal Kombat, Warner Bros. is reportedly working on an animated version that would also be a likely outing for someone new to play Jax. Boon's cryptic response doesn't reveal who will play Jax – or if he's even a part of Mortal Kombat 11 – but, that being said, if the brutal brawler needs someone to pick up the mantle, at least Crews seems ready to step up to the plate.
Source: BossLogic, Terry Crews, Ed Boon