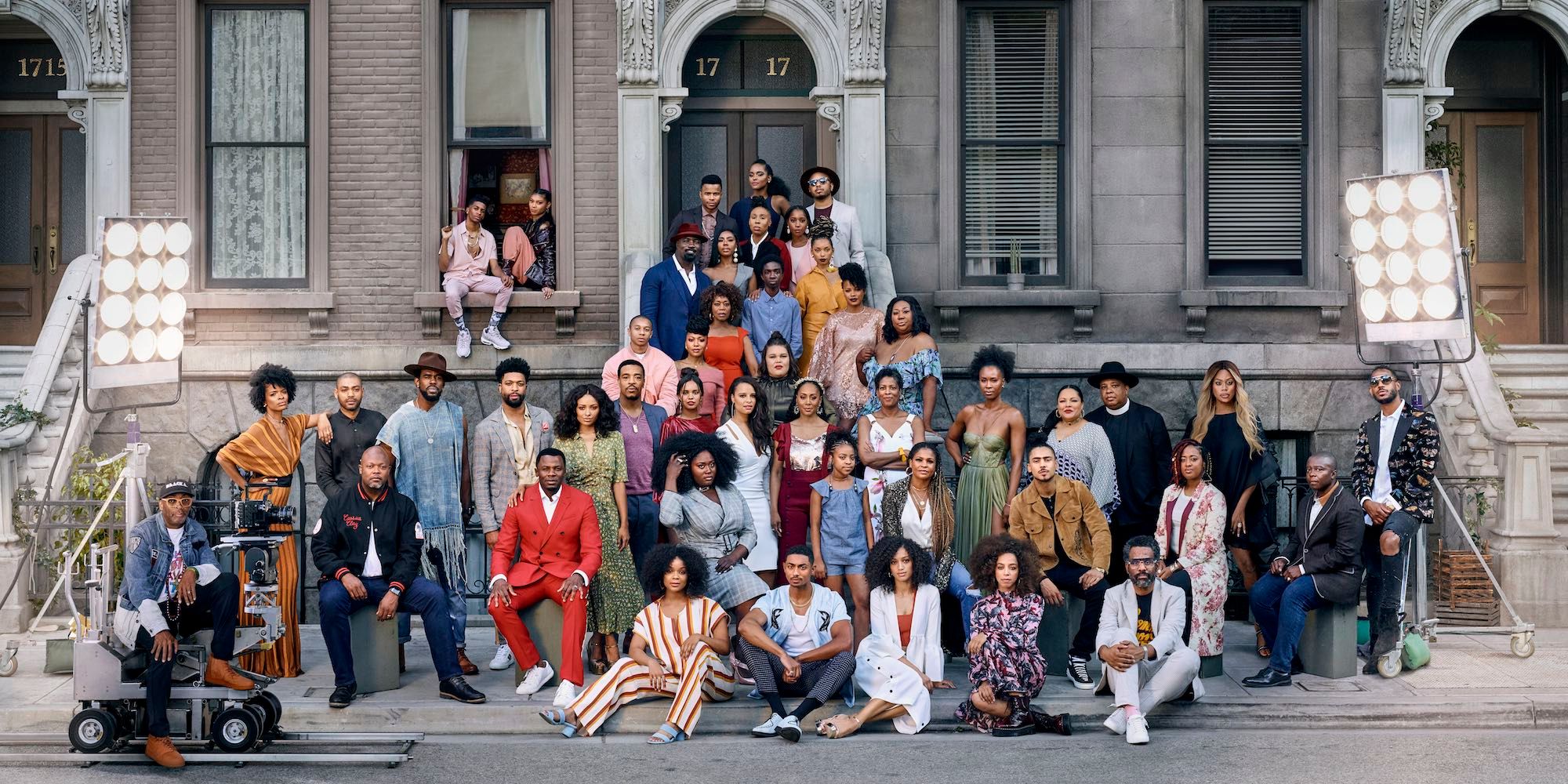 A new TV spot debuted in the middle of last night's BET Awards, showcasing Netflix's black creators, whose accumulated work in television and film has thrived on the streaming platform. Under the title "A Great Day in Hollywood," the spot included a total of 47 individual creators and actors, including Luke Cage's Mike Colter, Primetime Emmy-winning actress and filmmaker Lena Waithe, Spike Lee, and Stranger Things' young star Caleb McLaughlin, who also narrates the video.
Conceived and created by Strong Black Lead, an initiative led by a group of black employees and executives working for Netflix that formed over the past year, "A Great Day in Hollywood" was originally drawn from photographer Art Kane's "A Great Day in Harlem." This portrait, taken in the late 1950s, presented 57 jazz musicians who gathered together for posterity in front of 17 East 126th Street, the same exact address and building serving as the backdrop for Strong Black Lead's referential homage.
The historic photograph has been previously paid homage on several occasions, with this newest example directed by Lacey Duke, the award-winning black filmmaker who shot the official video for Janelle Monáe's "I Like That" back in April. Unlike the photograph that inspired it, the "A Great Day in Hollywood" video has the added context of McLaughlin's narration, whose recitation confirms that, "…This is not a moment; this is a movement. We are strong black leads. Today is a great day in Hollywood." Watch the spot above and see the new image below.
The timing for this new video statement is unusually apt in light of Netflix's recent termination of Jonathan Friedland. The former PR executive reportedly made "insensitive remarks" during business meetings, with sources stating that he had used the N-word on two occasions, as reported by THR. Netflix's CEO Reed Hastings promptly dismissed Friedland on June 22, which was two days prior to the debut of Strong Black Lead's video spot.
Logically speaking, there's no realistic way that the video could have emerged as a coordinated response to Friedland's dismissal, considering the timeline. Strong Black Lead conceived the project months ago, but its airing during the BET Awards on Sunday remains as a profound conclusion to the events that preceded it.
Netflix recently debuted the full second season of Luke Cage on June 21. On that same day, Justin Simeon's Netflix series Dear White People was confirmed for renewal, with an upcoming third season set to arrive at an undisclosed date.
Source: Strong Black Lead/YouTube, THR
The post Netflix Airs Strong Black Lead Spot Featuring Luke Cage Stars & More appeared first on ScreenRant