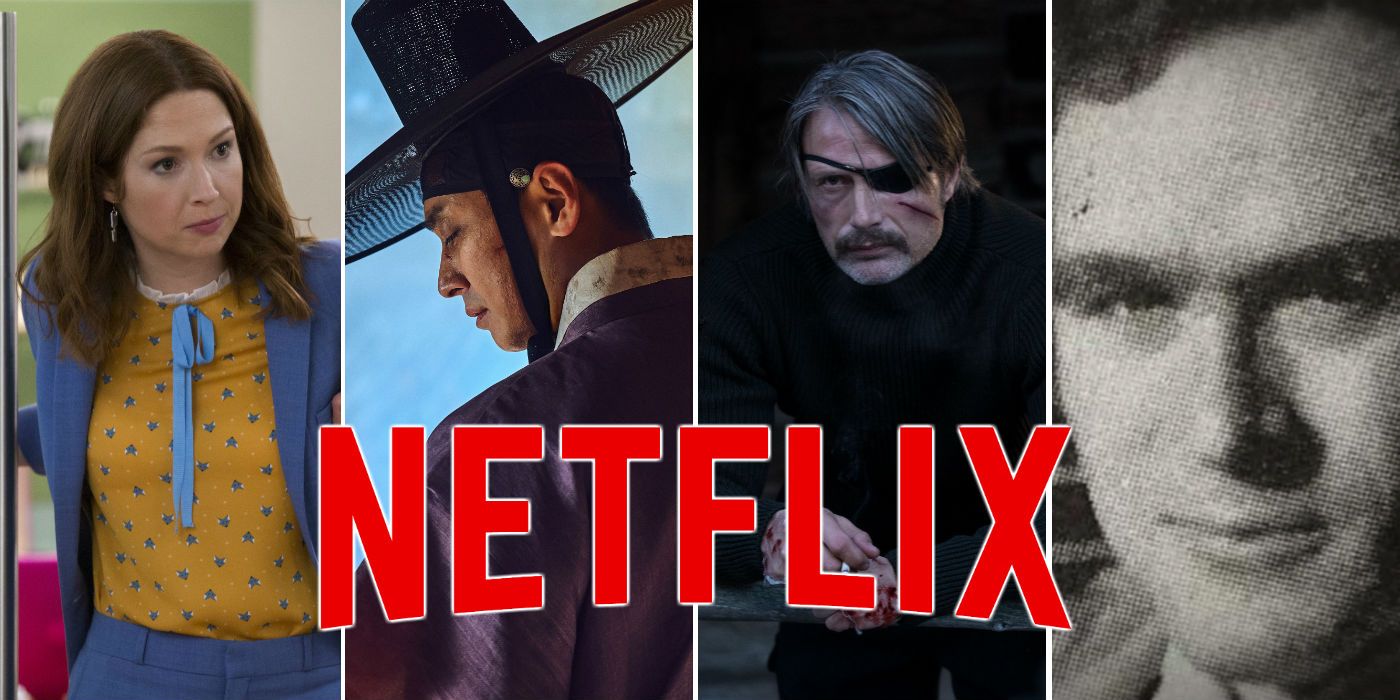 Whether you're in the mood for a Mads Mikkelsen-led thriller or just some light-hearted absurdist comedy, there are some great new TV shows and movies to watch on Netflix this weekend. Jon Bernthal, who last week returned as violent vigilante Frank Castle in season 2 of The Punisher, this week guest-stars in the new episodes of Unbreakable Kimmy Schmidt. Meanwhile, Michaela Coel, who appeared in the Black Mirror episode "USS Callister," leads her own series in British legal drama Black Earth Rising.
Last week's new Netflix releases included the much talked-about documentary Fyre, which takes a look behind the scenes of a notorious failed music festival. There was also IO, a sci-fi drama with Anthony Mackie and Margaret Qualley, set on a post-apocalyptic Earth, and action thriller Close, led by Noomi Rapace.
Related: Netflix Original TV Shows To Be Most Excited About In 2019
If you're seeking a quiet weekend of binge-watching, here are the best new movies and TV shows on Netflix as of January 25.
Polar
Netflix Original action thriller Polar stars Mads Mikkelsen as an assassin called The Black Kaiser, and is based on Victor Santos' graphic novel Polar: Came From the Cold. The premise has shades of John Wick, as Mikkelsen's character has retired from the business of killing people, but is ultimately forced back into it when hired killers start coming after him. He even has a pet dog!
The Black Kaiser's non-assassin name is Duncan Vizla, and he's trying to lead a quiet life in snowy Montana, bonding with a neighbor played by Vanessa Hudgens. Unfortunately, a lifetime of killing means that he has millions to his name, and in the event of his death those millions return to the organization he used to work for. As a league of assassins try to take him down, it soon becomes apparent that they've bitten off more than they can chew.
Unbreakable Kimmy Schmidt Season 4, Part 2
The latest season of Netflix Original comedy series Unbreakable Kimmy Schmidt was split into two halves, and now the last six episodes of the show have been released. In the latter half of the season, Titus deals with the dilemma of whether or not to come forward about being sexually harassed by prominent puppet Mr. Frumpus, while Kimmy continues her quest to get her children's book into bookstores by, well, sneaking around in bookstores and putting the book on shelves. Another of the new episodes explores a Sliding Doors-esque alternate reality, where Kimmy never get in Reverend Richard Wayne Gary Wayne's kidnapping van, and Titus never made it to his audition for The Lion King.
Black Earth Rising
Netflix Original drama series Black Earth Rising was a co-production with BBC Two and aired on TV in the UK last year. Michaela Coel plays Kate Ashby, a Rwandan-born legal investigator working in London at the legal chambers of US-born barrister Michael Ennis (played by John Goodman). Kate is a survivor of the 1994 Rwandan genocide, during which extremists murdered 800,000 people in just 100 days, in an effort to exterminate the Tutsi community in Rwanda. As an adult, Kate begins working on a case to prosecute international war crimes, and finds herself in danger and facing a familiar brand of evil. Black Earth Rising was written and directed by Hugo Blick, who previously created the Golden Globe-winning spy thriller miniseries The Honourable Woman.
Conversations with A Killer: The Ted Bundy Tapes
In the 1970s, serial killer Ted Bundy killed more than 30 women and girls across the United States. He was eventually executed for his crimes in 1989, but not before taking part in a series of interviews that have been collected for the first time in Netflix Original docuseries Conversations with A Killer: The Ted Bundy Tapes. Directed and produced by Joe Berlinger, whose previous crime documentary series include Unspeakable Crime: The Killing of Jessica Chambers and Cold Blooded: The Clutter Family Murders, The Ted Bundy Tapes takes a look at the psychology of a serial killer and the media circus surrounding his trial, including the women who saw him as an extremely unlikely sex symbol, sending him hundreds of love letters when he was in prison.
Kingdom
Not to be confused with The Last Kingdom, Netflix Original Kingdom is a zombie thriller series set in medieval Korea and based on the webcomic The Kingdom of the God. When the king rises again after his death, a mysterious plague spreads across the kingdom that brings the dead back to life with a hunger for flesh. The Crown Prince (played by Ju Ji-hoon) falls prey to an evil conspiracy and embarks on a mission to expose the conspiracy and figure out what is happening to his people… before it's too late.