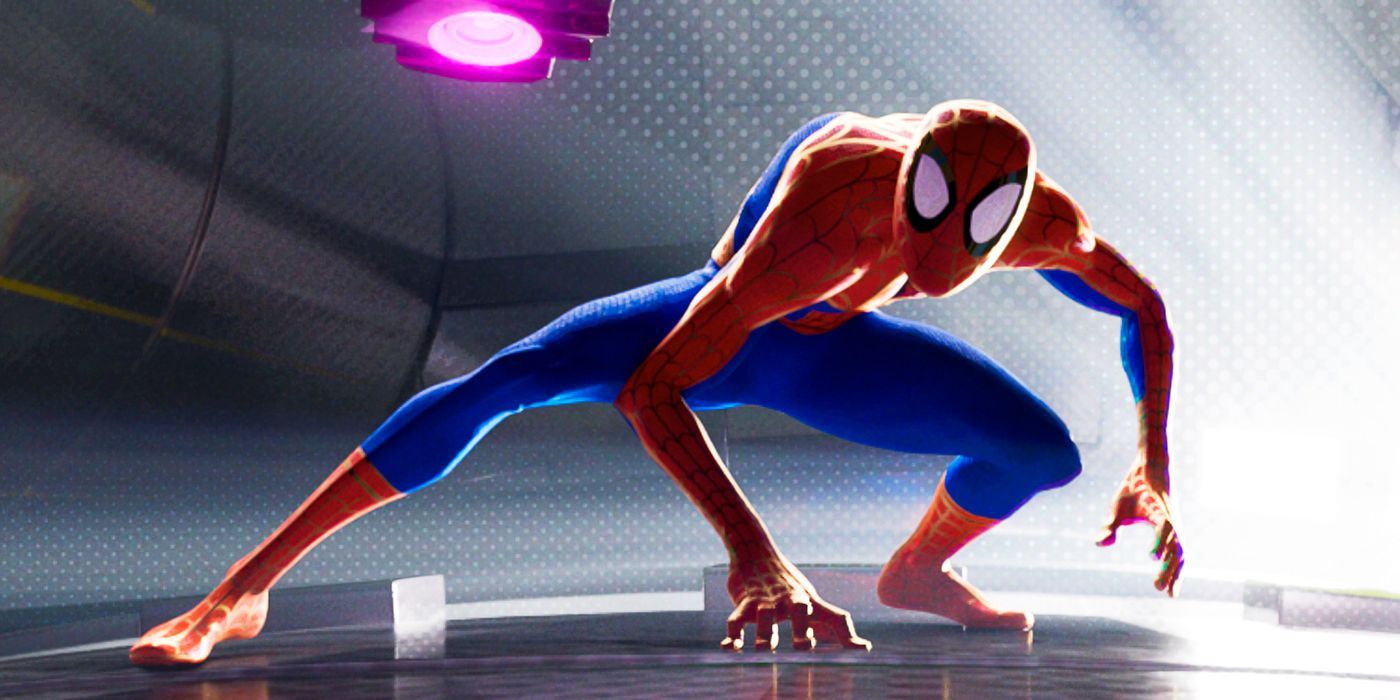 A new image from Sony's upcoming Spider-Man: Into the Spider-Verse animated film features Peter Parker's Spider-Man. Seeing Peter Parker in a Spider-Man movie may not seem that special; however, Into the Spider-Verse will center around several different versions of Spider-Man, including Miles Morales, Spider-Gwen, and Spider-Ham. Spider-Man has always been a fan favorite hero ever since Stan Lee, Steve Ditko, and Jack Kirby created the character back in 1962.
Spider-Man has been at the center of hundreds of comic books, as well as multiple TV shows, video games, and movies. Some of Spider-Man's first big movies were Sam Raimi's Spider-Man trilogy starring Tobey Maguire, which brought Sony and Columbia Pictures a lot of money. At one point, the first Spider-Man in 2002 held the record for Sony's highest grossing film, until Jumanji: Welcome to the Jungle took its place. In more recent years, Andrew Garfield played the famous web-slinger in The Amazing Spider-Man and The Amazing Spider-Man 2, but unfortunately, the third film was canceled. Tom Holland would then become Peter Parker for the Marvel Cinematic Universe, first appearing in Captain America: Civil War. While these three versions strongly focus on Peter Parker, Into the Spider-Verse seems to more be about Miles Morales teaming up with different versions of Spider-Man, one of which just happens to be Parker.
Related: Stan Lee Will No Longer Attend Public or Convention Signings
Sony Pictures Animation recently gave EW an exclusive photo from their upcoming animated Spider-Man film. Peter Parker's Spider-Man can be seen in this still in one of his famous Spidey poses as a person in glowing boots runs towards him. It's unknown who the person is, but given Spider-Man's defensive stance, it's fair to assume the person is an enemy. The full image can be seen below.
Many versions of Spider-Man have been confirmed for the film besides the ones previously mentioned. In addition to Miles Morales, Spider-Gwen and Spider-Ham, Peni Parker and Spider-Man Noir have also been confirmed with several more likely to appear in the movie. There have been many animated Spider-Man shows and movies; however, not very many of these incarnations make it to the big screen.
Spider-Man: Into the Spider-Verse will not only be different than previous Spider-Man films, but it will introduce audiences to many characters that most people have probably never heard of. While Peter Parker is currently dead in the MCU, Holland has already been confirmed to return for Spider-Man: Far From Home. Many people love Holland in the role of Peter Parker, however it will be pretty refreshing to see a Spidey flick that doesn't completely center around the character.
Source: EW