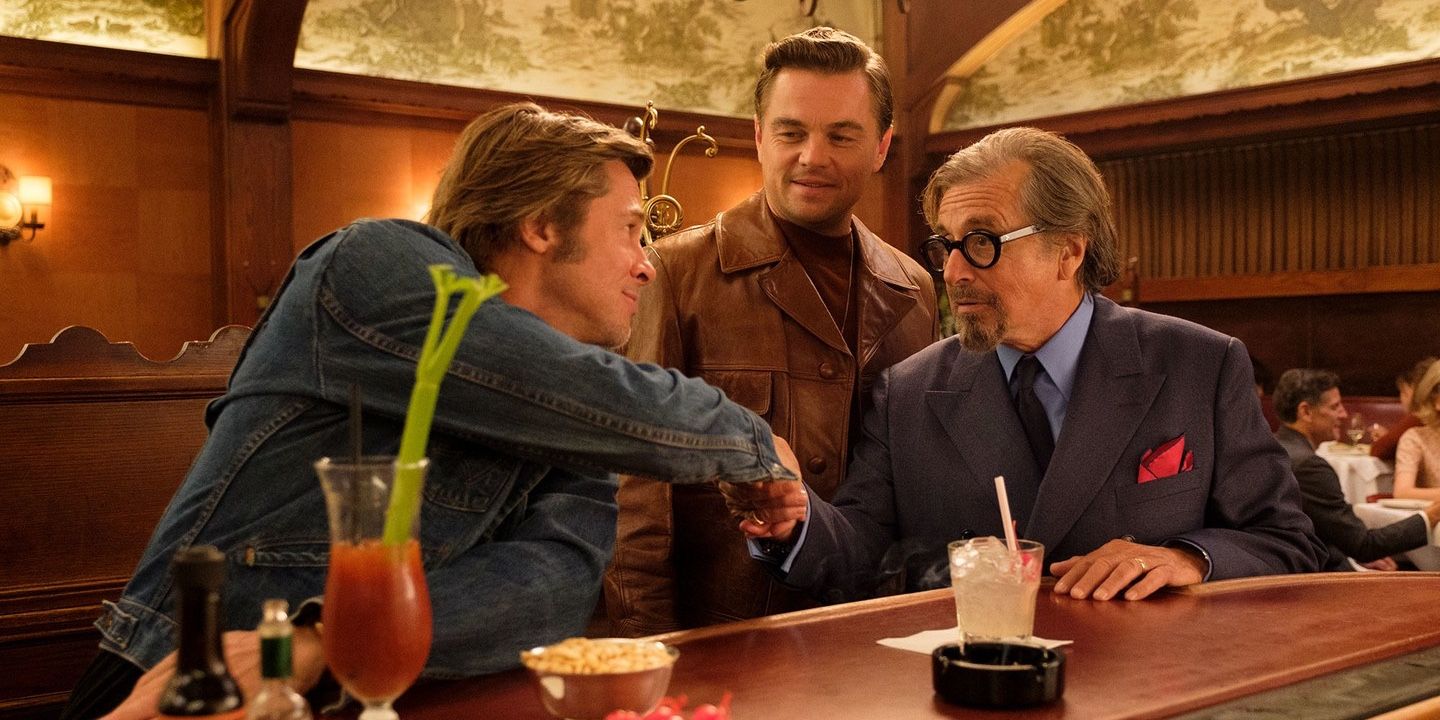 New images from Quentin Tarantino's Once Upon a Time in Hollywood spotlight the film's star-studded cast, including Al Pacino and Leonardo DiCaprio. One of the most anticipated titles of the year, Tarantino is returning to his old playground of Los Angeles for this period piece, which teleports viewers back to 1969. Described as having a Pulp Fiction vibe, Once Upon a Time in Hollywood follows aging TV star Rick Dalton (DiCaprio) and his stunt man Cliff Booth (Brad Pitt) as they attempt to adjust to the ever-evolving times in the industry. The infamous Charles Manson murders will factor in as well, evidenced by Margot Robbie's turn as Sharon Tate.
Given Tarantino's pedigree and his penchant for crafting highly entertaining characters, he unsurprisingly recruited an outstanding A-list ensemble to bring this story to life. The cast is a who's who of Oscar winners, Academy Award nominees, and esteemed character actors (though, sadly, Samuel L. Jackson is nowhere to be found here) and now Tarantino fans can get a look at just some of the famous faces in a new batch of images.
Related: Once Upon a Time in Hollywood Cast List
Vanity Fair unveiled the gallery, which primarily focuses on DiCaprio, Pitt, and Robbie. It's in these pictures viewers get their first official look at Pacino in the film. For his first collaboration with Tarantino, the legend portrays agent Marvin Schwarzs. Take a look at the photos in the space below:
These photos may not reveal much in terms of Once Upon a Time in Hollywood plot details, but it's still fun for viewers to get a new look at the film. The biggest takeaway is that Tarantino has once again faithfully recreated a historical period, going the extra mile to make his 1969 feel as authentic as possible. DiCaprio's Dalton (presumably) singing and dancing on a program called Hullabaloo looks like it was taken straight from this era, suggesting the production design and costumes will be top notch. In addition to scripting memorable dialogue, Tarantino has always thrived at drawing audiences into his sandbox by crafting standout locations and environments (see: Jack Rabbit Slims in Pulp Fiction). Based on the pictures, Once Upon a Time in Hollywood should wow moviegoers with its impressive scope to complement all of the usual Tarantino sensibilities audiences expect.
Distributor Sony certainly feels like the project is a winner, opting to release it in the thick of the summer movie season. Obviously, Once Upon a Time in Hollywood is going for a different target demographic than something like The Lion King or Spider-Man: Far From Home, but the fact the studio's releasing it in July speaks to the confidence they have in it being something special. After all, the last time a Tarantino movie came out at the end of summer, it was 2009's Inglourious Basterds and that became one of the most acclaimed offerings of the auteur's career. Surely, Sony is hoping Once Upon a Time in Hollywood can deliver similar results.
Source: Vanity Fair