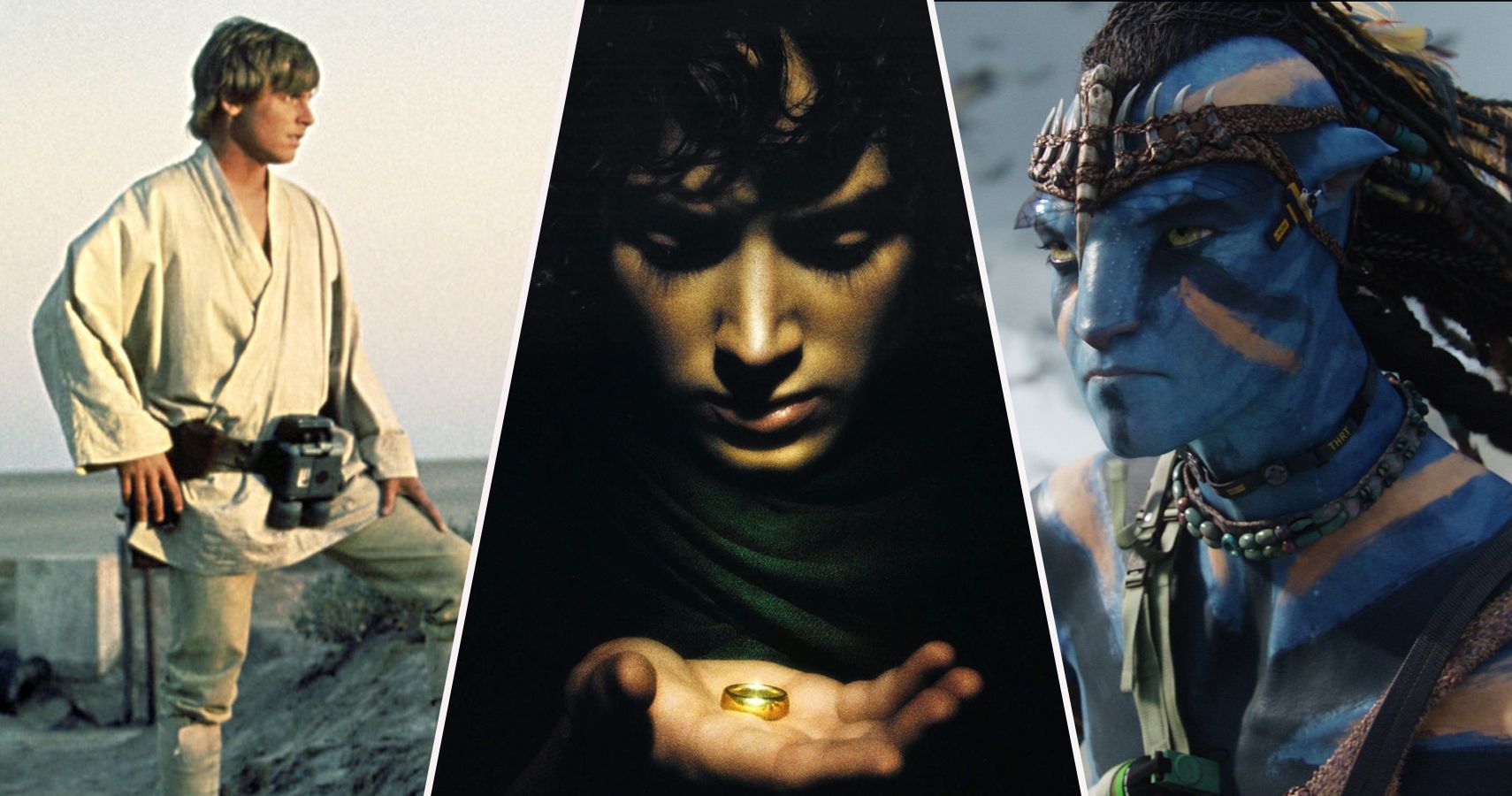 The Academy Awards mean different things to different people. For some movie fans, it's the biggest night of the year, the Super Bowl for worthy movies. For others, it's a night of self-congratulation and advertisements. While the latter group seems way less fun to be around, both sides have their points and, ultimately, the Oscars are just a fun show that means whatever you want them to mean. What isn't up for debate, however, is the fact that when a movie is nominated for the biggest prize — Best Picture — it gets a lot of attention that it may not have received otherwise. Some of these movies, on the heel of their Best Picture nominations, become instant classics that stand the test of time and become beloved by millions. For others, they get a temporary popularity boost but end up being forgotten by most.
RELATED: Oscars: How To Watch The 2019 Best Picture Nominees
So, in the spirit of Oscar season, we've combed through all the Best Picture nominees and found five Best Picture nominees that everyone remembers and loves, along with five that, for whatever reason, have slipped through the cracks.
9

Stood The Test Of Time: Gladiator

Are you not entertained? Audiences certainly were in May of 2000 when Gladiator was released and became not only a smash hit blockbuster, but also a well-received film by critics. The Russell Crowe and Joaquin Phoenix starring, Roman-empire set action flick captivated audiences with its brutal action sequences and incredible acting, and went on to be nominated for twelve Academy Awards, winning five. Some of its wins included Best Actor in a Leading Role for Russell Crowe and Best Picture for the film's producers. Surprisingly, the film didn't win Best Director for its craftsman auteur helmer Ridley Scott.

RELATED: Ridley Scott is Developing Gladiator 2 With Top Gun 2 Writer

Maybe it's because it was a hit aside from its Oscar nominations, but Gladiator is still fondly remembered today. In fact, Gladiator is so well-regarded that, even nineteen years later, a sequel is seriously being considered. Will Gladiator 2 win the big prize at the Oscars as well? We'll have to wait and see, if and when it comes to theaters.
8

Hasn't Stood The Test Of Time: Crash

While many Oscar films last at least a few years before the tide turns, 2005's Crash was controversial even at the time of its nominated status. Though it won Best Picture along with a couple of other Oscars, Crash was widely seen as an inferior nominee, with many hoping Ang Lee's Brokeback Mountain would take the top prize. It might seem like we're being harsh on Crash, but even the social drama's writer-director Paul Haggis has stated his confusion with the film winning Best Picture, stating "Was it the best film of the year? I don't think so… Is it a great film? I don't know." While Haggis is ultimately proud of the film, it's telling when even the filmmaker isn't sure his film deserved its awards.
7

Stood The Test Of Time: The Lord of the Rings (Trilogy)

Though the prequel Hobbit series wasn't nearly as well received, the original Lord of the Rings trilogy has not only held up but it seems to have only gained respect with time. Obviously, fans of the original Tolkien books were satisfied, but Lord of the Rings appealed to nearly everyone, with each film in the trilogy grossing more than the previous outing, a rare feat for any franchise. But the franchise wasn't just a box office smash. Over the course of the three films, the Peter Jackson directed fantasy films were nominated for thirty Academy Awards. Even more surprising? The franchise won over half of the Oscars for which it was nominated.

All three films were nominated for Best Picture and the final film in the trilogy, Return of the King, not only won Best Picture, but it also won Best Director and the nine other Oscars for which it was nominated. That's so many Oscars! It's hard to imagine a large-scale fantasy film making as big of a splash in the Oscars today, but maybe we just haven't had a fantasy franchise as good as Lord of the Rings.
6

Hasn't Stood The Test Of Time: Extremely Loud and Incredibly Close

Usually when a film is nominated for Academy Awards, one can expect that it was at least generally well-received by critics at the time of release. In the case of director Stephe Daldry's Extremely Loud and Incredibly Close, the nominations are especially baffling, given the film actually received mixed to negative reviews. Receiving nominations for Best Picture and Best Supporting Actor for acting legend Max von Sydow, the film ultimately didn't win any Oscars, but its nominations confuse fans to this day.
5

Stood The Test Of Time: Star Wars

Star Wars was nominated for Best Picture? As strange as it may seem in an Oscars world now dominated by arthouse flicks, the original Star Wars film was nominated for ten Academy Awards, and won seven, all in technical categories. It even got an acting nomination, for Alec Guinness as Obi-Wan Kenobi.

RELATED: George Lucas Explained Why Chewbacca Didn't Get A Medal In 1977

It feels a little silly to even talk about Star Wars standing the test of time because it's so evident by the mere fact that over forty years later this franchise is still kicking. It may be more divisive than ever, but generally, people love their Star Wars.
4

Hasn't Stood The Test Of Time: American Beauty

Kevin Spacey. Those two words alone, in 2019, are a strong indication that a film hasn't aged well. Spacey starring in a film in which he lusts after a teenager is not a good look given what we know about the actor now, but even leaving aside Spacey's personal history, American Beauty went from beloved hit to mixed bag in just a few years. Even though it won five Oscars, including Best Actor for Spacey, Best Director, Best Picture, and more, by 2014, the 1999 film began to be described by some as "a farce." Even if we wanted to revisit the film to see if it's still a masterpiece, we'd feel a little weird doing so now.
3

Stood The Test Of Time: The Silence of the Lambs

It may not be quite as big of a blockbuster as some of the other entries on the list, but The Silence of the Lambs has certainly had a cultural impact. The mere mention of Hannibal Lecter's name likely sends a shiver down millions of spines. The 1991 thriller-horror film was remarkable in that it is among just a few scary movies to be seriously considered for, and win, Oscars. Nominated for seven awards, it won five, including Best Picture, Best Director, and lead acting awards for Anthony Hopkins' Hannibal Lecter and Jodie Foster's inspiring portrayal of heroine Clarice Starling.

Not only has the film remained iconic, but it's also led to several other films and a cancelled before its time television show in Bryan Fuller's NBC series Hannibal. Not everything about the film has aged well — its portrayal of certain social issues is confusing at best — but the Jonathan Demme directed film remains in viewer's minds, and nightmares. even nearly thirty years later.
2

Hasn't Stood The Test Of Time: Avatar

It was nominated for a boatload of Oscars and is still the highest grossing film of all time, but Avatar is surprisingly not a universally beloved classic. Sure, it still looks beautiful because nobody can expect James Cameron to make anything less than a visual feast, but many have noted that Avatar doesn't seem to have entered the cultural lexicon in the way that films like Star Wars are everyday topics of conversation. What do people remember about Avatar other than how cool it looked, how there was something called Unobtainium, and that there were blue people? It's possible that Avatar will return to the cultural conversation in a big way when Cameron's sequels come out in a couple of years, but for now, Avatar is best remembered as a 3D good time instead of a great film.
1

Stood The Test Of Time: Forrest Gump

I mean, come on, it's Forrest Gump. The film certainly has its detractors, but to most, the Robert Zemeckis directed, Tom Hanks film is a 20th-century fairy tale that remains timeless, heartwarming, and occasionally tragic. The film won six Academy Awards, including Best Picture, and Best Actor for Hanks' brilliantly sympathetic but never condescending portrayal of Forrest. Hanks' win is especially surprising given he had just won the year before for his role in Philadelphia. To this day, audiences of all ages love to watch Forrest's journeys throughout the world and his sad but beautiful relationship with Jenny. Besides, the film is endlessly quotable.