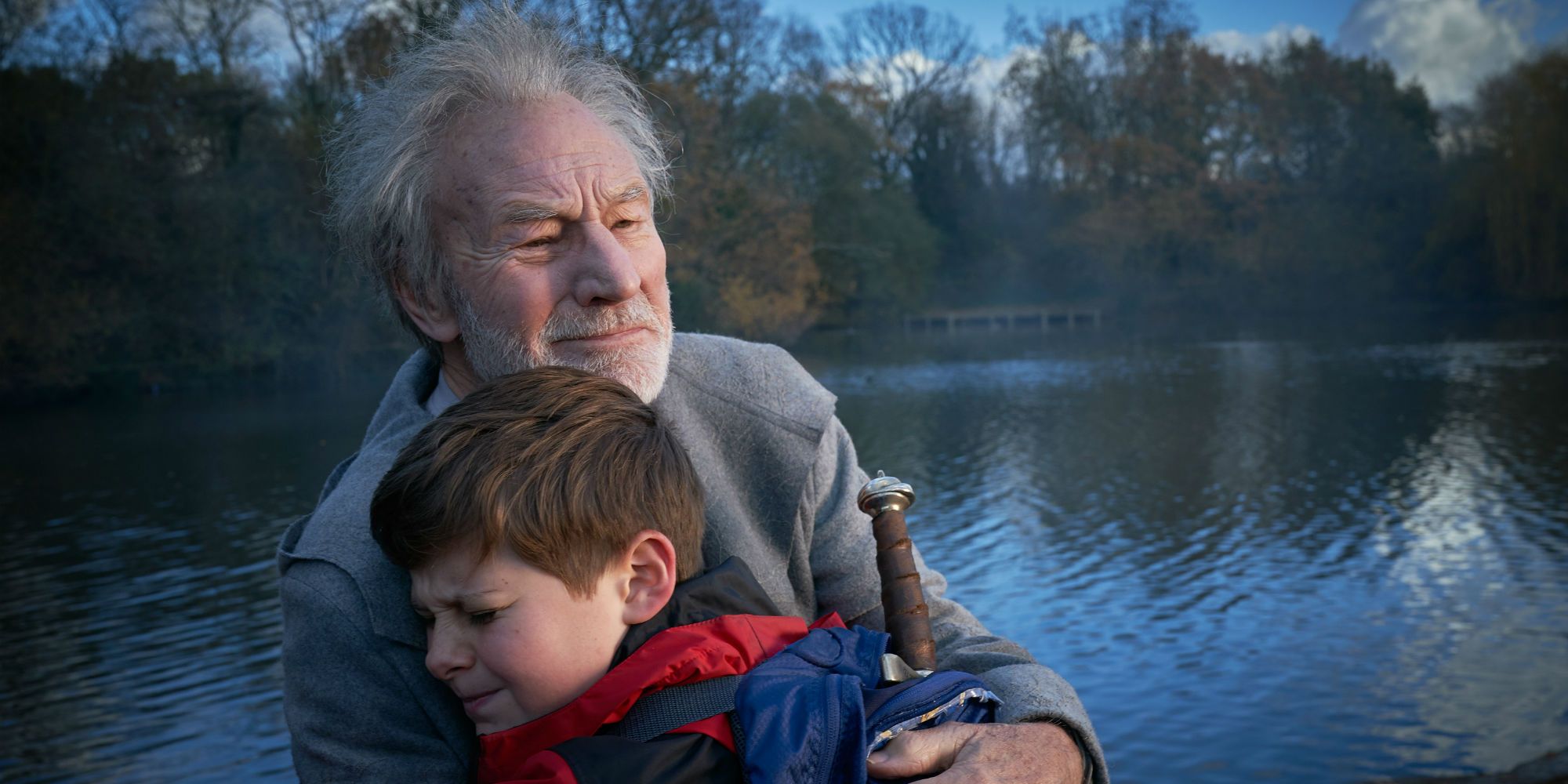 The new fantasy film, The Kid Who Would Be King, sees a young boy inherit the sword and responsibilities of King Arthur. With the help of the wizard Merlin, young Alex Elliot turns enemies into allies and embarks on a quest to take down a supernatural entity. Far from the R-rated exploits of writer/director Joe Cornish's previous film, the alien invasion horror comedy, Attack the Block, The Kid Who Would Be King revels in its status as a family friendly adventure which aims to appeal to kids and adults alike.
At a recent press day for the fantasy film, Screen Rant spoke to several of the main cast members of the film. Louis Ashbourne Serkis (son of Andy Serkis) plays the title role, a young boy with the power to wield the mighty Excalibur and perhaps one day become a great leader on the world stage; Rhianna Doris plays Kaye, one of Alex's bullies who ultimately finds herself aiding the young man on his epic journey; and the legendary Patrick Stewart plays Merlin, the wise wizard who helps the young posse focus on what's truly important during their adventure.
Related: The Kid Who Would Be King Review
The three stars talked about the impressive action of the film, the "pure genius" of Joe Cornish's writing, and what props they got to keep from the movie. Meanwhile, Patrick Stewart talks about sharing the role of Merlin with Angus Imrie (who plays the wise mentor's younger self), his outlook on life, and finally getting to play a wizard after seeing his friends play wizards in movies like Harry Potter and The Lord of the Rings.
I really like this movie. It's like King Arthur meets The Goonies. Joe Cornish has such punk rock, 1980s sensibilities. Tell me a little bit about getting into this project at the very beginning. What drew you into it?
Louis Ashbourne Serkis: What drew me into it, after I had my first audition, was when I read the script, and what pure genius it was that Joe had written. How funny and emotional it was, for me, that's what drew me into it.

Rhianna Doris: I agree with Louis, because for us, in the audition process, we didn't really know that much about the film. We just had to audition and see what would happen. So when I did finally get the script, and I read through it, the journey that all these characters go on, you just feel like you're a part of that journey when you're reading it, so it was just amazing to be part of something like that.

Patrick Stewart: I finally got a chance to be a wizard! I'd been waiting for years, and I saw my friends, Michael Gambon and Ian McKellen playing wizards in wonderful movies, and I felt left out; not anymore.
Let's talk about Merlin for a bit. You play an older version of the character, normally played by Angus Imrie, who I think is great. Do you feel like he's playing a younger version of you or are you playing an older version of him?
Patrick Stewart: No, it had to be the other way around, because the production was already shooting when I joined the movie. The way I was dressed, even the hair I had, a certain amount of mannerisms… Angus and I tried copying one another's voice, so that there would be a visible and audible connection between the two of us. You didn't say this, but just for those who don't know, Merlin is living backwards; he's getting younger, not older.
Yes, I hope you get to play father and son at some point!
Patrick Stewart: (laughs) That would be great!
You have this image of youthful energy and exuberance. You're just so famous for playing these characters who can kind of come out of nowhere and be like, "Oh my god, look what he's doing, he's dressed as a lobster on the subway!"
Patrick Stewart: It wasn't a subway, I was in a bath.
Ah, yes, yes, I don't know where my head's at; I'm starstruck! But seeing you in person, that image is true to life. What is your outlook on life, just generally speaking?
Patrick Stewart: It's about courage, and that applies to this movie very strongly. Being brave, and taking risks, and trying not to be intimidated by any kind of fear. Increasingly, it becomes what I pursue, but it also becomes easier to achieve, the older I get.
Tell me a little bit about the swashbuckling action that's in this movie. There's a lot of horseback riding and swords. Tell me a little bit about that process, and if you got to keep any props at the end.
Louis Ashbourne Serkis: There was a lot of training before we started filming. Every day, we would be doing horse riding and sword fighting and fitness. That was challenging, but it was fun. Actually, we did get to keep, we all got a replica of the sword.

Rhianna Doris: Yeah, it's so cool.
Did you get to keep anything?
Patrick Stewart: No, but my skills in hand magic have certainly improved!