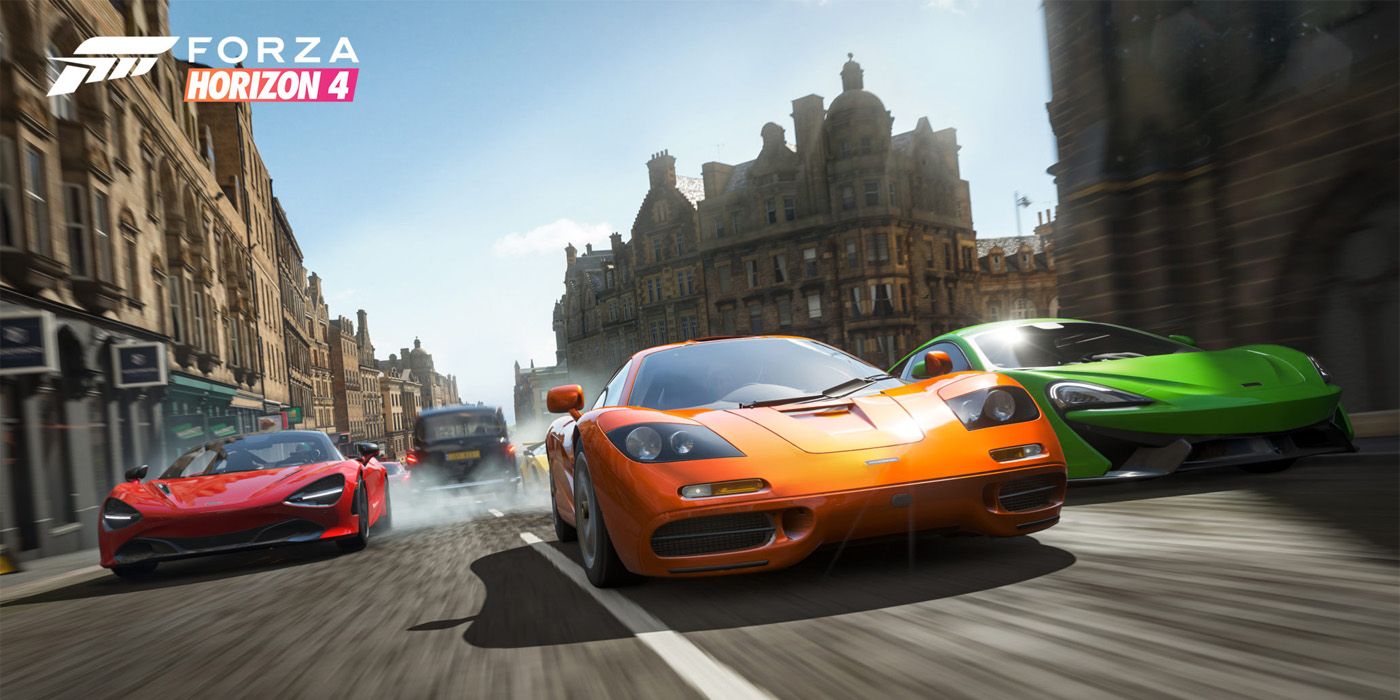 The developers behind Forza Motorsport would really like players to understand how "Forza" is pronounced. The Forza racing video game series, which gets its name from the Italian word for "force," launched in 2005 with Forza Motorsport on the Xbox. The racing title featured over 200 cars, as well as multiple fictional and real-world race courses.
That first title was so successful a sequel, Forza Motorsport 2, released in 2007 for the Xbox 360, the first game in the series for that console. The second game also received critical acclaim and had enough sales to launch an entire franchise. The series now boasts a total of 11 games, including the most recent, 2018's Forza Horizon 4 on the Xbox One and PC, a title that took players to the U.K. to race over 400 cars. That game takes place in a synchronized shared open world that allows up to 72 players to race each other. Forza Horizon 4 also introduced a dynamic weather system and even contains a mission based on a level of Halo. The Xbox One version is the highest-rated Forza Horizon title of all time, although it is in a tie with Forza Motorsport and Forza Motorsport 3 as the highest-rated game in the Forza franchise.
Related: Forza Horizon 4 Review: The Best Open World Racing Game In Years
With gamers holding the Forza series in such high regard, one might think that everyone would know how to pronounce its name correctly, right? But it seems that there are still people who don't know how to say it correctly. A tweet from Forza Motorsport recently stressed how to pronounce "Forza" correctly using a recent Twitter meme, and it's likely that almost everyone in North America has been saying it wrong for years.
Oddly enough, many names in popular culture get mispronounced. When Harry Potter author J.K. Rowling learned that some fans of the books were mispronouncing the name of the character Hermione, she poked fun at them by writing a scene where another character is attempting to pronounce her name and failing miserably. Thanks to the movies, though, almost everyone says Hermione properly now. Perhaps with time, everyone will get used to saying "Forza" the right way, too.
Gamers will get more chances to pronounce the title in the coming year. It's highly likely that Forza Motorsport 8 will release in 2019. Although nothing has been officially announced, there has been a Forza game released every year since 2011, suggesting that an announcement about the next title in the franchise will arrive soon. Never forget that when referring to Forza, it's "Fort-za" not "For-za."
Source: Forza Motorsport