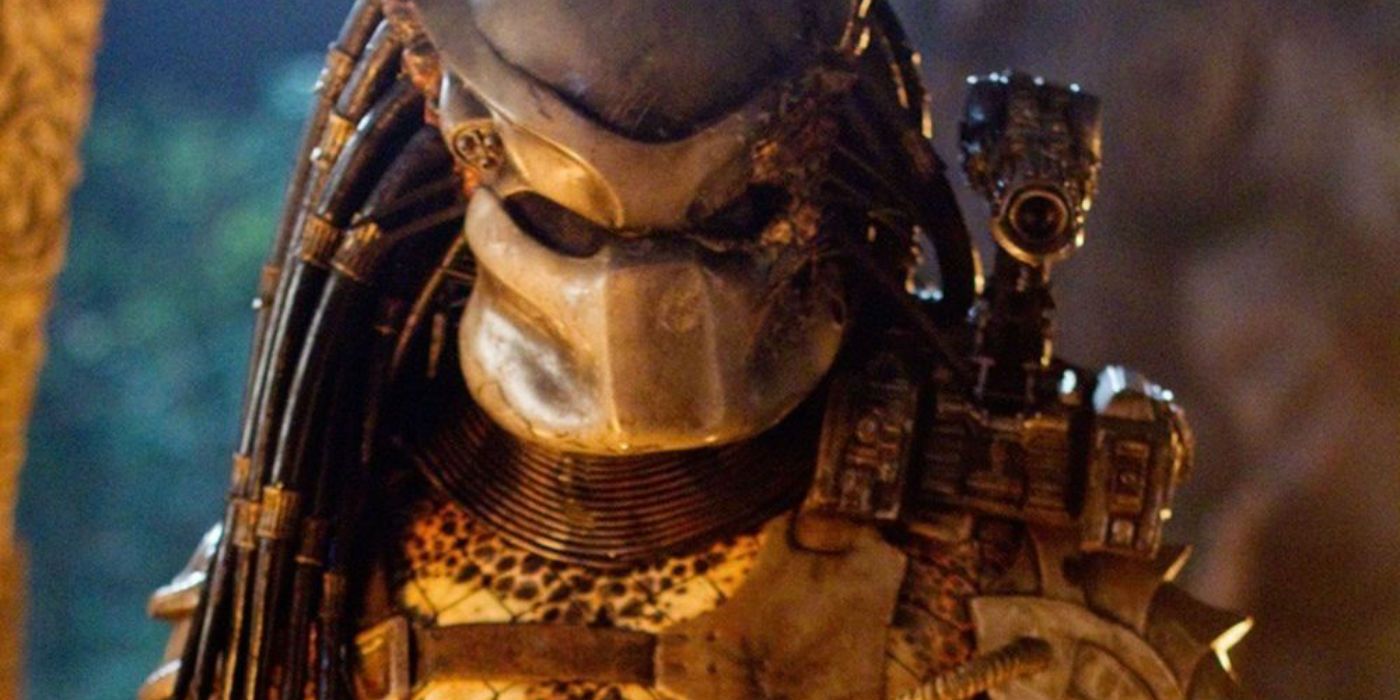 A social media teaser from 20th Century Fox gives audiences their best look yet at the new black and gold alien hunter from Shane Black's The Predator reboot, with a full trailer set to drop tomorrow. The Predator features multiple versions of the title monster, including one who stands ten feet tall. In the new film, the Predators have learned to splice their DNA with that of their victims, creating new and terrifying hybrid aliens.
In writer-director Shane Black's reboot, a young boy (Jacob Tremblay) unwittingly activates a signal that calls the Predators down to earth where they proceed to wreak havoc. A group of misfit soldiers called The Looneys battles against the Predators in the movie's suburban setting. The first Predator teaser trailer released last month, offering up a limited glimpse of the film's re-designed Predators. And then a subsequent TV spot, set to the music of Bob Dylan, showed a pair of the new Predators squaring off against each other.
Related: Here's What The New Predator Suit Looks Like
Now, 20th Century Fox FR is teasing the arrival of a new Predator trailer with a social media teaser that gives fans another good glimpse of the alien hunter. Rather than use footage from the movie, the teaser simply features the black-and-gold Predator already seen in previous ads along with text in the Predators' alien language. At the end of the clip, the Predator takes off his helmet to reveal the classic grotesque face first glimpsed by Arnold Schwarzenegger in the 1987 original. The new trailer is set to release tomorrow, June 26. See the clip below:
After the first teaser revealed a glimpse of the Predator, some Predator fans were underwhelmed by the character's new design. Thus far, very few promotional materials have released showcasing the creature that deviates from the classic Predator look, which may or may not be a problem when the movie actually releases. Of course, it's possible Black has a lot of interesting new Predator materials up his sleeve that is being held back from the public so it can be a surprise when they see the whole movie.
Then again, it's also possible that Black and 20th Century Fox simply decided to take an "if it isn't broke, don't fix it" approach with the Predators, at least from a visual stand-point. If that's the case, then it would be entirely in keeping with the history of the Predator franchise. The Predator will be the sixth movie to feature the classic creature introduced in the 1987 original, including the two Alien vs. Predator films, and not much has been done over the years to really tweak the look of the monster. Perhaps the new trailer will give fans a hint of some surprises to come.
Source: 20th Century Fox FR
The post Predator Teaser Gives Best Look at the New Alien Hunter; Full Trailer Tomorrow appeared first on ScreenRant