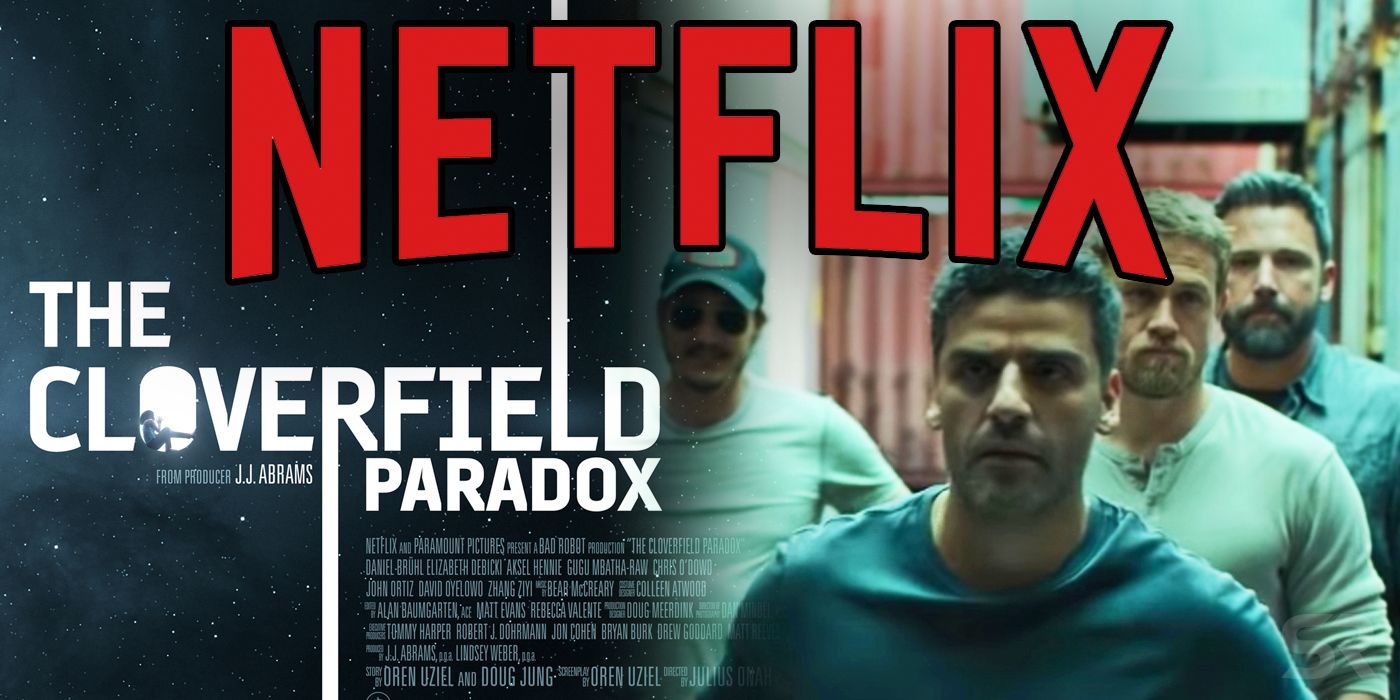 Will Netflix drop another surprise film after the Super Bowl 2019, just like they did last year with The Cloverfield Paradox? The Big Game has long been about more than just sport, with movie studios taking advantage of the massive worldwide audience to promote some of their biggest upcoming movies (this year will likely see a presence from Avengers: Endgame and Hobbs & Shaw). However, Netflix has taken it to new heights.
At Super Bowl 52, Netflix made the shocking announcement that they'd acquired the rights to The Cloverfield Paradox, the third entry in the J.J. Abrams-produced sci-fi series, and would be dropping it straight after the game. There'd been some rumblings of a buy and surprise release in the days leading up to the reveal, but that did nothing to lessen the impact. Even though the film itself wasn't up to much (hence why Paramount were happy to sell off something despite brand recognition), it was a big hit for Netflix in a year they were looking to vastly expand their film distribution. Indeed, the focus on the Cloverfield franchise and the attempt to "explain" the monster from the 2008 original distracted from how savvy a move this was for Netflix: they inserted themselves right into the Super Bowl night with just a couple of TV spots, providing a movie most would have expected to pay for in cinemas.
Related: Movies That Helped Netflix Change the Hollywood Game
As the 2019 Super Bowl approaches, the question arises whether Netflix will try this again. This has recently been suggested by Variety's Justin Kroll and has been something we at Screen Rant have been wondering for a while. There were little-to-no downsides last year and there's nothing to say a repeat would be any less successful. In fact, if Netflix were to surprise release a movie this year, then they've essentially established a tradition: after the Super Bowl, you go to the streaming service to watch a brand new movie. That's a level of cultural positioning that any other studio – even Disney, who could play a similar trick once Disney Plus is up and running – would kill for. Whether or not it will happen is entirely unknown, but there's nothing to suggest against it – and a lot of reasons why they should.
If Netflix does surprise release a movie after Super Bowl, what could it be? The Cloverfield Paradox was a high-profile picture they kept on the down-low for months, but a blockbuster name needn't be a prerequisite. As the success of Bird Box showed, people will gravitate towards Netflix for a cool premise, a lick of star power, and a general promise of watchability (essentially, it's not terrible). There are countless of Netflix movies that fit the bill, and they only need one.
Triple Frontier, J.C. Chandor's action-thriller starring Ben Affleck and Oscar Isaac, would be an obvious fit, although does already have a March release date. The same is true of Mötley Crüe biopic The Dirt. Murder Mystery, starring Adam Sandler and Jessica Aniston, ticks many boxes, as would Michael Bay and Ryan Reynolds' 6 Underground, although it's unclear if either is finished and the scale of both can support proper releases. The same goes for Martin Scorsese's The Irishman, which has both awards potential and would surely run too long for a post-game watch.
Perhaps the most likely candidate as it stands would be Eli. A low-budget horror about a boy trapped in a clinic from director Ciarán Foy whose highest profile actors are Lili Taylor and Stranger Things' Sadie Sink, it was sold by Paramount to Netflix in late 2018 after they struggled to market the film. The genre and studio match The Cloverfield Paradox, while the Super Bowl is a get around to any marketing concerns.
Related: Netflix Original Movies To Be Excited About In 2019
With Netflix currently leading the Best Picture race with Roma and coming off mega-hit Bird Box, it's clear their movie fortunes are turning around. No longer the purgatory for new-age direct-to-video rejects, it's becoming a go-to powerhouse. Another Super Bowl hit could seal the deal.