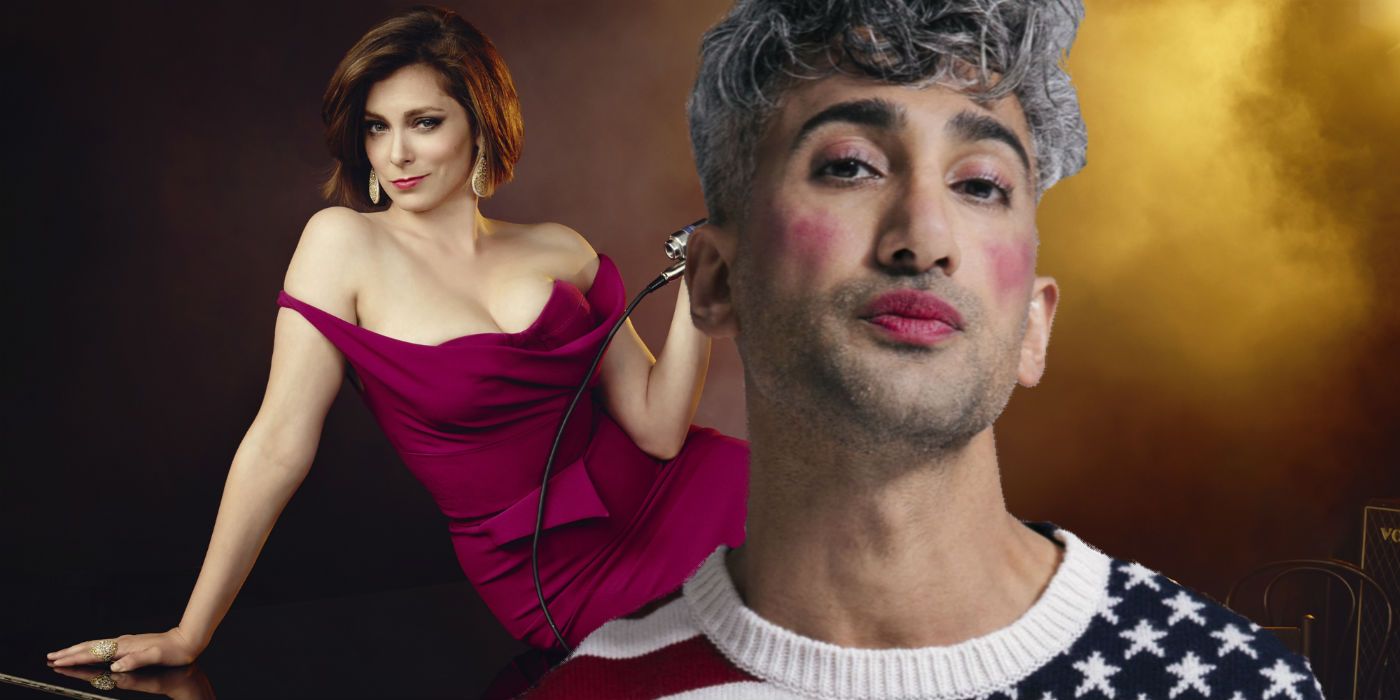 Queer Eye's Tan France is taking a break from showing sloppy dressers the magic of the French tuck, and appearing in a guest role on The CW's musical comedy series Crazy Ex-Girlfriend. Starring and co-created by Rachel Bloom – who plays the titular crazy ex-girlfriend, Rebecca Bunch – the show is currently gearing up for its fourth and final season, which has been given an expanded 18-episode order to wrap up what has been a pretty wild story so far.
Season 3 ended with Rebecca in a pretty sticky situation – facing prison for attempted murder after her stalker, Trent, threatened the life of her ex-boyfriend and prompted Rebecca to push him off a balcony. Rather than opt for an insanity plea due to her recently-diagnosed borderline personality disorder, Rebecca decided to finally face up to the consequences of her actions, leaving the show on a major cliffhanger.
Related: Screen Rant's Top 5 Favorite TV Shows of 2017
We still don't know if Rebecca is destined for prison or whether she'll find a way to keep her freedom, but we do know one thing: Tan France will be making an appearance in Crazy Ex-Girlfriend season 4. The Queer Eye presenter made the announcement on Twitter, sharing a photo of his on-set trailer. France didn't offer any details about his character, but he did note that his episode will air in November, so look out for him between episodes 4 and 8 of the upcoming season.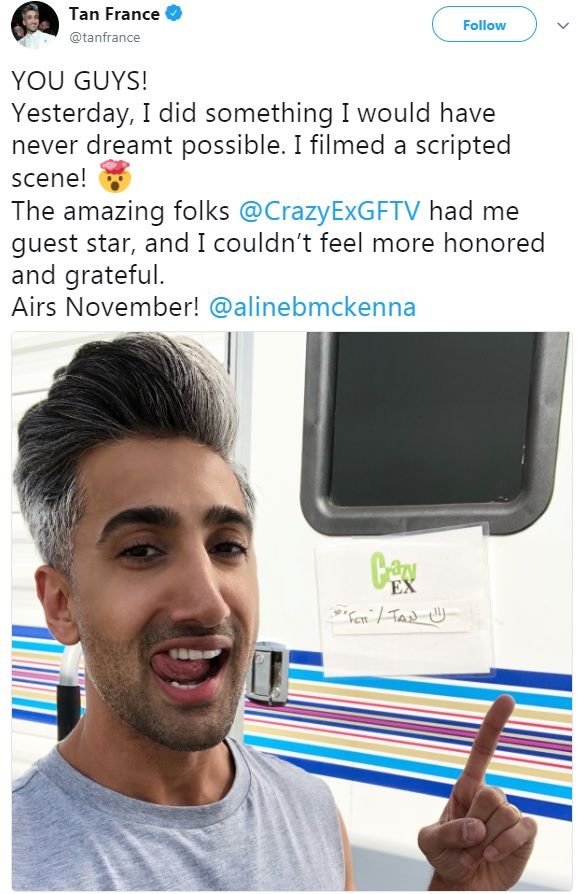 Hailing from the UK, France is the fashion expert on Netflix's revival of the early 2000s makeover show Queer Eye For the Straight Guy, whose title has now been shortened to simply Queer Eye. Following a successful debut in February 2018, a second season of the show was released merely four months later. Queer Eye and Crazy Ex-Girlfriend share a home on Netflix, where seasons of Crazy Ex-Girlfriend are made available after their initial airing on The CW.
France won't be the only new face in Crazy Ex-Girlfriend season 4. Pitch Perfect's Skylar Astin is also joining the cast as a new version of Santino Fontana's character, Greg, who left partway through season 2. Recasting a major character often requires suspension of disbelief on the part of the audience, but since Crazy Ex-Girlfriend is a show where people spontaneously burst into song, it's actually quite fitting. Bloom has said that the casting change won't go unacknowledged in the show, and that it will be "a great statement on how our perception of people changes."
Rebecca has had several makeovers over the course of Crazy Ex-Girlfriend's three seasons so far, none of which have succeeded in tackling her underlying issues, but it's possible that France could be playing a version of himself. Based on his tweet, it sounds like he'll only be in one scene – but we're certainly excited to see two of our favorite shows collide.
Crazy Ex-Girlfriend season 4 will premiere October 12 on The CW.