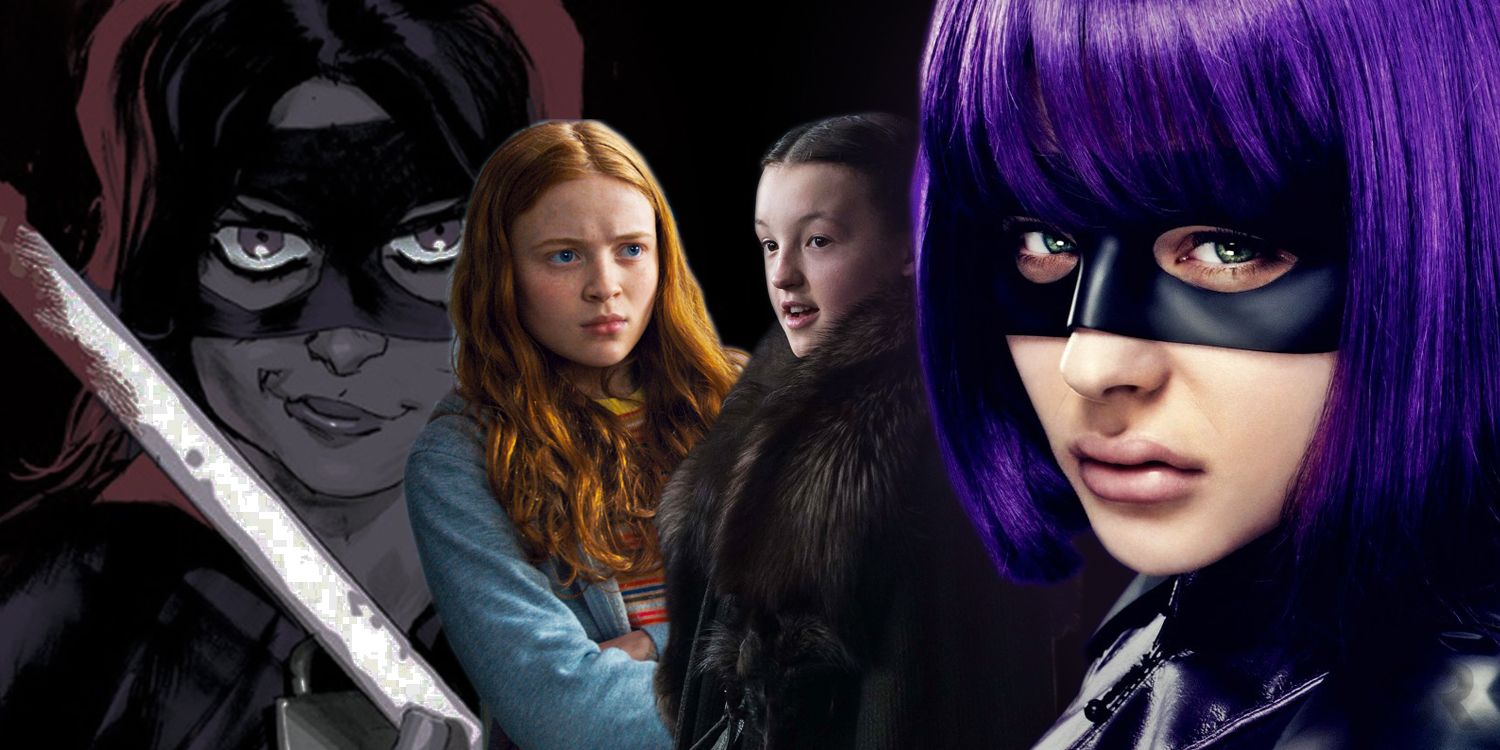 Who has the fighting skill and foul mouth to be cast as the new Hit-Girl? Recently, Matthew Vaughn, the director who brought comic book scribe Mark Millar's ribald superhero Kick-Ass to the big screen, announced a reboot of the green spandex-wearing superhero, including further plans for a Hit-Girl spinoff. If this comes to fruition, Vaughn will need to find a new young actress to don the gleefully homicidal anti-heroine's signature purple costume.
The original Kick-Ass starred Aaron Taylor-Johnson as the titular teenage crime fighter, but the film's true breakout star was Hit-Girl, played by Chloë Grace Moretz. Following Millar's comic book storyline, Moretz portrayed Mindy Macready, a foul-mouthed pre-teen raised to be a costumed assassin by her father Big Daddy (Nicolas Cage doing a pitch-perfect Adam West Batman impression). In their ultraviolent showdown with mob boss Frank D'Amico (Mark Strong), Big Daddy was murdered, and Hit-Girl teamed with Kick-Ass to reap bloody vengeance on the villains. However, Kick-Ass 2, wasn't as well-received as the original, and Moretz, who is now 21, has stated she is happy to leave the purple wig in her past and won't play Hit-Girl in a reboot.
The overall franchise on the verge of changing as well, with the possibility of Kick-Ass being recast as an African-American female named Patience Lee to reflect the new character in Millar's relaunched comics (Thor: Ragnarok's Tessa Thompson has expressed interest in the role). Meanwhile, Hit-Girl's status in the reboot is uncertain. Vaughn is reportedly considering returning the character back to a pre-teen and re-exploring her relationship with Big Daddy. Now that Moretz has passed on a third outing as Hit-Girl, the director may not be as keen to continue the story of the older Mindy Macready, though recasting that role is still a possibility.
While it's unclear what direction Vaughn will pursue, one thing is certain: with Moretz out, he's going to need a new Hit-Girl. Keeping in mind the various ways Hit-Girl could be rebooted, here are some talented young actresses who would absolutely kill it.
McKenna Grace
At thirteen years old, McKenna Grace is roughly the same age Chloë Grace Moretz was when she became Hit-Girl. Besides sharing 'Grace' as part of their full names, McKenna has something else in common with Moretz: a career already skyrocketing her to stardom. McKenna already has dozens of film and TV roles to her credit; she stole hearts playing the child prodigy math genius niece of Chris Evans in 2017's Gifted, which earned her a Critic's Choice nomination for Best Young Performer. Grace also played the young Tonya Harding in I, Tonya, and she will soon join the Marvel Cinematic Universe as the young Carol Danvers in Captain Marvel.
However, being cast as Hit-Girl would allow Grace to play a superhero herself, and she certainly exhibits the same self-assured attitude that Moretz brought to the role. If Matthew Vaughn reboots Mindy Macready back to her acid-tongued youth, McKenna Grace would make Big Daddy proud.
Storm Reid
Rebooting Hit-Girl as an African-American is also a possibility, and if that's the case, Storm Reid would make an excellent Hit-Girl. At 14, Reid also has an impressive list of film and TV credits (she began acting at age 3), including a role in the Academy Award-winning 12 Years A Slave. Reid most recently shined as Meg Murray, playing the lead role in Ana DuVernay's A Wrinkle In Time, which proved she could headline a major Hollywood blockbuster.
Isabella Sermon
British actress Isabella Sermon only has one credit on her resume so far, but it's a big one: she plays Maisie Lockwood in Jurassic World: Fallen Kingdom. In the film, she's stalked and terrorized by the Indoraptor, but she also exhibits bravery and impressive gymnastic skills, which are trademarks of the acrobatic and deadly Hit-Girl. Like Grace, Sermon is also roughly the same age as Moretz was when she became Hit-Girl, and it might be extra fun to make Mindy Macready British – thus, cursing up a storm with a British accent.
Bella Ramsey
Speaking of cursing with a British accent, Game of Thrones fans would instantly become Hit-Girl fans if Bella Ramsey were cast in the role. The 14-year-old Ramsey instantly became one of the most popular people in Westeros when she debuted as the no-nonsense Lyanna Mormont in Season 6 of the hit HBO series, gaining a boosted role in Season 7 and expected to return in next year's final season as well. The youngest noblewoman in Winterfell is both respected and feared; traits she could easily bring to the role of Hit-Girl if she were cast.
Sadie Sink
Hit-Girl is definitely a bit of a tomboy, and that means Sadie Sink could definitely nail the role. Debuting as "Mad" Max Mayfield in the second season of Netflix's hit series Stranger Things, Sink quickly became a fan favorite. The 16-year-old Texan has also had roles in Chuck, Blue Bloods, Unbreakable Kimmy Schmidt, and The Americans on the small screen, with The Glass Castle being her major big screen break. Sink has the chops to succeed Chloë Grace Moretz as Mindy Macready, and in theory could work as a straight recast regardless of reboot.
Mackenzie Foy
After a string of TV roles, Mackenzie Foy broke up in Twilight: Breaking Dawn Parts I and II as Renesmee Cullen, the vampire daughter of Bella and Edward Cullen. Next she starred as Matthew McConaughey's daughter in Christopher Nolan's Interstellar, and will next be seen as Clara in The Nutcracker and the Four Realms. Now 17, Foy has already appeared in several major films, and if Hit-Girl were to continue on as the same character Chloë Grace Moretz portrayed, Foy could brilliantly assume the role of the high school-age Mindy Macready.
The post Recasting Hit-Girl in the Kick-Ass Reboot appeared first on ScreenRant