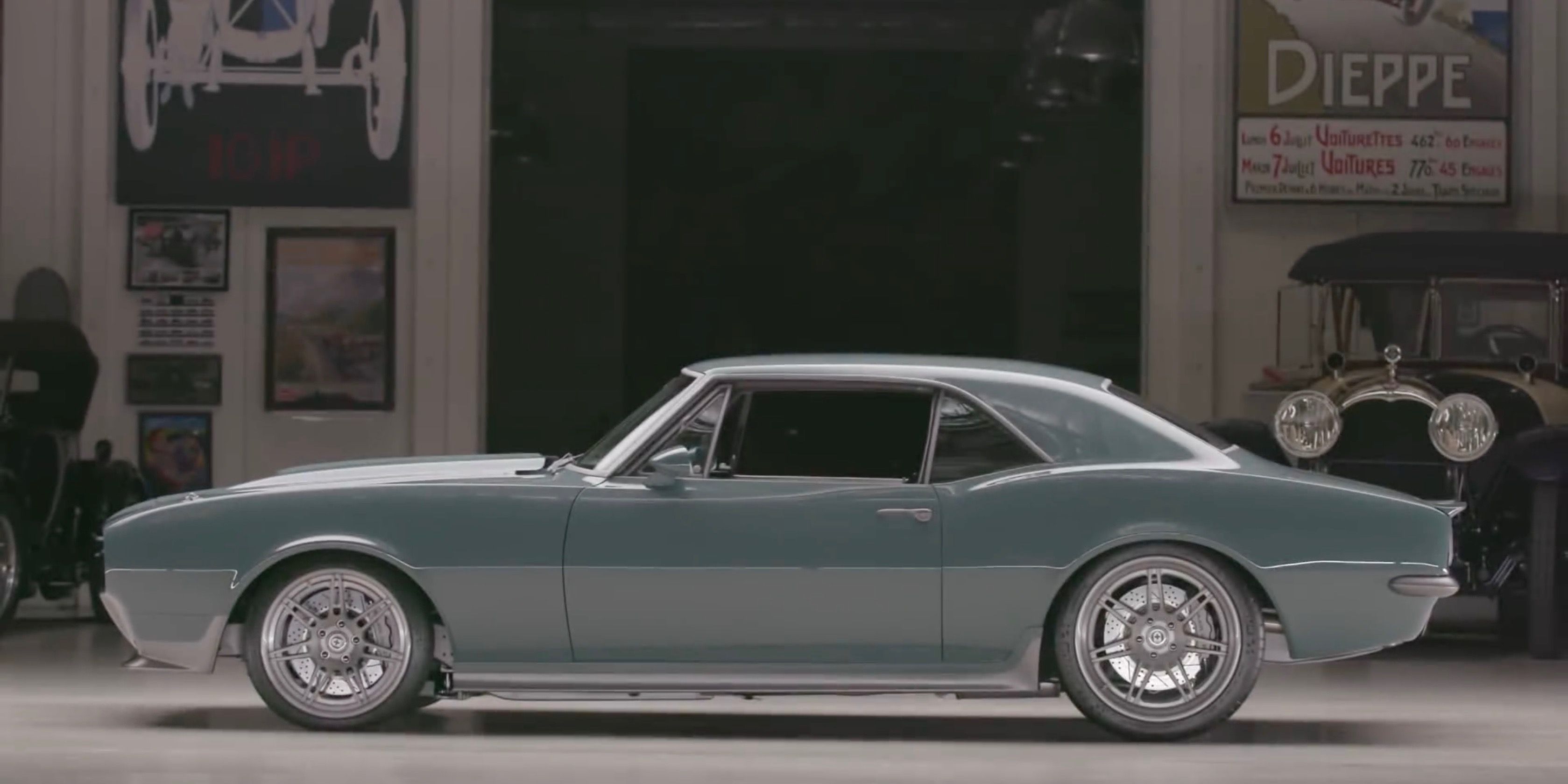 A Captain America-themed Camaro that Robert Downey Jr. custom built for Chris Evans was recently revealed in promotional material for Jay Leno's Garage. Leno may no longer be the host of The Tonight Show, but he does star in a reality TV series where he talks about unique cars or motorcycles and meets with the owners as well as the creators of the vehicles.
Evans and Downey Jr. first got to work together in the Marvel Cinematic Universe on Joss Whedon's The Avengers. While Tony Stark and Steve Rogers are usually on the same team, they often have differing opinions on how plans should be executed. Ever since Stark and Rogers met, they had butted heads, which escalated to a brutal fight several movies later in Captain America: Civil War. Even though their friendship in the superhero flicks is currently at an all-time low, their relationship in real life is clearly going well, since Downey Jr. decided to not only buy Evans a car but have a custom Camaro built for his co-star.
Related: Robert Downey Jr. Marvel Set Interview May Reveal Avengers 4 Spoiler
Revealed in a new clip for the upcoming episode of Jay Leno's Garage (below), airing on August 30, Leno talked with Dave Salvaggio from SpeedKore Performance about Evans' completely distinct vehicle. When detailing the specific features on the car, Salvaggio explained that the car has a LS3 engine as well as a 2.9 Whipple supercharger. The car is designed for someone who likes to go fast, but Salvaggio expresses that the car is reliable and stays true to a Camaro's heritage look. Downey Jr. was apparently very particular about the trim and colors going into the car, but they decided on a "melted army-man green" for the exterior and brown distressed leather on the inside, which Salvaggio compared to Indiana Jones' jacket. To top it off and make the car truly unique, the steering wheel was accented with the Captain America logo. Take a look:
Downey Jr. has previously shown his generosity by buying the crew of Avengers: Infinity War personalized set chairs to show his appreciation for their hard work. While it isn't unheard of for movie stars to buy each other expensive gifts, it is quite generous for Downey Jr. to have SpeedKore help custom build a car for his co-star. However, given the massive success of Infinity War, Downey Jr. can certainly afford to buy just about anything he wants, including an Iron Man-themed car for himself, if he ever chooses to go that route.
What's interesting is that this isn't the only memento Evans will have of his time working with Downey Jr. and the rest of the Avengers stars. Earlier this summer, most of the original Avengers team members got matching tattoos that combined all of the characters' respective symbols. But the custom-built Camaro is something that Evans can show off on a daily basis, should he choose to do so. Plus, this kind gesture seems just like something Stark would do for his fellow superheroes. Given Stark's mass wealth, he is always seen flaunting his extravagant cars around town. In real life, Downey Jr. seems to be just as much of a car enthusiast as Jay Leno, if not more. The full episode of Jay Leno's Garage with Evans can be seen on CNBC on August 30, with Evans and Downey Jr. slated to reprise their Marvel roles one last time in Avengers 4 next year.
Source: Jay Leno's Garage