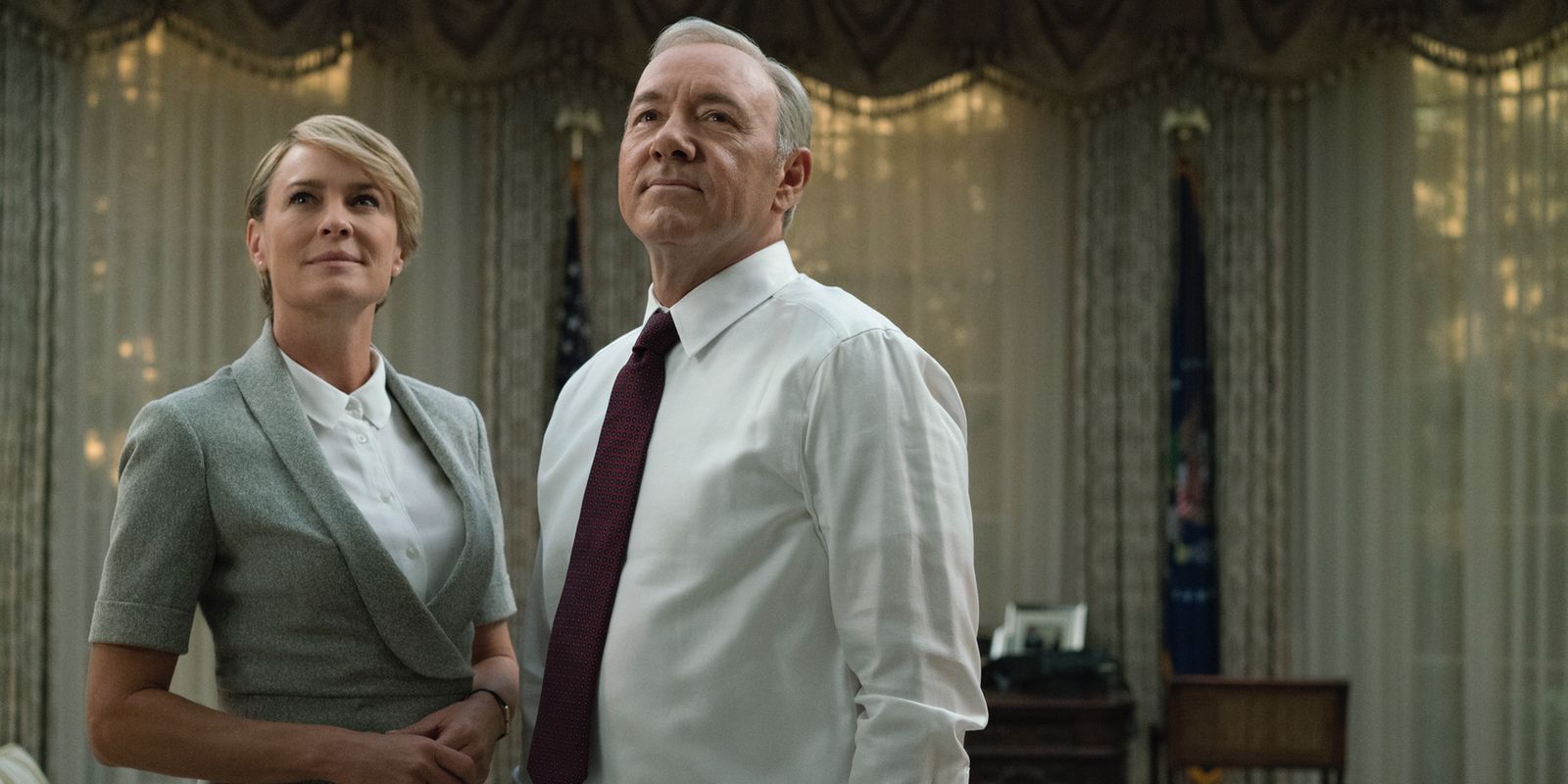 Robin Wright has said that she believes Kevin Spacey can come back from the sexual assault allegations made against him. Spacey, Wright's co-star on Netflix's political thriller House of Cards, was the center of assault allegations at the end of last year that started with actor Anthony Rapp going public with his story. Spacey has since vanished from the limelight, and as more and more time goes by, some are wondering if he will ever be able to come back to Hollywood after such a large scandal.
The controversy surrounding Spacey made for one of the most explosive moments of the #MeToo movement, which began last year with The New York Times' piece exposing Hollywood producer Harvey Weinstein's lengthy history of sexual assault allegations. In October of last year, Rapp told his story about Spacey, accusing the older actor of sexual assault when Rapp was only 14 years old. This story was shortly followed by more accusations against Spacey made by several House of Cards crew members, which then caused Netflix to fire their lead actor from House of Cards as well as drop another of his planned projects with the company, the biopic Gore. Netflix then announced House of Cards, one of the first series that put its original programming on the map, would end with its upcoming season 6.
Related: House of Cards Season 6 Teaser Hints At Kevin Spacey Firing
Netflix chose Robin Wright, who played Spacey's on-screen wife Claire Underwood in House of Cards, to head the series after Spacey's firing. Her character Claire has been featured as a sole and powerful force in the series' season 6 marketing campaign to direct fan attention towards her character, and hers alone. But even though the spotlight is on her at the moment, Wright wants to make clear that she believes there is still a way forward for Spacey. In a recent interview with Net-A-Porter, Wright said on her co-star, "I believe every human being has the ability to reform. Has the ability to reform. In that sense, second chances, or whatever you are going to call it – absolutely, I believe in that. It's called growth."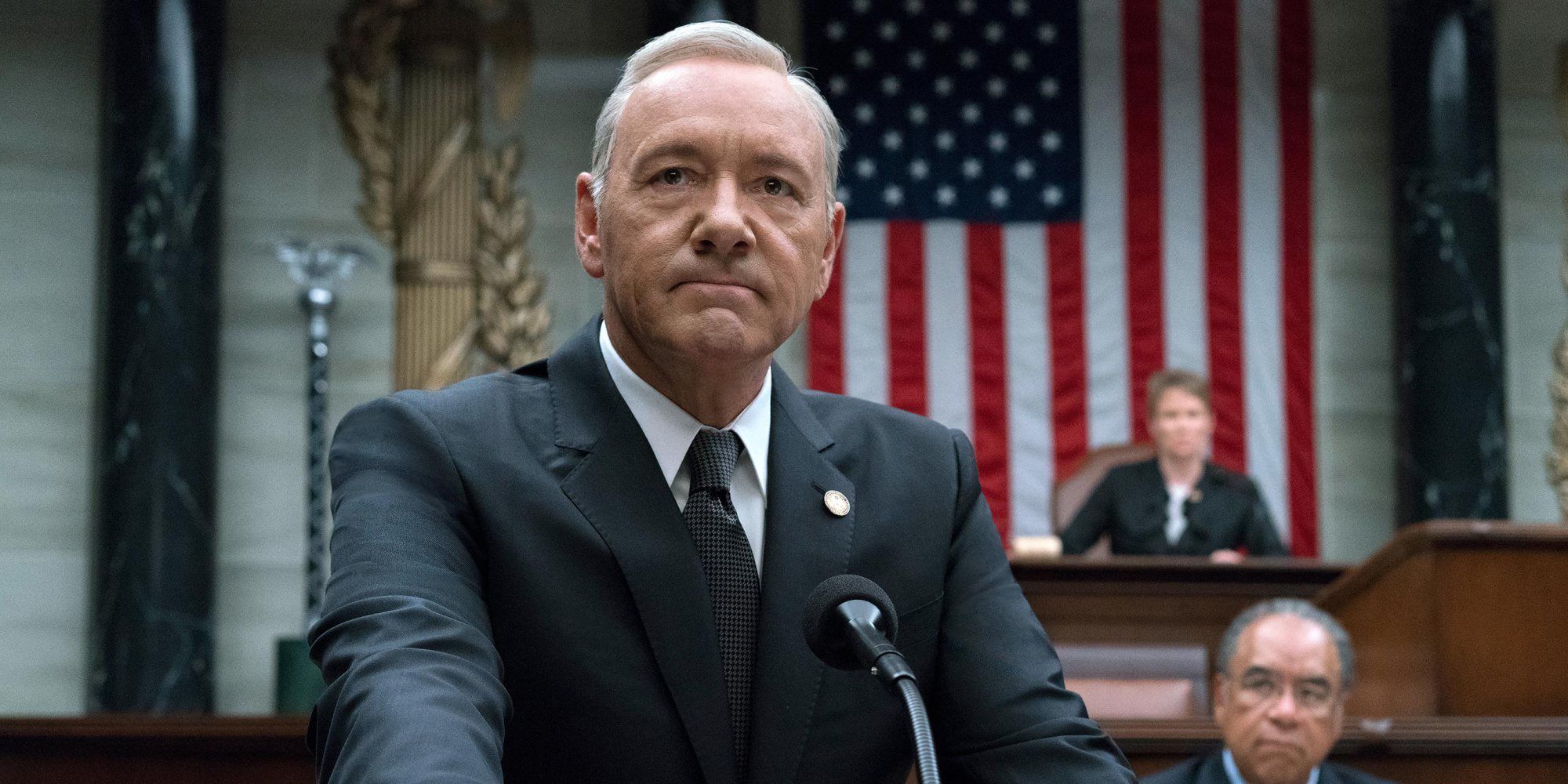 This is not the first time Wright has spoken on the events surrounding Spacey. Earlier this summer, the actress broke her silence on the controversy for the first time and worked to distance herself from Spacey, claiming that while she enjoyed working with him on the show, she "didn't know the man," only "the incredible craftsman that he is." Many have lauded Wright's work behind the scenes to save House of Cards from being cancelled and having the entire cast and crew unemployed simply due to the actions of one man. In the Net-A-Porter interview, Wright explained that she felt responsible for saving the jobs of the cast and crew, saying that for them to be fired was "not fair – to take that [job] security away from those people… They didn't do anything [wrong]." While she was always one of the strongest aspects of the series as an actor, executive producer, and director on multiple episodes, it has been over the course of this controversy especially that Wright has proven herself as an integral force and important leader behind House of Cards.
Questions over when – or even if – those who have been at the center of sexual misconduct scandals should return to show business have been swirling around Hollywood over the past week after comedian Louis C.K. returned to the stage in a surprise performance in Manhattan. It sparked a huge debate over how exactly an accused celebrity should return to work in the public eye. With Wright's comments, Spacey seems to be the next name to be brought into the discussion of how the future stages of the #MeToo movement should move forward and if they include the returns of the accused abusers. Only time will tell if Spacey will get the type of return that C.K. enjoyed with his most recent set in New York City or if he will simply be turned away from Hollywood for good.
Source: Net-A-Porter