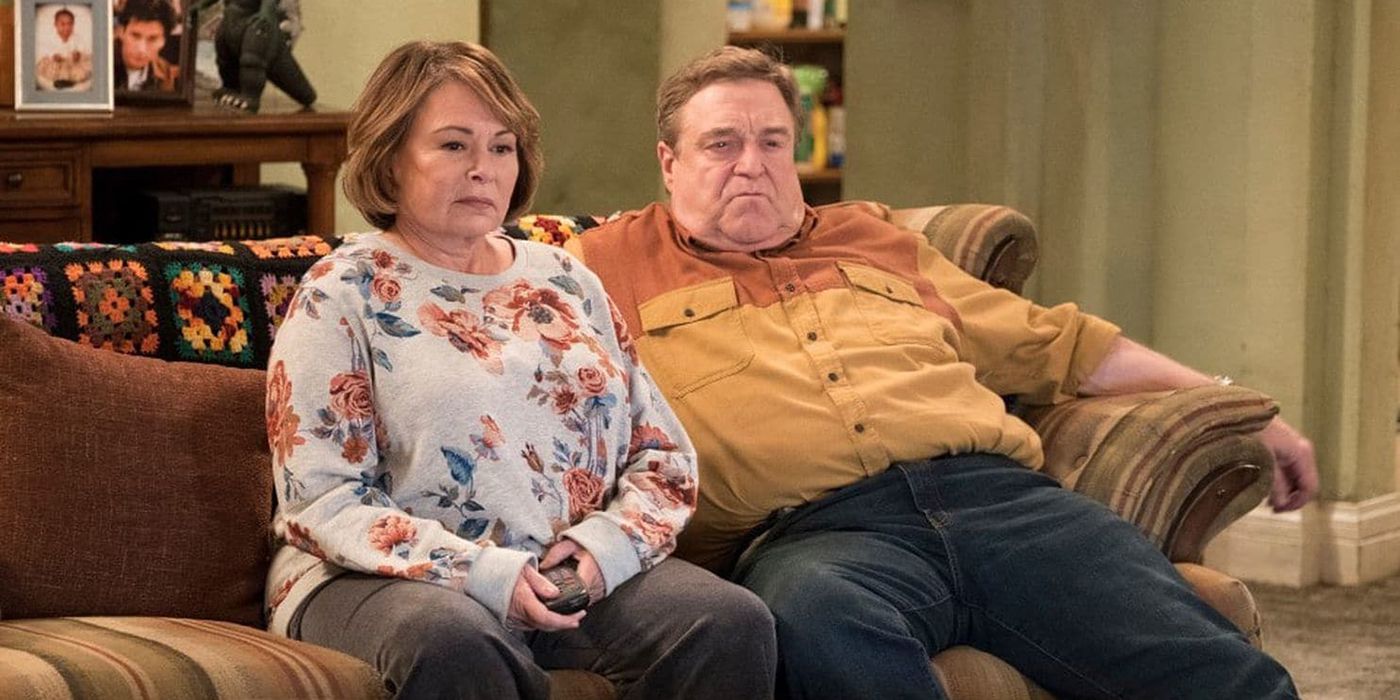 Roseanne Barr has come out to express remorse over her tweet that got the Roseanne revival canceled on ABC. Barr's iconic American sitcom Roseanne was enjoying strong ratings during the first season of its revival at ABC. The series was doing so well, in fact, that the network ordered a second season mere weeks after the revival's initial television premiere. But things took a turn for the worse when in late May, Barr took to Twitter with a controversial tweet that compared Valerie Jarrett, former Senior Advisor to President Barack Obama, to a Planet of the Apes character. There was immediate backlash. #SuspendRoseanneNow began trending on Twitter, and Barr's co-stars Sara Gilbert (Darlene) and Michael Fishman (DJ) condemned the Twitter post.
ABC made a swift and final decision to cancel Roseanne, reversing its decision for a renewal. Roseanne didn't stay silent for long, criticizing her co-stars for throwing her "under the bus" and then apologizing that many lost their jobs over Roseanne's cancellation. In early June, rumors began to fly that ABC was considering a spinoff series. On June 21, the network officially announced that it was ordering a Roseanne spinoff called The Connors that would not involve Barr's character. The network stipulated that for a related spinoff series to be produced, Barr could not profit from the new show.
Related: Why Cancelling Roseanne Was the Smart Thing to Do
Barr has been largely silent on the controversial incident since. But the comedian and actress' silence ended this week, when she talked with conservative radio host Rabbi Shmuley Boteach on his self-titled podcast. The interview did not merely focus on Roseanne, but also covered other topics primarily related to Judaism. When they began discussing her ABC series, Barr stated (via Variety):
It's really hard to say this but, I didn't mean what they think I meant. And that's what's so painful. But I have to face that it hurt people. When you hurt people even unwillingly there's no excuse. I don't want to run off and blather on with excuses. But I apologize to anyone who thought, or felt offended and who thought that I meant something that I, in fact, did not mean. It was my own ignorance, and there's no excuse for that ignorance.
The comments made on Rabbi Boteach's podcast are a minor change of pace from Barr's previous attempts at apologizing for her tweet. Her past apologies have included pffering a range of excuses for the Twitter post. At one point, Barr even blamed her comments on the sleep drug Ambien, causing the makers of the drug to issue a statement that read, "While all pharmaceutical treatments have side effects, racism is not a known side effect of any Sanofi medication.".
Her latest comments may be considered a step up from blaming her actions on medication, but Barr's remorseful sentiment probably won't satisfy a wide majority of her critics. The comedian is still doubling down on her insistence that she didn't mean any offense in her tweet, despite the fact that her post's language clearly evoked the well-known racial slur of comparing African-Americans to apes. Roseanne may have technically apologized, but her defensive comments above suggest that the controversy surrounding Barr may not be going away any time soon.
Source: Variety
The post Roseanne Remorseful of Tweet That Got Her Show Cancelled in First Interview appeared first on ScreenRant