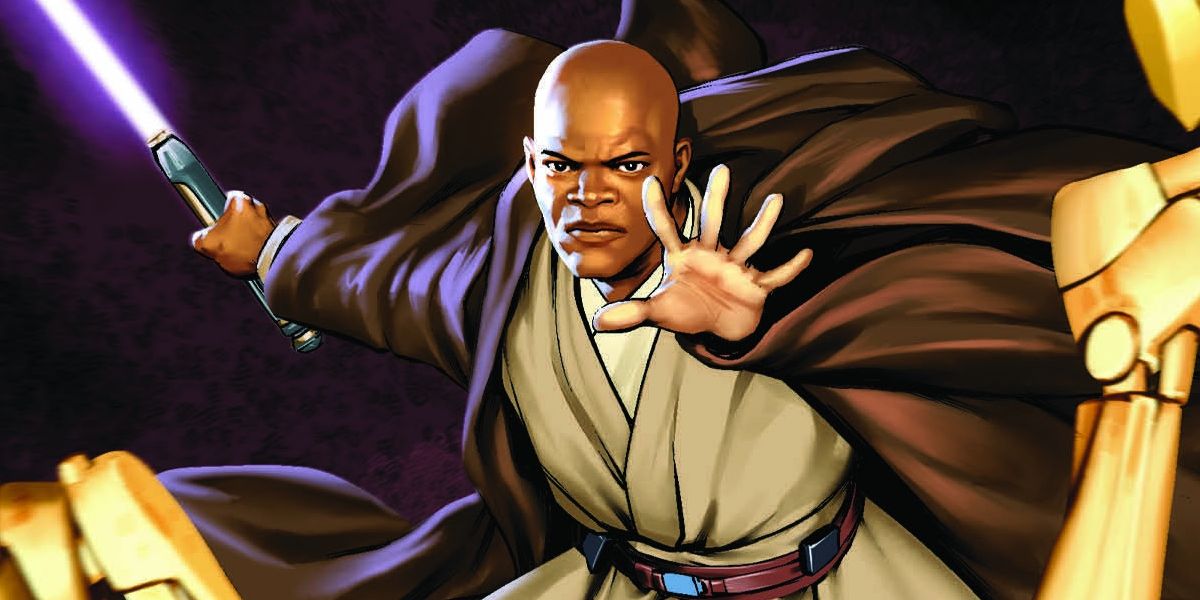 Samuel L. Jackson reveals that he underwent some extensive training for his onscreen lightsaber duels in Star Wars. Jackson portrayed Mace Windu, a Jedi master, in all three of George Lucas' prequel films. Though Windu only sat in a chair for The Phantom Menace, the role required Jackson to leap into action for both Attack of the Clones and Revenge of the Sith.
The 69-year-old actor is one of the most prolific thespians in Hollywood, with an extensive and diverse resume. His time playing Mace Windu has most likely come to an end, but Jackson is still lending his talents to blockbuster franchises. His recurring role of Nick Fury in the Marvel Cinematic Universe will return next year for Captain Marvel and potentially for the highly anticipated Avengers 4. Jackson will also reprise his role from Unbreakable in next year's sequel Glass.
Related: Samuel L. Jackson Praises James McAvoy in 'Glass'
In a video interview with GQ, Jackson answers a number of fan questions on both Twitter and Reddit in his typical cheeky manner. The topics ranged across Jackson's whole career, from Pulp Fiction to Star Wars. When responding to a question about whether or not he could hold his own in a real sword fight, Jackson said:
I don't know exactly what that means, in terms of what you want to know. There was a time when you went to acting school, fencing was a part of your requirement. So a lot of us did that. But the majority of fighting is choreographed. Lightsaber battles? It takes a long time to learn those, or it did when I was doing them. The last one I had with the Emperor was 99 moves through three rooms, backwards for me. So, two weeks in sneakers and shorts, two weeks in boots, another week in Jedi robe/boots/lightsaber, before we actually shot it. So, it was pretty intense.
This detailed look into the training regimen for the Mace Windu role was merely one nugget of interest from the video interview, but it is a revealing one. Many actors are known for going into intense physical conditioning and practice for their roles to capture some kind of realism. The scene in question from Revenge of the Sith was one of the most intense battles of the prequel trilogy, so it stands to reason that the preparation was also "intense."
Mace Windu remains one of the highlights of the prequels, despite having limited screen time. His signature magenta lightsaber and no-nonsense attitude helped him to stand out in the films that primarily focused on Anakin Skywalker and Obi-Wan Kenobi. Windu was killed off in the scene that Jackson describes in his interview, hurled out of a window by Anakin to begin his transition into Darth Vader.
However, it could still be possible for the character to show up again onscreen. There are a number of Star Wars films in development that do not even have a script yet. Director/writer Rian Johnson has his own trilogy of films on the way set in the Star Wars universe, and Game of Thrones showrunners David Benioff and D.B. Weiss will spearhead their own series of films once GoT concludes. Fan-favorite characters like Boba Fett and Obi-Wan Kenobi have films in development, so a Mace Windu solo film is not impossible. That being said, Samuel L. Jackson probably has too full of a plate to be returning to Star Wars anytime soon.
More: Multiple Star Wars Films Still In Development
Source: GQ
The post Samuel L. Jackson Talks Grueling Lightsaber Training for Star Wars appeared first on ScreenRant