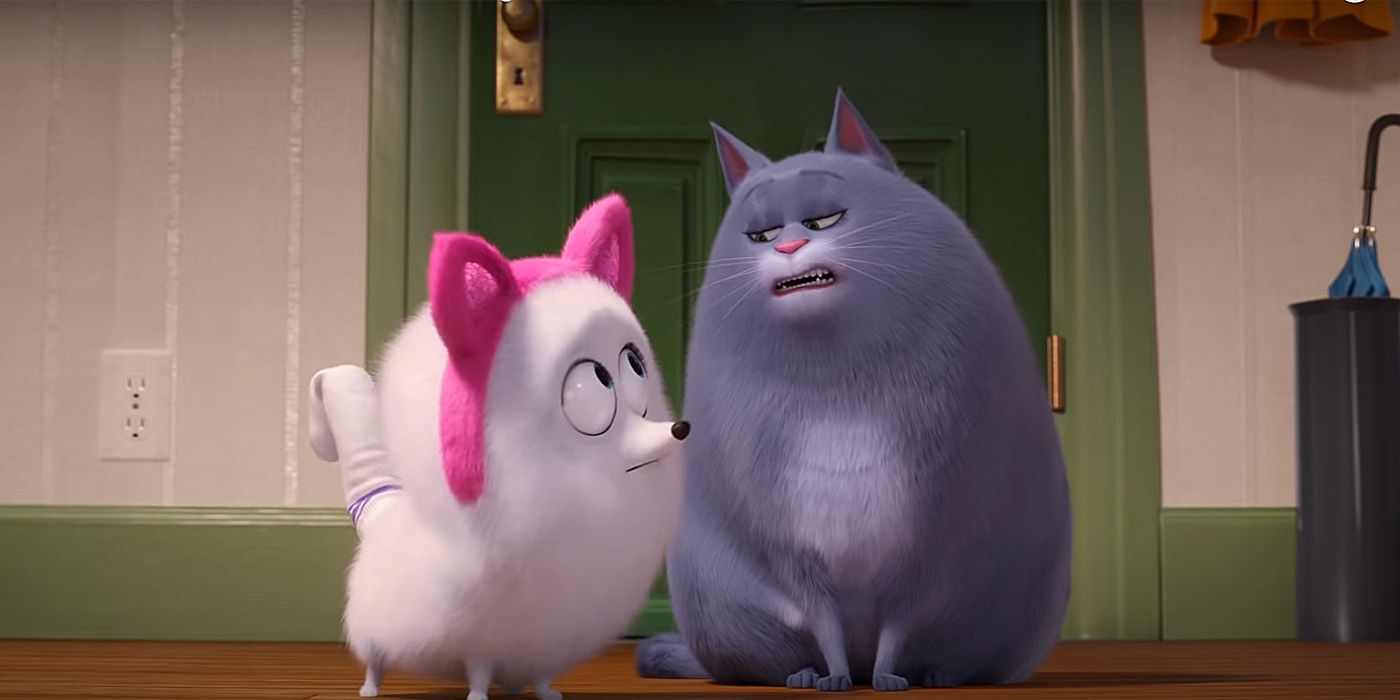 A new trailer for The Secret Life of Pets 2 shows Chloe, the cat, attempting to teach Gidget, the dog, how to be a cat. The movie is a sequel to 2016's The Secret Life of Pets, which passed over $800 million total at the worldwide box office. The Secret Life of Pets introduced a cast of hilarious animal characters voiced by Eric Stonestreet, Kevin Hart, Ellie Kemper, Jenny Slate, and Lake Bell.
The CGI-animated film tells about the adventures that pets take when their humans aren't around. In the first film, Max gets jealous when his owner brings home a new dog, Duke. After Duke tries to abandon Max in an alley, they are attacked by two evil cats who remove their collars and leave the two dogs behind for Animal Control. When Gidget discovers that the two dogs have gone missing, she goes on a mission to find them and gets help from other pets across the city, including the tabby cat Chloe, as well as a white rabbit named Snowball. The Secret Life of Pets 2 will continue the pets' adventures, although Louis C.K. will no longer voice Max due to the sexual misconduct allegations against the actor. Instead, Patton Oswalt will take over the role in the sequel.
Related: How Illumination Entertainment Became An Animation Powerhouse
Illumination, the animation company behind the film, released a new trailer for The Secret Life of Pets 2 that shows Chloe attempting to teach Gidget how to be a cat. The funny clip hits all of the known stereotypes of cat life, including knocking cups over, landing on one's feet and using a litter box.
The Secret Life of Pets 2 will be adding to its star power, as well. Harrison Ford will take on his first voice acting role in an animated film as a character in the movie. There is no word on who or what that character is, but his presence in the movie should thrill his fans. Although the film was initially scheduled to release in 2018, Illumination decided to move the release to 2019, with Sing 2 and Minions 2 both set to premiere in 2020.
When it comes to animated movies, it's hard to compete with Disney, but Illumination continues to make strides in setting itself apart. The success of the first The Secret Life of Pets, along with Illumination's other movies, is an excellent example of how well the studio can do and it's likely that the sequel will see the same kind of accomplishment at the box office when The Secret Life of Pets 2 opens later this year.
Source: Illumination