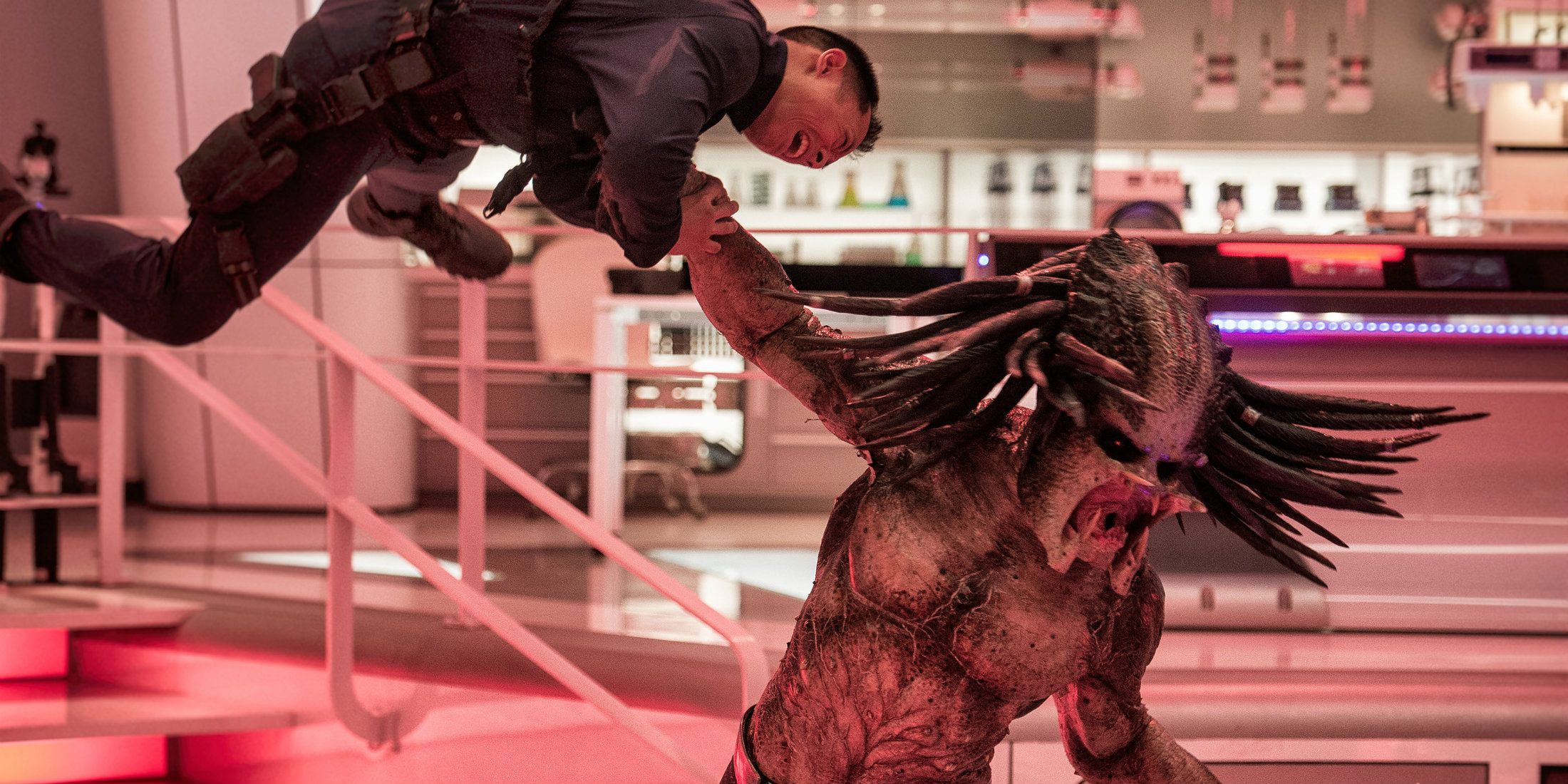 Shane Black's The Predator will have a presence at the 2018 International Comic-Con in San Diego. The sequel/reboot to the previous Predator movies has been relatively slow to begin its marketing, with The Predator teaser trailer having only dropped back in May. Fox has further shifted the film's release date back a few times and reportedly revamped most of its third act during reshoots. The Predator's trailer didn't inspire much confidence in the film either, judging by the generally lukewarm response it earned. Fortunately, there's still plenty of time to improve the Predator fanbase's outlook towards the movie, starting with a showing at Comic-Con in July.
Black's movie stars Jacob Tremblay (Wonder) as a boy who inadvertently sends out a signal that prompts the titular alien's race to return to earth and wreak havoc, as they are inclined to do. The film's cast also includes such geek favorites as Olivia Munn, Yvonne Strahovski, and Keegan-Michael Key in key roles, along with acclaimed characters actors like Sterling K. Brown (Hotel Artemis), Trevante Rhodes (Moonlight), and Boyd Holbrook (Logan). Chances are, at least a few of these players will join Black during The Predator's SDCC panel next month.
Deadline is reporting that The Predator will "definitely" have a Hall H panel at this year's San Diego Comic-Con. However, it's not clear yet what other Fox movies (if any) will be featured at the 'Con. As Deadline notes in its report, Fox has several other movies on its docket that seem like natural fits for the event; including, this August's YA sci-fi adaptation The Darkest Minds, December's live-action anime/manga movie Alita: Battle Angel, and next February's X-Men: Dark Phoenix. For the time being though, The Predator is the only Fox release set to have a presence at the 2018 SDCC.
There is, in fact, a precedent for Fox only focusing on a single movie at SDCC. Last year, the studio used its Hall H panel to highlight Kingsman: The Golden Circle, a R-rated franchise sequel much like The Predator. The Kingsman sequel even hit theaters in mid-September last year, much like Black's sci-fi/action film will be doing later this summer. Things worked out well enough for the second Kingsman movie at the box office, so it stands to reason that Fox is hoping that history repeats itself with The Predator, in that regard.
Questionable marketing aside, Black's involvement alone is a good harbinger for The Predator, as far as the film's quality goes. Recent TV spots for The Predator have further assured that the movie will have Black's trademark action style and humor, as opposed to being a flavorless rebooting sequel like The Predator teaser trailer (arguably) suggested. Either way, there's a decent chance that Fox will premiere a new trailer for the film during its SDCC panel, so there should be more to talk about on that front in the foreseeable future.
The 2018 International Comic-Con in San Diego takes place from July 19-22 next month.
Source: Deadline
The post Shane Black's The Predator Will Be At San Diego Comic-Con 2018 appeared first on ScreenRant