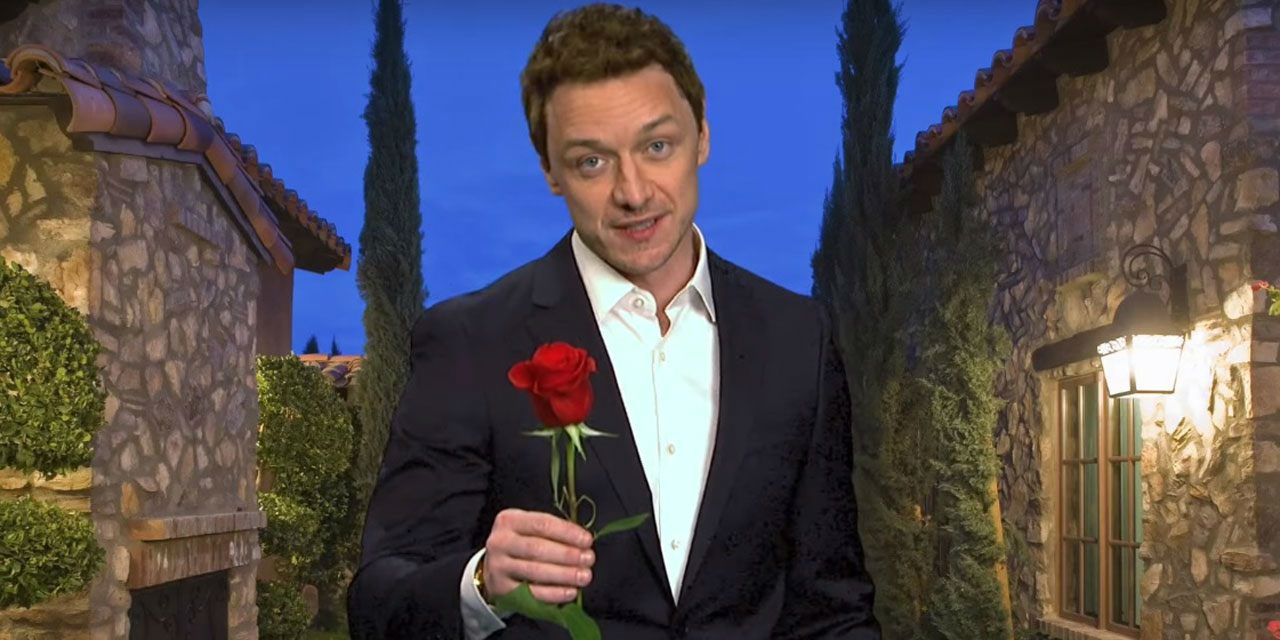 Hosting last night's episode of Saturday Night Live, actor James McAvoy blithely parodied the current season of ABC's The Bachelor with a skit called "Virgin Hunk." While it was McAvoy's first time hosting the sketch comedy show, many have already lauded his performance and ability to keep up with the rapid change of pace.
McAvoy currently stars in M. Night Shyamalan's Glass, which bookends the director's superhero trilogy that follows the storyline of Unbreakable and Split. McAvoy's character Kevin Wendell Crumb was the focal point of 2017's surprise box office hit Split, wherein he plays a man with 23 distinct personalities until a 24th emerges, known as The Beast. Glass brings back Bruce Willis' seemingly indestructible character David Dunn and Samuel L. Jackson's criminal mastermind Elijah Price from Unbreakable, adding McAvoy's unpredictable Crumb into the mix to create the ultimate superpowered showdown.
Related: Saturday Night Live Trolls Netflix Originals With Parody Commercial
One of last night's SNL skits had McAvoy playing a bachelor named Dolton in a parody of the current lead of The Bachelor Colton Underwood. Starring on a mock reality show called "Virgin Hunk," McAvoy's character is described as a "26-year-old virgin whose job is 'Exercises' [and who] has to choose between 30 women who didn't vote." Dolton, who's from "Turd River, Colorado," is repeatedly approached by the female cast members who are taking turns wooing him. Cecily Strong's contestant "Hennessy" is 31 so she's considered "almost dead" and her ex-boyfriend Dirty John dumped her for being too clingy. Heidi Gardner's contestant Jessica C. wears a sash titled "Miss Vagina" instead of "Miss Virginia", mocking the fact that there are currently two pageant contestants on The Bachelor. Throughout the skit, the cast of contestants interject staple refrains like "I missed you" and "Can I steal him for a sec?" McAvoy's Dolton, however, is "ready to find love with one of these randos" and is only waiting to have sex "until the producers say 'go'."
The lack of reality on so-called reality shows is a running joke at this point. SNL for its part has been parodying the concept for years with other sketches like "Farm Hunk," "Beard Hunk," and even "Bland Man." While shows like this are seemingly easy to lampoon, it's interesting to note that there are crazy rules and mandatory psychological testing situations for the actual contestants of The Bachelor, which helps create the outlandish exhibition we see.
McAvoy likely won't be appearing on a reality show anytime soon, but he's set to reprise his role as Professor Xavier in the upcoming X-Men: Dark Phoenix, as well as star in the IT sequel IT: Chapter Two – assuming Bill Skarsgard dressed as Pennywise didn't freak him out too much on set. One thing that does seem more likely than not for McAvoy is another chance to host SNL in the future.
Source: SNL