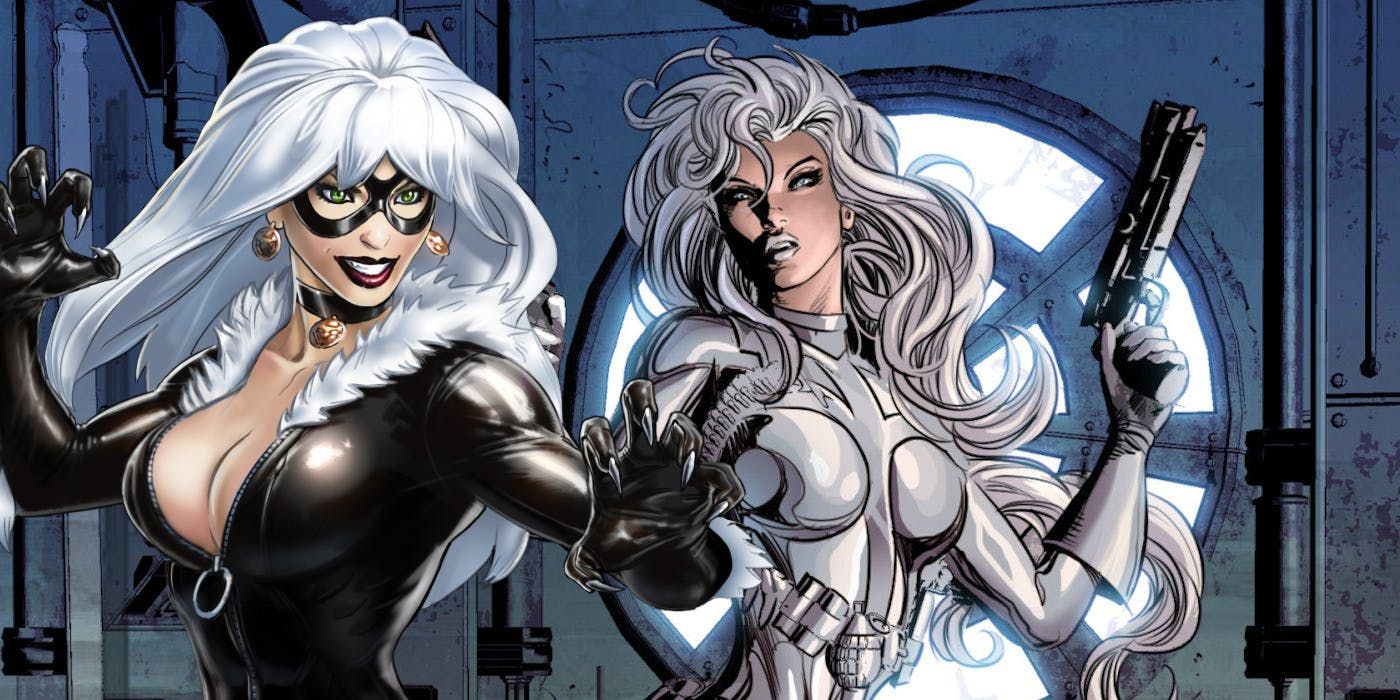 The Silver and Black film seems to have hit another snag in its production, delaying yet again until 2019. The film was announced back in 2017 and has director Gina Prince-Bythewood attached. However, script rewrites have set Silver & Black back, this time for what appears to be an indefinite hold.
Silver and Black is Sony's answer to Marvel's shared universe formula, starring the thief Black Cat and the mercenary Silver Sable. It is the second entry in Sony's own movie universe of Spider-Man-related characters, following Venom later this year. Sony exclusively owned the film rights to Spider-Man up until 2015 when they signed a deal with Marvel Studios to allow Spider-Man to exist in the Marvel Cinematic Universe. Now, several characters are shared by the two companies, but they're trying not to step on each other's toes. As of now, there are no official plans to include Spider-Man himself in either Silver and Black or Venom, even though Peter Parker actor Tom Holland was rumored for a cameo role in Venom.
According to Omega Underground, production on Silver and Black won't begin until at least 2019. Earlier this year, Silver & Black was put on indefinite hold but it seems that Sony is still committed to getting it made. The script in question has already bounced around between various writers, including Prince-Bythewood herself, Lisa Joy (Westworld), Nicole Perlman (Guardians of the Galaxy), Christopher Yost (Thor: Ragnarok), and Geneva Robertson-Dworet (Captain Marvel). The report speculates that delays in the script might be attributed to leaked plot details.
In the source material, Black Cat and Silver Sable have little in common other than their association with Spider-Man, each in a very different way. Black Cat/Felicia Hardy was an enemy turned ally for Spider-Man, eventually becoming a love interest. Silver Sable usually served as a pseudo-antagonist whose agenda simply did not line up the web-slinger's. This certainly raises a few questions as to what the premise of Silver and Black would even be. It is also curious as to why Sony firmly believes there is a demand for a film centered on two supporting characters who are new to the big screen.
Countless studios are attempting to mirror the success of Marvel's shared universe model. This is not the first time that Sony has made plans for an established film universe using its Marvel characters. The Amazing Spider-Man franchise was supposed to set the stage for a Sinister Six movie. However, the lackluster reception of The Amazing Spider-Man 2 seemingly was the demise of those plans. Still, it seems Sony has faith that it can capture the shared universe magic with Venom and Silver and Black.
Source: Omega Underground
The post Sony's Silver and Black Unlikely to Start Filming Until 2019 appeared first on ScreenRant