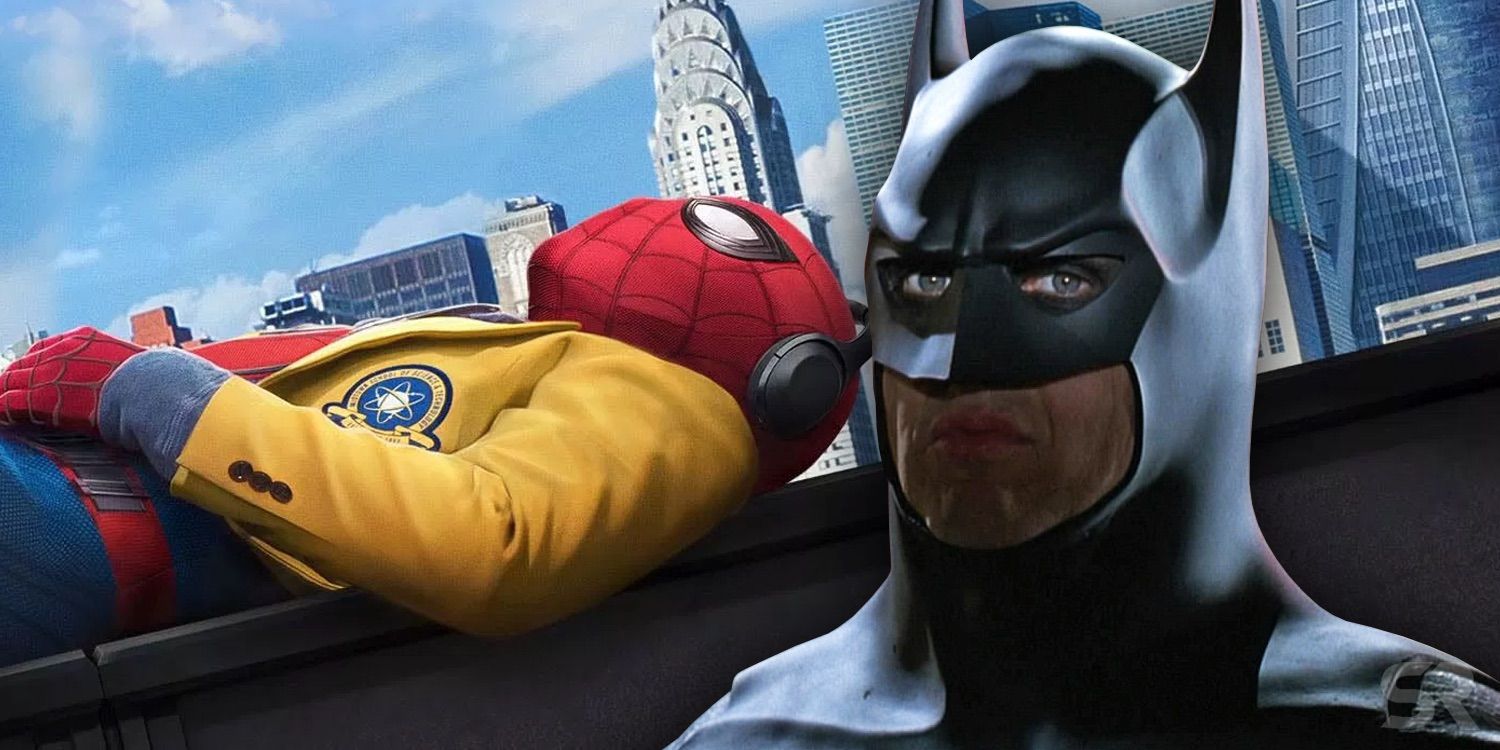 Information on the 2019 sequel to Spider-Man: Homecoming, titled Far From Home, is ramping up but today we're learning that Spider-Man's first standalone movie in the MCU could have featured a direct reference to Michael Keaton's 1989 appearance as Batman. Of course, there was no shortage of Batman jokes floating around the Internet at the time that Keaton was confirmed to appear as Homecoming's main villain Vulture – with many fans musing at Keaton's amusing relationship with superhero cinema from Batman to Birdman to Vulture in the MCU.
Nevertheless, Keaton proved to be a strong counterpoint to Tom Holland's young and inexperienced Spidey – punctuated by a very "human" story of a father trying to provide for his family. No doubt, Vulture's methods were extreme but, even before the film's big "twist" was revealed, Keaton had already grounded his sinister baddie with enough sincerity and relatable motivations to ensure the character successfully highlighted interesting aspects of Holland's Peter Parker.
Related: George Clooney Apologizes for Batman & Robin
In fact, it is that sincerity and dedication to believable storytelling and "real" characters that may be responsible for director Jon Watts deciding to ax the Batman joke (which would have distracted from the film's emotional climax).
So what happened in the aforementioned outtake? According to Holland (speaking to a live audience at Ace Comic-Con in Seattle), the pair was filming Homecoming's climactic scene – in which Parker rescues Vulture from flaming debris – and Keaton dropped a classic Batman movie line:
There's a great scene – it's not in the movie, it was cut short – where I carry the Vulture out of the flames when he nearly dies and I rescue him. And I lay him down on the sand and he says, I think the line was "Why did you save me?" And I'm like, "because I'm Spider-Man," and then he goes: "But I'm Batman!" I will never forget that.
It's hard to tell whether or not Holland's suggestion the scene was "cut short" means the line was at one point part of the script – or something Keaton improvised to lighten the mood in what was, very likely, a pretty grueling day of filming. As a result, it's equally hard to know whether Watts ever (seriously) considered including the line, ad-libbed or not, in the final film. Still, given the number of pop culture references packed into Homecoming (a movie that sees Spider-Man fight the "Avengers" early-on) – a tongue-in-cheek reference like "I'm Batman," especially one delivered by Keaton himself, might have actually landed with a lot of audience members.
Of course, had the Batman callback been included, it wouldn't have been the only casual nod to the Caped Crusader in Homecoming – since many fans thought the Spidey suit's "Interrogation Mode" was poking fun at Christian Bale's oft-memed Batman voice.
That all said, while lines like "I'm Batman" might be fun for comic book diehards and students of pop culture, there's no question the line and any laughs it might have generated would have undercut what was most important at the moment: Peter Parker defining his Spider-Man to the first supervillain he defeated. It's an important moment – one that, in combination with the other decisions that Parker makes throughout the movie, sums up this Spider-Man's moral code at a point where he, himself, is still trying to decide what kind of superhero he will become.
Related: Tom Holland Wants Venom in the MCU
Why does Spider-Man save Vulture? Simple: In Parker's mind, it's obvious: Spider-Man saves people – even if that means saving villains from their own evil deeds. It's a sentiment that seems to have inspired Vulture as well – given that the villain resists the temptation to out Parker as Spider-Man in Homecoming's post-credits scene.
In that context, it's easy to understand that, no matter how tempting it might have been to include that nod to Keaton's iconic turn as 1989's Batman, it would have trivialized a pivotal moment for Holland's Spider-Man now. Instead, it's a fun anecdote for Holland to share after the fact – albeit one that fans will, without a doubt, hope to see slip online eventually.
That or Keaton could always try to slip the line in, for real, when Vulture returns in Spider-Man: Far From Home.
Source: Ace Comic-Con (via Comic Book)
The post Spider-Man: Homecoming Deleted Outtake Featured Batman Easter Egg appeared first on ScreenRant