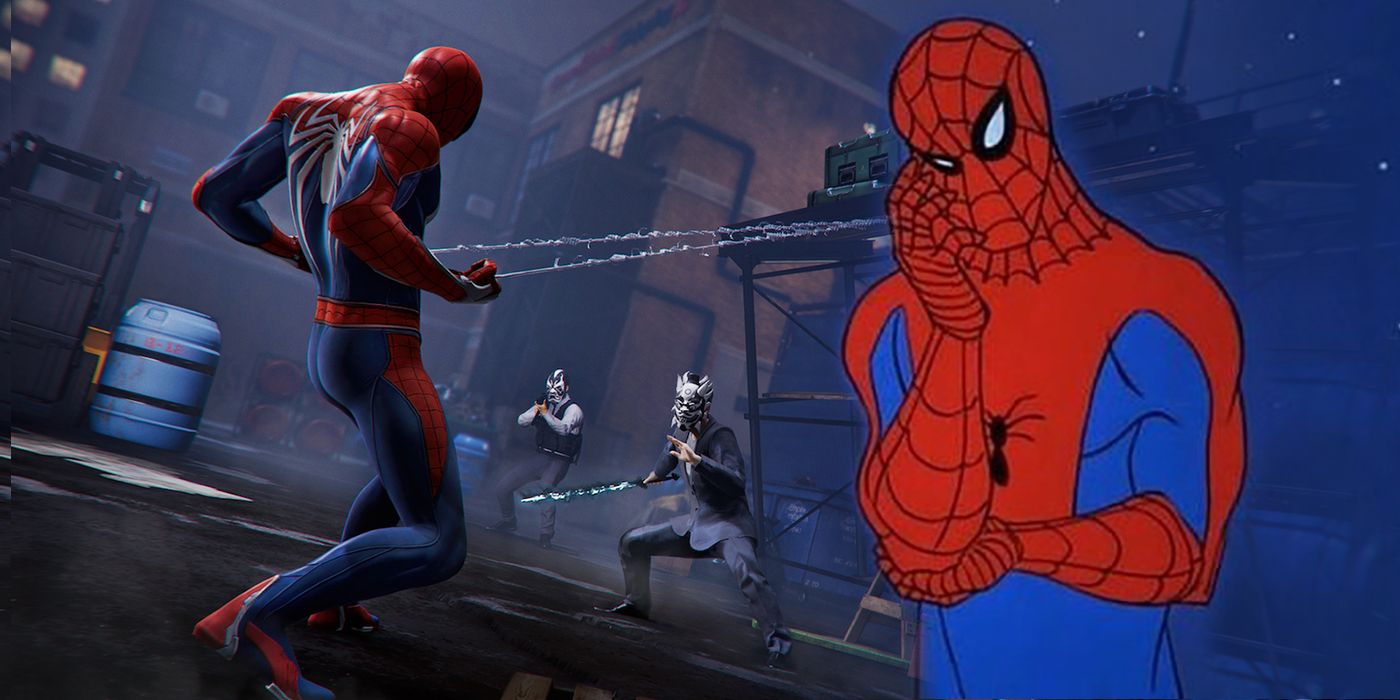 With PlayStation 4's Spider-Man just around the corner, developers at Insomniac Games are denying claims that the game has undergone a graphics downgrade. Accusations are flying as players and Insomniac are going head-to-head while arguing over puddles. That's right, puddles!
Swinging across the New York skyline, there's no denying that the PS4-exclusive Spider-Man looks visually amazing and could be a hot contender for Game of the Year. While battling with the likes of Vulture, Shocker, and maybe Doctor Octopus, something as small as a puddle of water seems like a tiny drop in an ocean as big as Insomniac's open-world Spider-Man. That being said, Puddlegate hasn't stopped a Twitter war between developers and gamers that has been going for over a week.
Related: Spider-Man PS4 DLC Details & Release Schedule Officially Revealed
It all started when one fan posted two screenshots of Spidey taking on a group of goons in a construction site. Highlighting the first image from 2017 and the second from 2018, spiydaman accused Insomniac of "another" downgrade:
Grabbing the attention of the official Insomniac Twitter, the account replied and said it was simply a change in the size of the puddle rather than a graphics downgrade. While the issue could've ended there, other eagle-eyed sleuths suggested that Spider-Man's costume and the shadows also looked worse than the 2017 version. Taking the matter into his own hands, Insomniac Community Director James Stevenson responded via his own personal Twitter to reiterate there has been "NO DOWNGRADE."
Sadly, it was too late and Puddlegate has become an internet sensation and started taking over the Spider-Man conversation on Twitter. Elsewhere, gaming writer David Milner has already played Spider-Man and suggested that although there is still an embargo on reviews, shrinking puddles and downgraded graphics are nothing to be worried about.
The issue of games downgrading their graphics between showcases and the finished product is nothing new and was a notable point of contention for 2015's The Witcher 3. Although the CD Projekt Red's game was still a huge hit, there was a minority of gamers that pulled the game apart for showcasing unrealistic graphics that didn't appear in the final product.
Insomniac hasn't tried to hide that Spider-Man has evolved a lot in the past year. Audiences only have to look at early trailers to see massive differences between character work, and in particular, Mary Jane Watson. From what has been seen from the various gameplay trailers and the extensive E3 demo, Spider-Man still looks to be visually stunning – with or without puddles.
Some vanishing puddles might not ruin the game's reputation, but it makes sense that Insomniac wants to clear up the confusion before Spider-Man's September 7 release. There is plenty of buzz surrounding Spider-Man at the moment, and while Puddlegate may not be the publicity that Stevenson and the team want right now, at least the sprawling superhero game is still grabbing headlines.
Source: Various (see above)