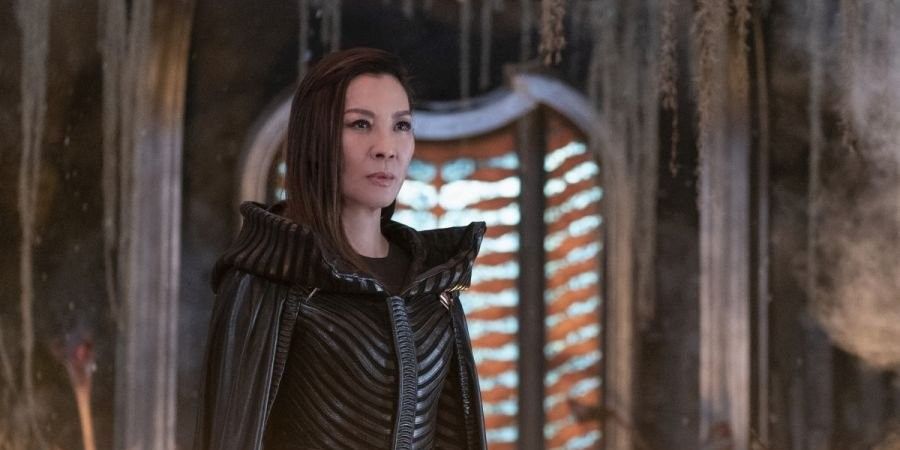 Fresh images from Star Trek: Discovery season 2, episode 3 highlight the return of the Mirror Universe's Philippa Georgiou and the Klingon Empire. Since Discovery premiered its second season earlier this month, the narrative has been firmly focused on establishing the overarching plot of this run: the mysterious red angel signals that are popping up all over the galaxy. Anson Mount's Christopher Pike has been introduced and installed as the temporary captain of the Discovery and while he is yet to fully appear, Spock has been set up as a character currently in crisis.
One absentee so far this season is Mirror Georgiou, the former leader of the Terran Empire. Accidentally plucked from her own universe, Mirror Georgiou helped the Federation defeat the Klingons at the end of season 1 and was consequently set free under strict instructions not to cause too much trouble. Also taking their leave in Discovery's season 1 finale were Ash Tyler and L'Rell, who departed on a mission to restore order to the Klingon Empire. This duo are also yet to feature in Discovery's sophomore season.
Related: Star Trek: Discovery May Be Explaining Spock's Original Series Mutiny
Newly released images from CBS now confirm that Georgiou, Tyler and L'Rell will all feature in the forthcoming episode "Point Of Light." The stills show L'Rell and Tyler among other Klingons, while also revealing a renewed romantic relationship between the two. Georgiou, meanwhile, is seen in a snazzy black uniform with a new character, Alan Van Sprang's Leland. The collection also includes a picture of Sonequa Martin-Green's Burnham with her adoptive mother, Amanda.
L'Rell's new long hair Klingon look was revealed prior to the season 2 premiere and will evidently be on full display in this week's episode. Interestingly, Ash Tyler has also grown out his locks into some kind of mini ponytail that The Walking Dead's Jesus would be proud of. L'Rell was romantically involved with Tyler when he was still known as the Klingon Voq, and it's interesting to see that spark rekindled, since Ash and Burnham previously developed feelings for each other during their time on the Discovery. These images perhaps suggest that Ash is over his relationship with Starfleet's first mutineer.
It's also fascinating to see Georgiou return to the Discovery fold, as CBS have already announced that the character will be getting her own spinoff series in the near future. The Georgiou solo series is confirmed to focus on the former Emperor's recruitment into the Section 31 clandestine squad, but it appears that the nucleus of that story will first be explored in Star Trek: Discovery.
Star Trek: Discovery continues with "Point of Light" January 31st on CBS All Access and February 1st on Netflix internationally.
Source: CBS