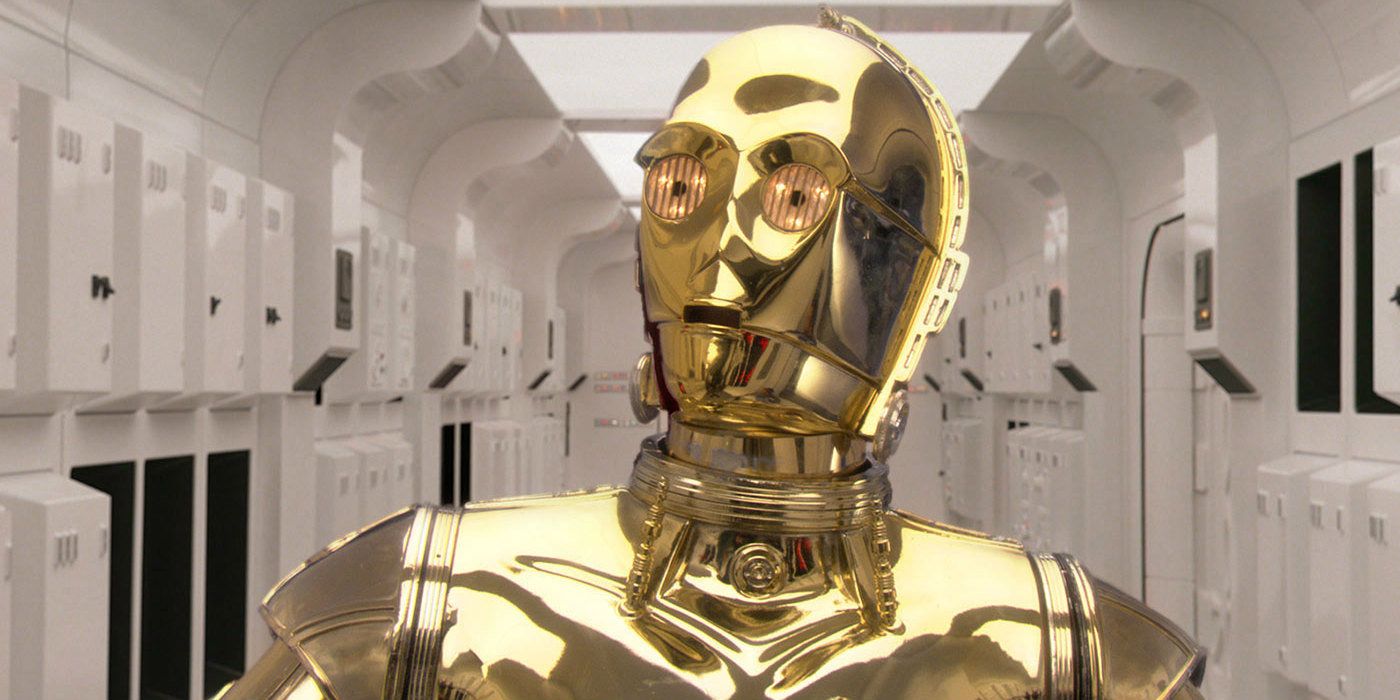 Star Wars: Episode IX actor Anthony Daniels reveals he's wrapped filming his scenes as C-3PO for the new movie. Daniels has been a part of the franchise from the very beginning and holds the noble distinction of being the only person to appear in all installments of the beloved series. In addition to his 10 portrayals as C-3PO (including a cameo in Rogue One), Daniels played Wookiee Tak in last summer's Solo spinoff. Over the years, Daniels has seen the size of his roles change, but he's always been a constant presence on set.
Director J.J. Abrams began shooting Star Wars 9 back in August 2018, and reports indicate he'll finish up in February. While there's no official word when Episode IX will formally wrap, it looks like things are beginning to wind down to a close. Daniels is now finished with his work on the film.
Related: Only Kylo Ren's Death Can End The Skywalker Saga
Today, Daniels took to Twitter to announce it was his last day on Episode IX. Understandably, the actor was feeling emotional about the development, but expressed gratitude for the hard work of the crew and excitement for what's to come. Check out his post in the space below:
There's a good chance Episode IX marks the final big screen appearance for C-3PO. Lucasfilm is currently developing two new Star Wars film projects – one from Rian Johnson and one from David Benioff & D.B. Weiss – that are not connected to the Skywalker saga. The idea behind them is that they'll explore new characters and locations, freeing the Star Wars franchise from the singular narrative that's defined it for more than 40 years (every piece of Star Wars canon can be traced back to the saga). This means there likely won't be a natural place for C-3PO in future films. Still, Daniels could easily play someone else if he were so willing. Obviously, Threepio has a special place in his heart, but he enjoys being a part of the galaxy far, far away and could find a small part in any of the upcoming movies.
It'll be interesting to see how Episode IX handles Threepio and Artoo. The dynamic droid duo were key supporting characters in the originals, but the sequels have given them very little to do. Their brief screen time in The Force Awakens and The Last Jedi amounts to little more than glorified cameos, which disappointed some viewers. Hopefully, with Episode IX marking the conclusion of the Skywalker saga, Abrams and company were able to come up with one final memorable moment for the characters that started it all back in 1977.
Source: Anthony Daniels