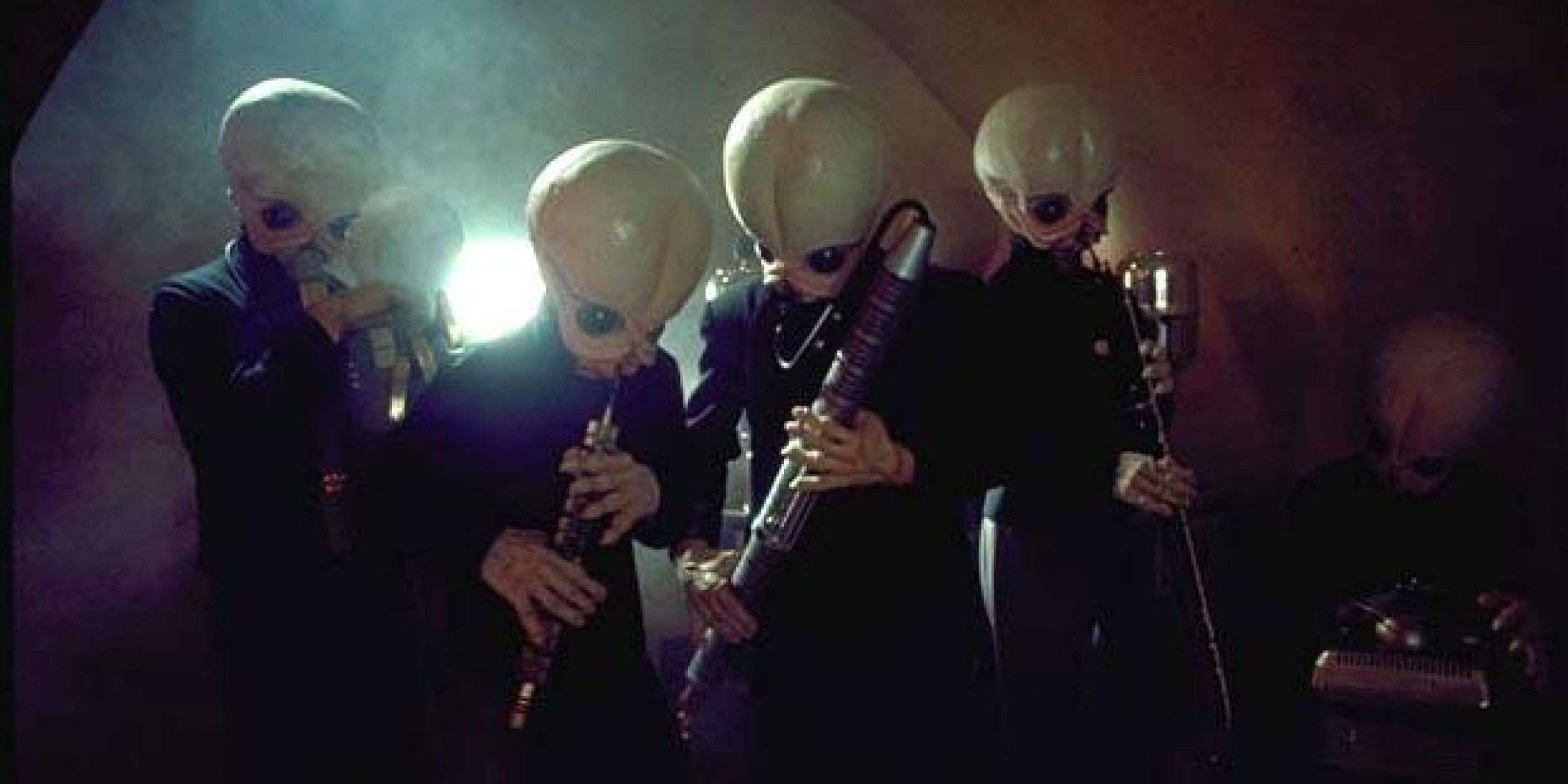 Amid reports that Disney and Lucasfilm have postponed future Star Wars spinoff films, a new rumor suggests the companies had been developing one spinoff centered on the infamous Mos Eisley spaceport. It was described by Obi-Wan Kenobi with the famous line, "You will never find a more wretched hive of scum and villainy. We must be cautious." The Mos Eisley spaceport, a central setting of the original 1977 Star Wars, would go on to become one of the most iconic locales in all movie history.
Luke Skywalker and Obi-Wan Kenobi met Han Solo and Chewbacca there, and commissioned his ship the Millennium Falcon. It was there that Obi-Wan first flashed his lightsaber, taking off the arm of an alien who threatened the youthful Luke. It was there that fans got their first taste of music in a galaxy far, far away thanks to the Cantina band. And it was there that Han Solo shot first.
Now according to a new rumor, there were plans for Lucasfilm and Disney to expand upon the already rich mythology of Mos Eisley…until the companies decided to shelve their spinoff series in the wake of Solo: A Star Wars Story and its soft box office returns. Making Star Wars has the low-down on the Mos Eisley movie rumor, saying Lucasfilm had gone so far as to reserve time at Pinewood Studios with the intention of beginning work on the unannounced – and indeed completely unsuspected – spinoff. But that reservation has now been canceled the site says, and the movie is off.
But more than just reporting on the Mos Eisley rumor, Making Star Wars goes on to suggest this "news" means good things for those reported Boba Fett and Obi-Wan Kenobi films. It was reported this week that Lucasfilm and Disney have actually put all future "A Star Wars Story" anthology films on hold after Solo failed to achieve blockbuster status. But Making Star Wars speculates that people in the know at Pinewood Studios may have heard about the Mos Eisley studio time reservation being canceled and simply assumed it meant Boba Fett and Obi-Wan Kenobi were off, and passed this erroneous information on to Collider.
Star Wars fans who long to see those Boba Fett and Obi-Wan movies come to fruition may feel heartened by this new rumor, which suggests those movies are still on, and Collider's report was based upon incomplete information. But at the end of the day, none of this really has a lot of substance to it. In fact, neither the Boba Fett nor Obi-Wan movies have ever been acknowledged to be real by Lucasfilm or Disney, despite numerous reports about attached directors and writers. This new Mos Eisley rumor just adds another layer of uncertainty to something that was far from certain to begin with.
Is it impossible that Disney and Lucasfilm were developing a Mos Eisley movie? Indeed, no. In fact, in a way it would make a lot of sense to revisit that setting. For one thing, it would be a natural place for Han Solo to pop up again, especially after all the talk of him heading off to Tatooine to hook up with a "big time gangster" (assumed to be Jabba the Hutt) at the end of Solo. And just as a setting itself, leaving aside its connections to the original movies, Mos Eisley has plenty of story potential. From a pure fan service point-of-view, few Star Wars locales are as appealing as Tatooine's seediest and most dangerous spaceport. But if the Mos Eisley movie ever was truly in development, at least according to this rumor, it is no longer on the docket for Lucasfilm.
Source: Making Star Wars
The post Star Wars Rumor: Lucasfilm Was Developing Mos Eisley Spinoff appeared first on ScreenRant