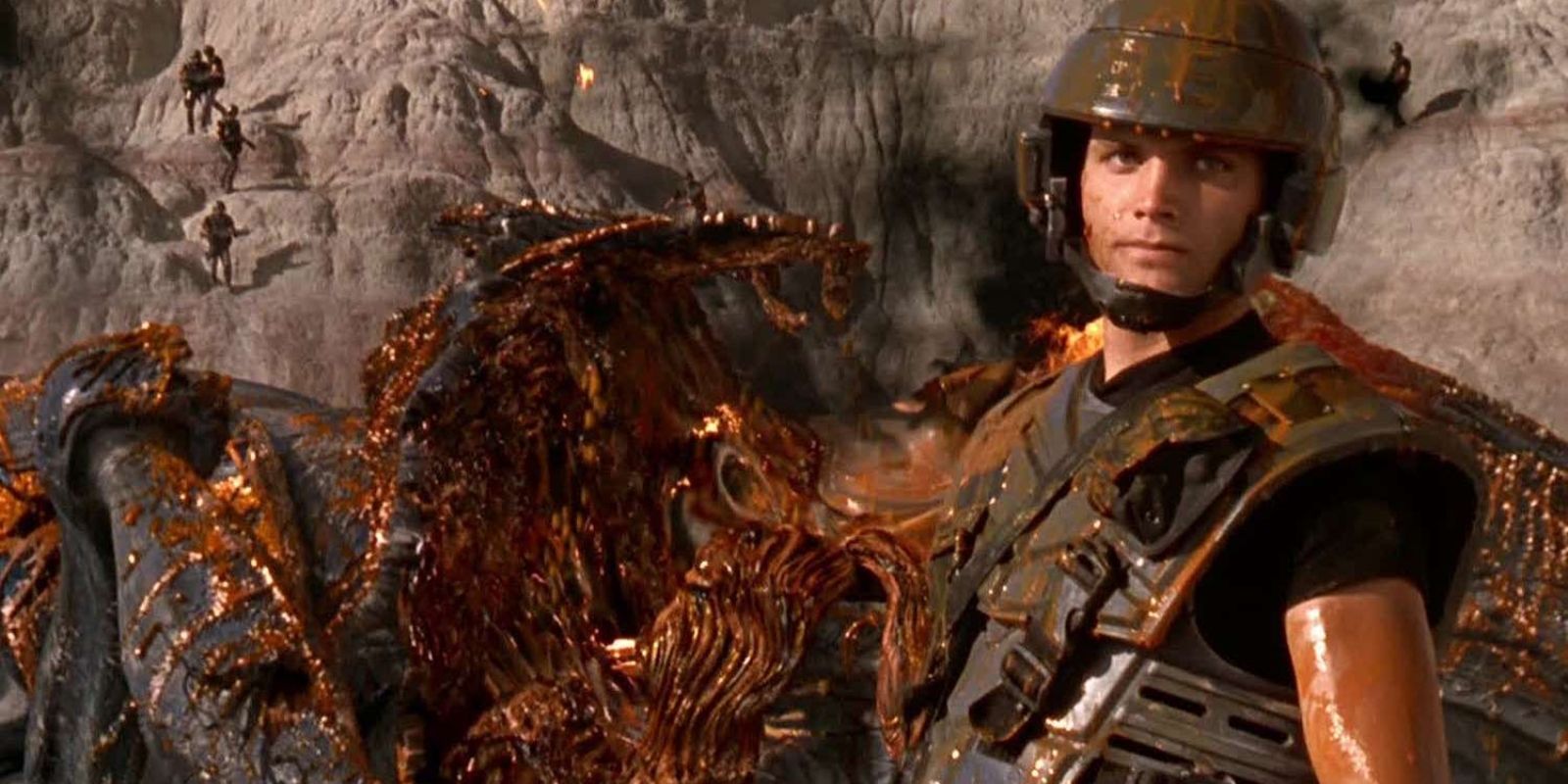 A potential Starship Troopers TV show is being discussed, according to the screenwriter of the original film. Director Paul Verhoeven made a real mark with his run of R-rated sci-fi action movies, including RoboCop, Total Recall and Starship Troopers. All three blended over the top gore with satire and political commentary. Unfortunately, the satire of Starship Troopers went over the heads of many viewers and critics upon release. Where the movie was intended as an attack on fascism and war propaganda, many reviewers felt it was a celebration of those things.
Starship Troopers underperformed at the box office but found a second life on VHS and DVD. The franchise continued with two straight to DVD entries: Starship Troopers 2: Hero Of The Federation and Starship Troopers 3: Marauder. The franchise also spawned two animated movies with Starship Troopers: Invasion and Starship Troopers: Traitor Of Mars, in addition to numerous video games. There has been talk of a PG-13 reboot of the original for years, but following the disappointing box office of other Verhoeven remakes like Total Recall and RoboCop, it has yet to emerge.
Related: 15 Things You Never Knew About Starship Troopers
Screenwriter Ed Neumeier has been involved with the Starship Troopers franchise in various capacities since its inception, including writing the original and directing Marauder. In a new conversation with HN Entertainment, he had this to say to a question about a soft-reboot that would bring back the old cast
Well, I think they can. I don't want to jinx anything, but we are talking about trying to do a television show that is based on that idea.
Neumeier was also pressed for his opinion on a potential PG-13 movie reboot of the property, and how he feels it wouldn't work without the political angle.
I can imagine you could do a new one that was a more serious version of the book without the political commentary, but I don't know if that interests me that much. The spectacle of the giant creatures and the ridiculous bloodshed, all that stuff, I don't know if in this world of CG where you can do all that stuff pretty easily seeing a bunch of creatures fighting might not interesting enough right now, for me. But other people might like it.
The last concept Neumeier heard for the reboot was that it would be – somewhat bizarrely – like a sci-fi version of An Officer And A Gentleman. Nothing much has been heard about the Starship Troopers reboot recently, though producer Neal H. Moritz stated in 2015 it could evolve into a TV show. While audiences have since picked up on the satire of the original, it would be hard to replicate the distinct mix of bloodshed and dark comedy of Verhoeven's movie. A TV series that featured some returning characters might work as a fun piece of nostalgia, but without a strong guiding voice like Verhoeven's, it could come across as hollow too.
Likewise, a PG-13 Starship Troopers movie that takes out the violence and satire, and instead focuses on a love story, doesn't sound like something the fanbase would look forward to. None of the Starship Troopers sequels lived up to the original either, so stripping away the very things that make the franchise unique sounds like the wrong move. Neumeier also wrote the original RoboCop and is currently involved with Neill Blomkamp's upcoming legacy sequel RoboCop Returns. The movie is based on an unused Neumeier sequel draft from 1988, and he recently revealed the aim is to make it feel like a true, Verhoeven-style follow-up to the first movie.
Source: HN Entertainment