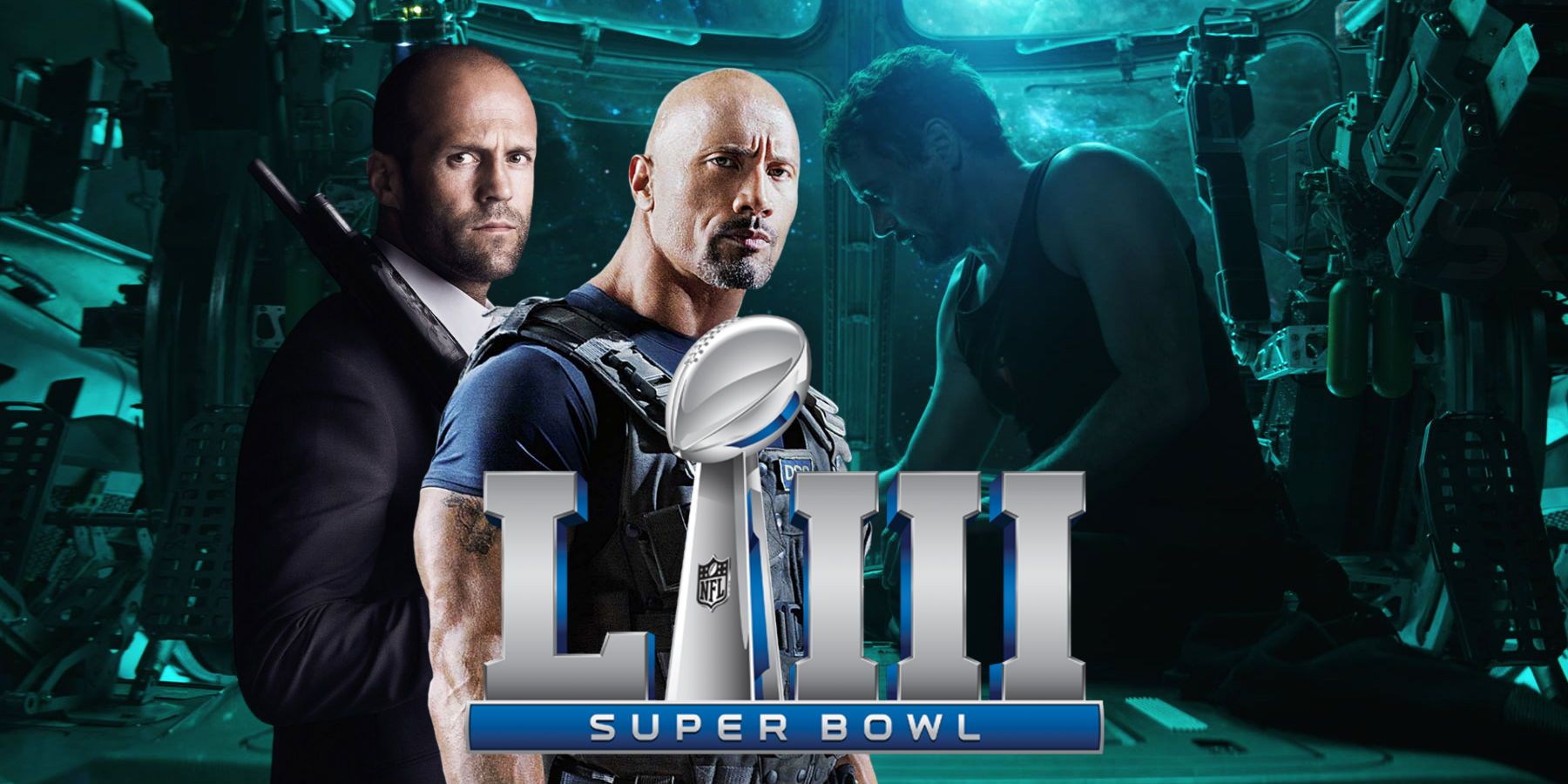 Super Bowl LII will offer film and TV fans a fresh look at some of 2019's most anticipated upcoming projects – but which movies and TV shows will get trailers during the big game?
The Super Bowl is one of the biggest sporting events of the year, but viewers tune in not just for the football game. In addition to the game, there's the much-hyped halftime show, and the debut of fun or more serious commercials. Plus, studios and networks also use ad time to release new trailers or TV spots previewing the year's high profile film and TV releases. For film and TV fans, those new trailers might even be the most anticipated aspect of the Super Bowl.
Related: Prediction: Netflix Has ANOTHER Surprise Super Bowl Movie In 2019
This year, Super Bowl LIII will see the New England Patriots face off against the Los Angeles Rams Feb. 3 on NBC. With kickoff scheduled for 6:30pm ET, viewers watching at home can expect an exciting game – and even more exciting trailers to debut during the show. Although we don't know every movie and TV show that will get ad time during the game, some have been confirmed. Now, we break down which movies and TV shows fans can expect to receive new trailers or TV spots, and which will definitely NOT be previewed. We'll keep this article updated as news comes in about Super Bowl LIII trailers.
This Page: What Super Bowl 2019 Movie & TV Trailers to Expect
What Super Bowl 2019 Movie & TV Trailers Are Confirmed
Universal Pictures is set to release the first Fast & Furious spinoff movie later this year, Fast and Furious Presents: Hobbs & Shaw, focusing on Dwayne Johnson's Luke Hobbs and Jason Statham's Deckard Shaw. As one of the bigger blockbuster movies of 2019, it makes sense the film will have a presence at the Super Bowl and one of the stars has confirmed as much. Johnson revealed the first Hobbs & Shaw trailer will debut during Super Bowl LIII.
Paramount will also have a presence during the pre-game festivities, with it being reported the studio will unveil a new TV spot for their upcoming animated movie Wonder Park.
What Super Bowl 2019 Movie & TV Trailers To Expect
Considering how massive the stage of the Super Bowl is, it's incredibly likely studios will use ad time to promote some of their biggest upcoming releases. In the case of Disney, their most likely candidates are Avengers: Endgame since it's Marvel Studios' most anticipated debut of 2019 and Dumbo – their first of three live-action retellings set to hit theaters this year. It's possible Disney/Marvel will market Captain Marvel, but if the studio were to market only one MCU film, it's most likely to be Endgame. After all, Marvel Studios did release an Avengers: Infinity War TV spot last year, rather than Black Panther.
Related: Will Avengers: Endgame Get A Trailer At The Super Bowl?
Further, since 20th Century Fox is releasing Alita: Battle Angel so soon after the Super Bowl, it seems a likely candidate for some kind of new TV spot or trailer during the game. Another big release in the first half of 2019 is Summit Entertainment's Hellboy, the reboot starring David Harbour. Given its positioning as a big release early in 2019, it's also possible Hellboy will receive a new TV spot or trailer during the Super Bowl.
On the TV side, perhaps the most likely 2019 show to receive a high profile trailer debut is Netflix's Stranger Things. Season 3 of the beloved sci-fi show debuts this summer, and Netflix is no stranger to promoting the series during the big game. After all, the first Stranger Things season 2 teaser trailer debuted during the Super Bowl in 2017.
What Super Bowl 2019 Movie & TV Trailers Are Less Likely, But Still Possible
There are a handful of upcoming movie releases that could potentially be promoted during Super Bowl LIII, but they aren't the highly anticipated blockbuster fare that's typically marketed during the game. Universal unveiled the first trailer for Jordan Peele's Us on Christmas Day 2018 and with a late March release date, the Super Bowl might be a good time to release new footage. In a similar boat are Paramount's Pet Sematary remake and New Line Cinema's Conjuring universe movie The Curse of La Llorona. Both Pet Sematary and The Curse of La Llorona released trailers in 2018 and are set to hit theaters this April. As neither film has released new footage since their respective trailers, they could do with being promoted during the Super Bowl.
Other bigger releases that could potentially receive Super Bowl ad time are Legendary's Pokémon: Detective Pikachu and DreamWorks' How to Train Your Dragon: The Hidden World. Unlike the above movies, though, both Detective Pikachu and How to Train Your Dragon 3 have been heavily marketed ahead of their 2019 release dates. In the case of How to Train Your Dragon, the film hits theaters later in February, which may explain a potential push at the Super Bowl, but it may not be a big enough release to warrant the millions of dollars DreamWorks would need to spend on a TV spot. As for Detective Pikachu, it doesn't release until May so Legendary has more time to market the film, but the studio may not want to pass up the opportunity of the Super Bowl to promote the first ever live-action Pokémon movie.
What Super Bowl 2019 Movie & TV Trailers Not To Expect
Of course, there's not enough time available during the Super Bowl for studios and networks to promote every big upcoming 2019 release, and there's certain films and TV shows we can rest assured won't debut new footage during the game. Warner Bros. doesn't typically promote any of their films during the Super Bowl and they're expected to once again sit out this year's festivities. That means there won't be trailers or TV spots for Shazam!, Joker or IT: Chapter 2. Sony will also reportedly be sitting out Super Bowl LII, so don't expect new footage for Spider-Man: Far From Home (Sony handles the marketing on the MCU movie per their deal with Marvel Studios) or Men in Black: International.
Related: Will Star Wars 9 Get A Trailer (& Title) At The Super Bowl?
As for other big 2019 releases, there are a number that don't come out until late summer or fall and, as a result, likely won't be promoted so early in the calendar year. These include Paramount's Terminator 6 as well as Disney's Star Wars 9 and Frozen 2. Further, it's been confirmed Disney won't promote Star Wars 9 at the Super Bowl, but with Star Wars Celebration being held in April, that's not too surprising. As for Disney's other high-profile releases, Aladdin and The Lion King, they're less likely to be promoted than Dumbo since they arrive later in the year (though there's still a slim possibility depending on how much ad time Disney is willing to buy).
Similarly, it seems unlikely Fox would choose to promote their upcoming X-Men movie, Dark Phoenix, during the Super Bowl instead Alita: Battle Angel. Still, if Fox does decide to promote two of their upcoming releases, then Dark Phoenix would be the obvious choice in addition to Alita.
On the TV side, viewers may be hoping for a Game of Thrones trailer during the Super Bowl since it's arguably the biggest television series of 2019. However, HBO tends to reserve footage reveals for its own network, making a Game of Thrones Super Bowl trailer unlikely. If HBO were to release anything, it would likely be a teaser for its entire upcoming slate – Game of Thrones, Watchmen, etc. – like the network debuted during the Golden Globes.
Super Bowl LIII kicks off Sunday February 3 at 6:30pm ET on NBC.