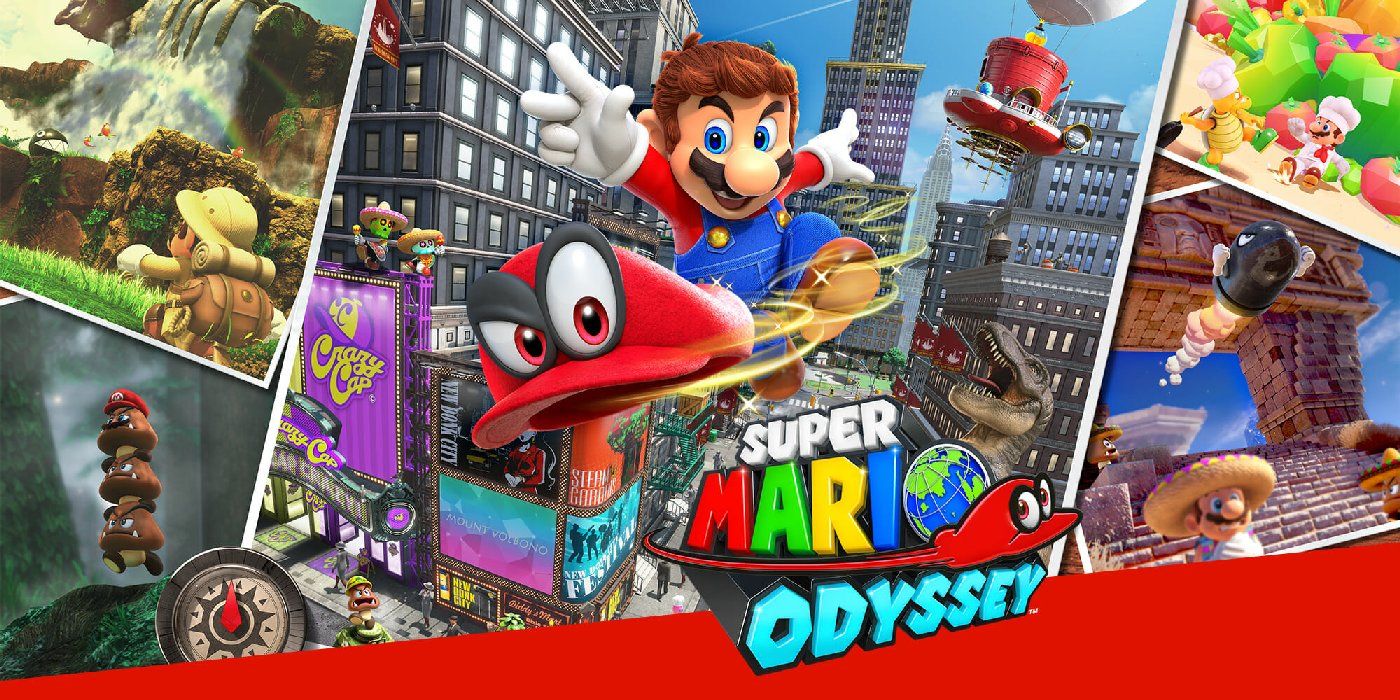 Super Mario Odyssey has just become the best-selling 3D Mario game in 23 years, which speaks not only to the success of the game, but also to the continued success of the Nintendo Switch. The game is one of the most important titles on the Switch, and is still going strong well over a year after its release in September of 2017.
Super Mario Odyssey is the first main entry in the Mario series to be released for the Nintendo Switch. The open world platformer allows Mario to explore several massive worlds. This time around, Mario is paired with Cappy, a character who takes the shape of Mario's red hat and can be used to take control of various Mario enemies and objects, including Goombas, Chain Chomps, and Bullet Bills. The game became an instant hit and was showered with praise from critics and fans alike.
Related: Nintendo May Be Developing Cheaper, Portable-Only Switch
Nintendo has released its hardware and software figures for 2018. The data reveals that by the end of 2018, Super Mario Odyssey had sold an impressive 13.76 million copies, making it the second best-selling Switch title behind Mario Kart 8 Deluxe at 15.02 million copies. What stands out about these numbers is how Super Mario Odyssey stacks up against past Mario titles. Odyssey has now topped Super Mario Galaxy for the Wii, which sold 12.76 million copies, as well the first 3D Mario game, 1996's Super Mario 64, which sold 11.94 million copies. This makes Odyssey the best-selling Mario game in the last 30 years, thus behind Super Mario Bros. 3. Super Mario Bros. 3 came out in 1988 for the NES and has sold 17.28 million copies.
The Nintendo Switch game has been posting impressive sales numbers ever since its release. After just three days, Odyssey had already sold over two million copies, and managed to reach nine million within four months. It's also worth mentioning how well it's fared against multiplatform games. Super Mario Odyssey outsold Stars Wars: Battlefront 2, which is available for all consoles, whereas Odyssey is a Nintendo Switch exclusive.
Ultimately, 2018 has proven to be a profitable year for Nintendo, and Super Mario Odyssey is only a part of it. According to its sales figures, the Switch's biggest title of the year, Super Smash Bros. Ultimate quickly sold 12 million copies, even though it just launched in December. Super Smash Bros. Ultimate, Super Mario Odyssey, and Mario Kart 8 Deluxe have all contributed in making the Nintendo Switch the fastest-selling console of this generation.
Source: Nintendo [via Dual Shockers]