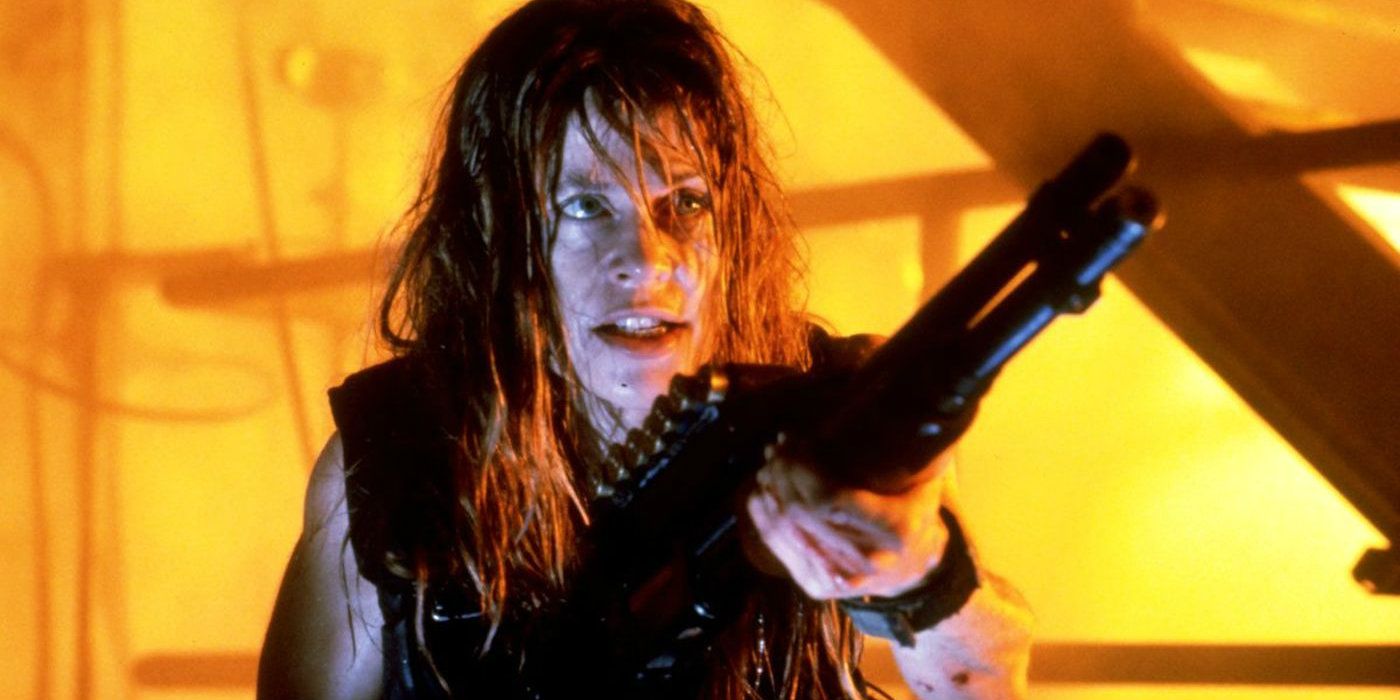 Linda Hamilton returns as Sarah Connor in new set photos for Terminator 6. It's been 27 years now since Hamilton last played the character in Terminator 2: Judgement Day, not counting her voice cameo in 2009's Terminator Salvation. Since then, Lena Headey has played the role in The Sarah Connor Chronicles TV series and Emilia Clarke portrayed an alternative timeline Sarah Connor in 2015's Terminator Genisys. Hamilton is now back in the role for an as-yet untitled movie that will serve as a direct sequel to Terminator 2 and ignore the events of Terminator 3, Salvation, and Genisys.
Deadpool director Tim Miller is calling the shots on Terminator 6 (as it's currently known), with series creator James Cameron producing and helping to shape the story. Production on the film is now getting underway, as evidenced by the fact that Mackenzie Davis (who's playing a solider/assassin type in the film) has been spotted on the set in costume. Now, the first photos of Hamilton as an older Sarah Connor on the Terminator 6 set have also made their way online.
TTF has posted the first photos of Hamilton in her costume from the Terminator 6 set. Terminator fans got a sneak peek at Hamilton back in her iconic sci-fi role earlier this month, but these images show her fully decked out in battle gear for the film. Sarah has never been one to overdo it when it comes to armor, so it's only fitting that her outfit here (bullet-proof armor, military binoculars) is pretty simple, but effective and useful for combat.
The plan is for Terminator 6 to start a new trilogy, but not one that focuses on Hamilton as Sarah and Arnold Schwarzenegger as an aged version of the T-800 Terminator. Instead, the films will revolve around newcomer Natalia Reyes as Dani Ramos, a young Mexican woman who finds herself being hunted by a new type of Terminator (played by Agents of S.H.I.E.L.D.'s Gabriel Luna). It's not clear yet whether Davis' character will be friend or foe to Dani, but it's fair to assume that Sarah and the T-800 will be lending the series' new lead a helping hand in the war-to-come against the machines.
Sarah Connors' story was largely complete by the time the end credits began rolling on Terminator 2, so it's a smart choice to have her pass the baton to another heroine to lead the franchise onward from here. Terminator 6 will further include three women in lead roles, including a woman of color as the protagonist and a sexagenarian as her crusty mentor. That's essentially unprecedented in the context of a Hollywood tentpole and all the more reason to hope that, with Hamilton back, the Terminator franchise finally gets itself back on track after years of uninspired sequels.
Source: TTF
The post Terminator 6 Set Photos: Linda Hamilton is Back as Sarah Connor appeared first on ScreenRant