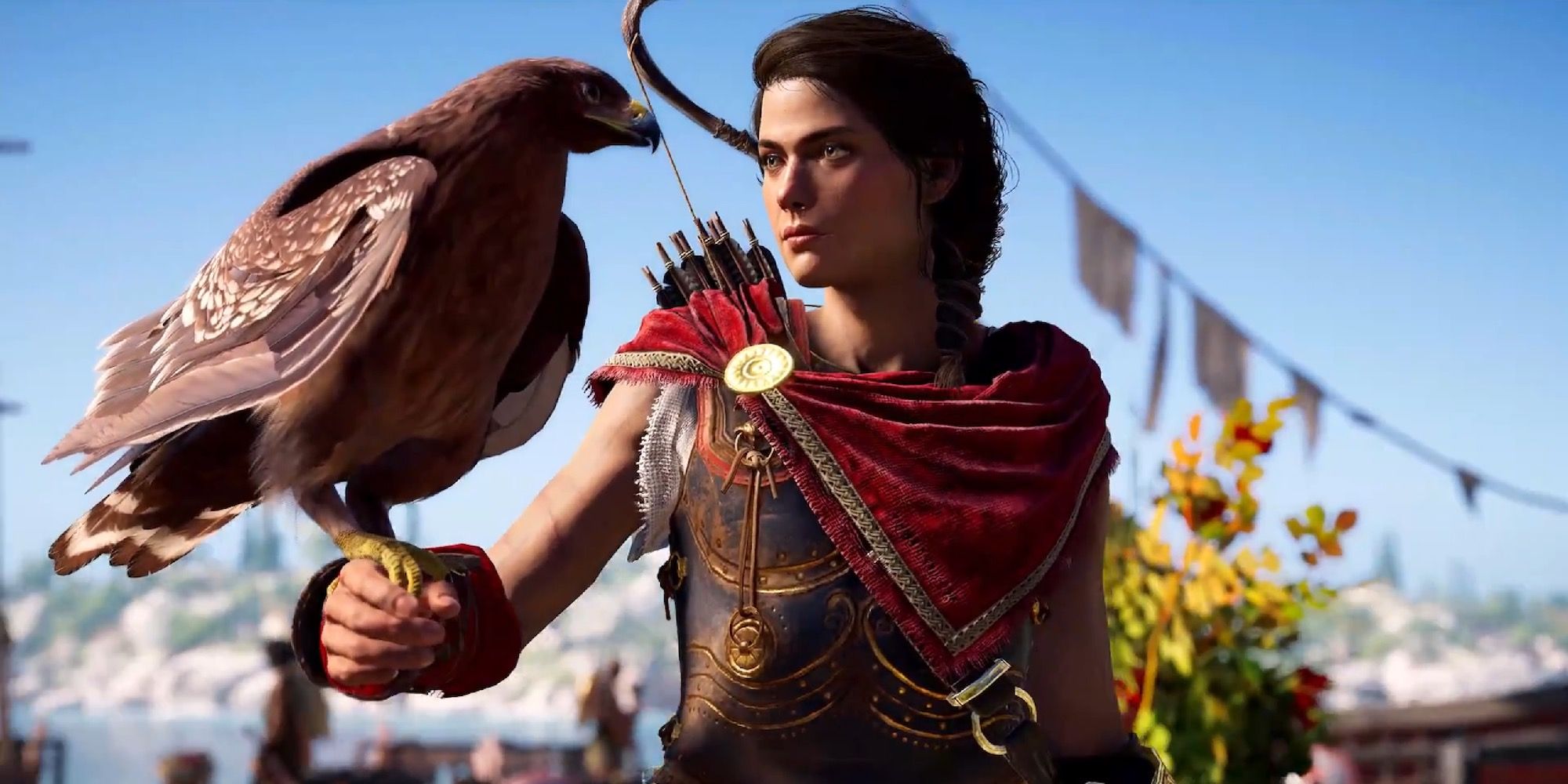 Assassin's Creed: Odyssey will release with a reversible cover, allowing the player to choose which one of the two playable protagonists is showcased on the front cover. Odyssey is the first game in the franchise to offer male and female options for the main character before starting the game. In Assassin's Creed: Syndicate, a brother and sister duo have to share the protagonist role.
Due to disappointing sales for Syndicate, Ubisoft decided to take a break from releasing Assassin's Creed games on an annual basis to spend an extra year on the next installment, Origins. Origins was a considered a major success and received mostly positive reviews. After being leaked online, Ubisoft unveiled the next game in the series, Assassin's Creed Odyssey, and officially revealed the trailer at E3 2018. Taking place in ancient Greece, the game isn't a direct sequel to Origins, which was set in Egypt. It follows the exploits of one of two protagonists: Alexios or Kassandra. Whichever character is chosen will get to wield the legendary Spear of Leonidas.
In a Reddit AMA, Assassin's Creed Odyssey creative director Jonathan Dumont revealed that the game will include reversible box art to let you choose which character is on the cover. The default cover shows Alexios. Since no physical copy has been announced for the PC version, it appears that the reversible box art will only apply to the Playstation 4 and Xbox One releases.
The idea isn't completely new. Mass Effect 3 did the same thing with the female version of Commander Shepard. For Ubisoft, the decision is a reflection of the huge amount of freedom Odyssey is giving players. Odyssey is breaking away from its typically linear storyline format to dive straight into the RPG genre by offering choices, much like BioWare's Mass Effect and Dragon Age games, where certain decisions could have dramatic – and sometimes catastrophic – consequences that would play out in the future.
For the first time ever, you'll be able to choose what your Assassin says through dialogue trees. Another similarity between Odyssey and BioWare games is the inclusion of romance options. All love interests in previous installments in the series were just part of the game's story, which goes to show how incredibly different Odyssey will be from each and every one of its predecessors.
Assassin's Creed Odyssey launches October 5, 2018 on the Playstation 4, Xbox One, and the PC.
Source: Jonathan Dumont
The post That's Cool: Assassin's Creed Odyssey Cover Art Is Reversible To Choose Your Hero appeared first on ScreenRant