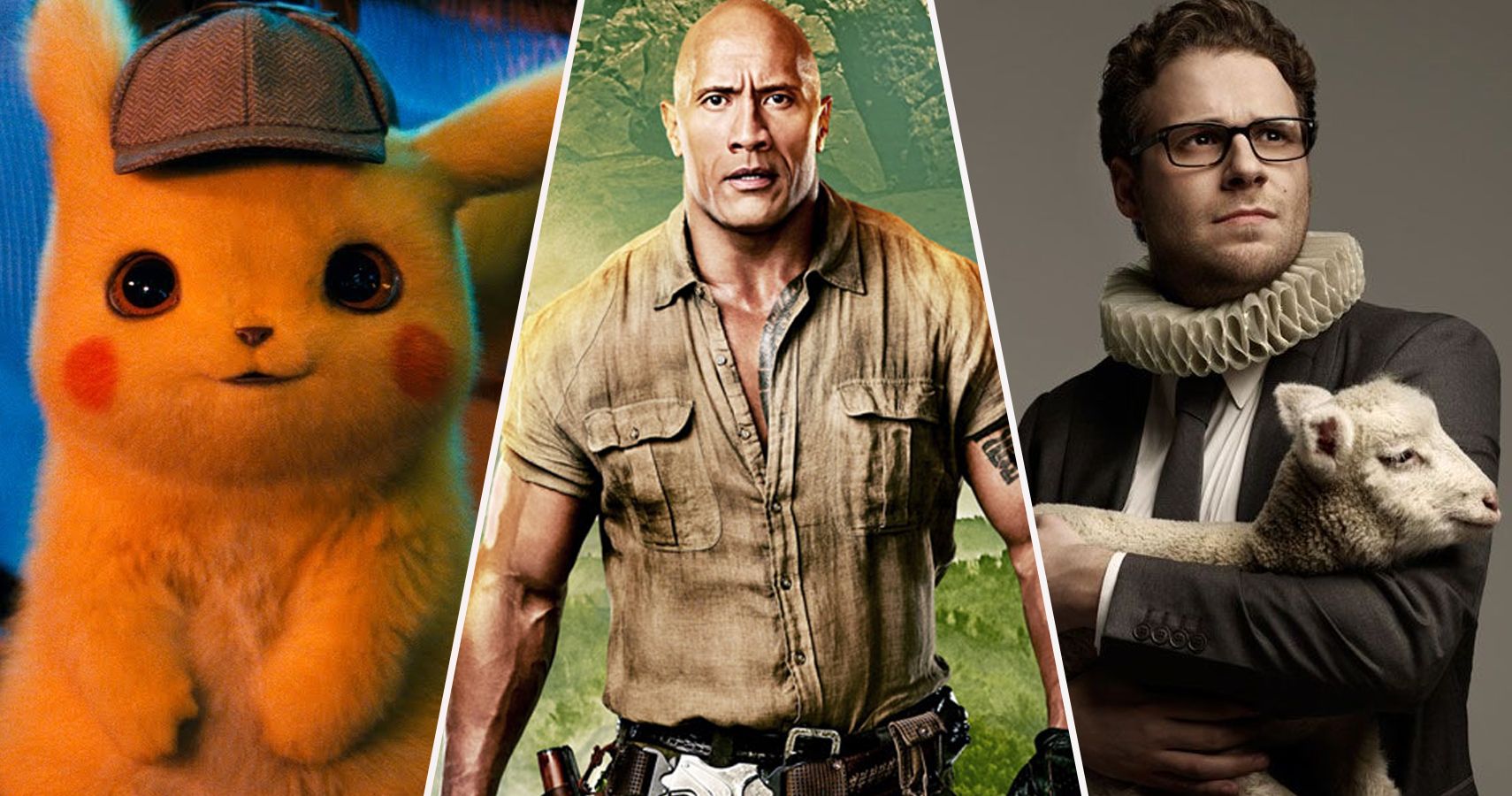 Few things are better than a theatrically released, big-screen comedy. Sure, cheering during an Avengers movie feels like a large-scale sporting event, but laughing in a crowded theater during a comedy is almost akin to a spiritual experience. When a large group of people come together and agree "that's funny," it's something special. Unfortunately, it seems like the heyday of mainstream comedy is behind us, with many big name comedy producers like Judd Apatow directing their focus on television. 
RELATED: 10 Binge-Worthy Comedies To Stream On Hulu
However even if there aren't quite as many comedies coming to a screen near you anymore, 2019 is still shaping up to be a promising year for feature-films designed to make you laugh and we've got the scoop on which movies you ought to be looking out for.
10

Isn't It Romantic

Rebel Wilson's style may not be for everyone, but the Australian comedian and actor has certainly won over audiences with her famous role in the Pitch Perfect trilogy, as well as memorable roles in Bridesmaids, How to be Single, and other comedies. Wilson gets a shot at a leading role this year in February's Isn't it Romantic, which follows a cynical woman, played by Wilson, who finds herself transported into a romantic comedy. Also starring are Liam Hemsworth and Wilson's Pitch Perfect co-star Adam Devine as possible love interests, in addition to Priyanka Chopra and Betty Gilpin in supporting roles. It remains to be seen whether Isn't It Romantic will successfully subvert romantic comedy tropes or if it will ultimately conform to them, but this looks to be a promising rom-com and, hopefully, a successful leading turn from Rebel Wilson.
9

Men in Black: International

Marking the second appearance by a Hemsworth on this list is Men in Black: International, a spin-off of the original Men in Black trilogy, this time starring Chris Hemsowrth of Thor fame, alongside Tessa Thompson, also of Thor: Ragnarok fame, as well as the Creed franchise, and more. Will Smith and Tommy Lee Jones aren't likely to make appearances this time around, but returning from MIB 3 is Emma Thompson as Agent O. Liam Neeson is also posed to make an appearance. Oh, and did we mention it's written by the original writers of Iron Man, and is directed by F. Gary Gray, who recently helmed Straight Outta Compton and The Fate of the Furious? MIB: International is sure to be a weird, alien-busting good time.
8

Jumanji 3

After Jumanji: Welcome to the Jungle completely crushed at the box office in December 2017, even doing well up against The Last Jedi, it's no surprise that the crew is back for another round of Jumanji. Dwayne Johnson, Kevin Hart, Karen Gillan, and Jack Black are returning, but this time around they'll be joined by icon Danny DeVito and Crazy Rich Asians breakout Awkwafina.

RELATED: Jumanji 3 Will Have More Connections To The Original Film

Plot details are being kept tightly under wraps, but the film is set to come out this December, so we should be seeing a trailer sometime in the next few months.
7

Zombieland 2

The long-awaited sequel to the 2009 surprise hit, Zombieland 2 features the return of the original cast — Jesse Eisenberg, Emma Stone, Woody Harrelson, and Abigail Breslin (all of whom are Oscar-nominated by the way — as well as original writers Paul Wernick and Rhett Reese, also the scribes of both Deadpool films, and director Ruben Fleischer, who pleased audiences and pissed off critics with 2018's smash hit Venom. Not much is known about Zombieland 2 so far, but it's safe to assume there will be plenty of laughs, scares, and a few more classic "Zombie Kills of the Week." Zombieland 2 comes out this October, just in time for Halloween.
6

The Beach Bum

This might be a bit of an oddball entry, but there's certainly reason to look forward to The Beach Bum, the next film from prolific arthouse weirdo Harmony Korine, known for helming Spring Breakers and writing Kids. As with many of Korine's movies, The Beach Bum is likely to forgo traditional plot for more off-kilter sequences and bizzaro touches, but we know it focuses on Matthew McConaughey and Isla Fisher as husband and wife Moondog and Minnie, and Snoop Dogg will be playing someone named Lingerie alongside Zac Efron as Flicker and Jimmy Buffett as himself. What the hell? The Beach Bum comes out in March.
5

Charlie's Angels

It may be yet another reboot, but there's reason to be hopeful that Charlie's Angels won't be another standard action-comedy and could instead be something more akin to the successful 21 Jump Street franchise. Co-written, co-starring (as a gender-swapped Charlie) and directed by Elizabeth Banks, the new Charlie's Angels stars Kristen Stewart, Naomi Scott, and Ella Balinska as the titular angels, and Patrick Stewart as Bosley. Not much else is known about the project, but Banks is a promising force behind the camera and we look forward to this one's release this November.
4

Detective Pikachu

While it has more to it than just comedy, Detective Pikachu is already surprising many with its comedic tone, as evidenced by its popular trailer. Justice Smith stars as a young man on a mission to find his father and he's joined by Ryan Reynolds as a wise-cracking Pikachu, who can say more than Pika Pika.

RELATED: Detective Pikachu: Every Pokémon Confirmed For Live-Action (So Far)

The movie looks to be not just a hilarious comedy the whole family can enjoy, but it might also be a successful film-noir. Detective Pikachu comes out on May 10th.
3

Flarsky

Seth Rogen, we've missed you! After mostly staying behind the screens in the last couple of years, instead focusing on directing and producing shows like AMC's Preacher and Hulu's Future Man, America's favorite Canadian pot-smoking comedy icon is back with Flarsky, a romantic comedy starring Rogen and Charlize Theron. In the film, Rogen plays a down-on-his-luck journalist trying to win over his former babysitter (Theron). Not much else is known about the comedy, which is directed by Jonathan Levine and written by Dan Sterling, but with this talent attached, along with appearances set from O'Shea Jackson, Jr, Randall Park, June Diane Raphael, and Ravi Patel, this could be the next hit from Rogen and company. It releases this May after a special premiere this March at South by Southwest.
2

The Lego Movie 2: The Second Part

The long-awaited follow-up to the 2014 smash-hit The Lego Movie, we can't wait to see Chris Pratt return as simple everyman Emmet, alongside the dozens of hilarious cameos we've come to expect from the Lego franchise. In The Second Part, it looks like Emmett is on a mission to find Lucy (Elizabeth Banks) and on the way he'll encounter returning favorites like Batman (Will Arnett), Benny (Charlie Day), and Princess Unikitty (Alison Brie), as well as new additions to the franchise in the form of Tiffany Haddish's villain Queen Watevra Wa-Nabi (get it?), as well as DC cameos by Jason Momoa, Margot Robbie, and Gal Gadot.

RELATED: Why Do All the LEGO Movies Have Daddy Issues?

Again written (but not directed) by Phil Lord and Chris Miller (along with others), The Second Part comes out on February 8th.
1

Wine Country

This one's technically cheating, as we don't know if it'll have a theatrical release, but it sounds so good that we have to mention it. Wine Country, directed by Amy Poehler from a script by comedy writers Emily Spivey and Liz Cackowski, who both wrote on Saturday Night Live, as well as all the best TV comedies of the past decade. The film follows a group of friends celebrating a birthday, but with Poehler, Rachel Dratch, Maya Rudolph, Tina Fey, and Ana Gasteyer in the cast, it's unlikely to be your standard birthday party. There's no release date set, but we can expect it to drop on Netflix sometime this year.

NEXT: 12 Iconic Comedies With 100% On Rotten Tomatoes (And 13 Stuck With 0%)