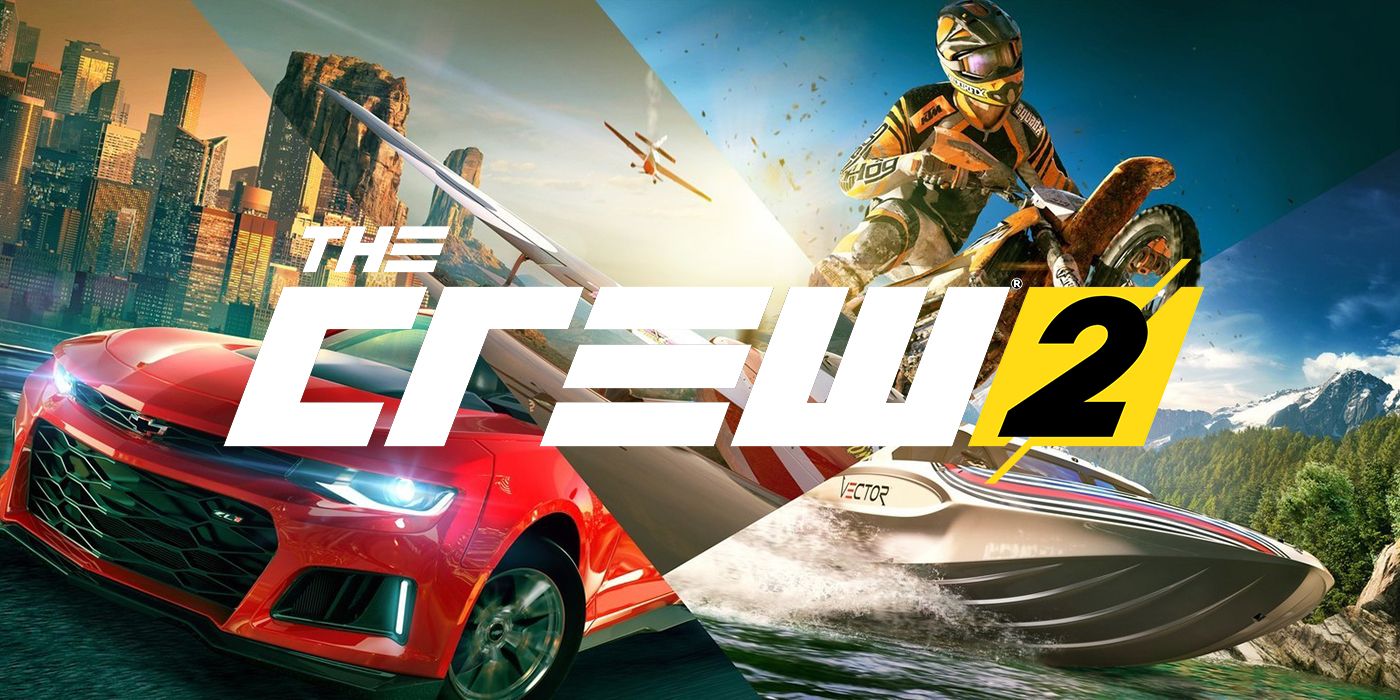 It's fair to say that the original The Crew was something of a mixed bag. It offered up something impressive for players that stuck with it, but it was easy to be turned off by either its po-faced gritty crime story or the sheer level of dedication that was required to reach a decent level in the game. Although it had its fans, it meant that The Crew 2 had some big changes to make to improve upon its predecessor.
Developer Ivory Tower has done something of a major revamp of even the core concepts for the sequel. That Fast & Furious-style story and street racing emphasis has gone out of the window, instead replaced with not only a more generic story about growing in fame and popularity but also a smorgasbord of different race offerings.
Related: The Crew 2 Lets Players Race Pretty Much Anything
Quite simply, there's a lot more on show in The Crew 2 than simple street racing. Would-be champions will have plenty of chances to drive souped-up vehicles through city streets, to be sure, but equally there's the chance for off-road rallying and motorcross, airborne style competitions and speedboat racing. There's a little something for everyone in The Crew 2, a self-identifying buffet of motorsport that never dwells too long on one game mode.
Within that, players can find their preferences and stick with them, to an extent. It's quite possible to power through the different social media-based driver ranks by sticking primarily to a preferred method of racing, so those who find a lack of excitement in rally raid can easily stick to boats and street racing if they so choose. It's a good thing, too, as the mileage certainly varies from mode to mode.
Thankfully, those core races are still the best, and it's hard to find fault in traditional gameplay modes such as the city racing, the pro circuit touring cars, or the impressive hypercar events. Outside of that, though, things can vary from the mildly diverting minigame of drag racing through to the chore of drift competitions, with nothing quite reaching a level of depth to make racers stick around for long.
Indeed, the game describes itself as something of a buffet, and that rings true in both positive and negative ways. There's a variety in The Crew 2 that is definitely enticing, and the sheer number of different play styles means that it's very hard to get bored within the game. However, there's nothing truly fulfilling here, from the short, sharp races through to the transient nature of the player character's fame meter being the be-all and end-all of their status.
Thankfully, this is negated by the tone which Ivory Tower has imprinted into the game. Getting rid of that dour crime-focused theme of The Crew was definitely the right decision to make, even if that now means that the name of the game itself feels a little out of sorts. Much like fellow Ubisoft stable-mate Watch Dogs, The Crew 2 has found a lot more love in a more light-hearted tone and neon-tinged lighting, dropping failing heavy themes for something a little more cheery.
That doesn't mean that the game's tone is entirely fitting. Aside from the drive-anything selling point, The Crew 2's other big gimmick was its large open world based on the entirety of the United States. At face value, the game world is very impressive, but before too long it shows itself as much less than a living, breathing world, and instead something akin to an America-themed amusement park.
That means that players looking for a deep replica of the core locations seen in the game, from New York to St. Louis and Seattle to Miami, are going to be disappointed. The Crew 2 feels like a pastiche of the US, taking those few identifiable structures and unique points of its environments and using them to build a CliffsNotes version of the source material. Thankfully, racers will often be driving too fast to notice, but if you stop to smell the roses you'll realize they are made of plastic.
Again, within this framework of a fun, five-minute-per-mode arcade racer, it's thankfully not too damaging to the overall quality of the game. Noticing something a little cheap in the smaller details is something that plagues racing games in general, and at least The Crew 2 is always willing to throw another distraction in the way, be it another race mode or another of its large, multi-vehicle competitions.
However, the world around the player does begin to take its toll a little eventually, whether down to the cheap character models, blink-and-you'll-miss-it story arcs, or the instantaneous regrowth of damaged foliage and rebuilding of destroyed signs. The player will smash through the scenery like a B-movie film set, but find it returning within short turnaround. Whatever maintenance crew is running at this motor racing theme park, they are certainly earning their keep.
It's this lack of permanence that also makes the player feel a little detached from the game world around them. The core racing is definitely good fun, particularly the off-road sections and the Pro Circuit, but it's best not to dwell on the world outside. Racers are given the option to drive between race locations rather than fast travelling directly, and although it's a fun novelty on the first few drives, it soon gets a little tiresome. Going off-piste, too, can feel almost like the notorious Mako sections of Mass Effect, the player traversing the landscape with an ethereal float.
All in all, though, The Crew 2 is still a lot of fun. It's not going to be the Forza Horizon killer that Ubisoft wanted, but nonetheless it's an enjoyable, if slightly shallow, racing romp. Its arcade racing is exciting, bumper car fun, and it's worth sticking around for the rest of the amusements without looking too closely behind the curtain.
3.5/5
The Crew 2 releases June 29 for PC, PS4, and Xbox One. Screen Rant was provided with codes for the purposes of this review.
The post The Crew 2 Review: A Fun But Flawed Motorsport Theme Park appeared first on ScreenRant