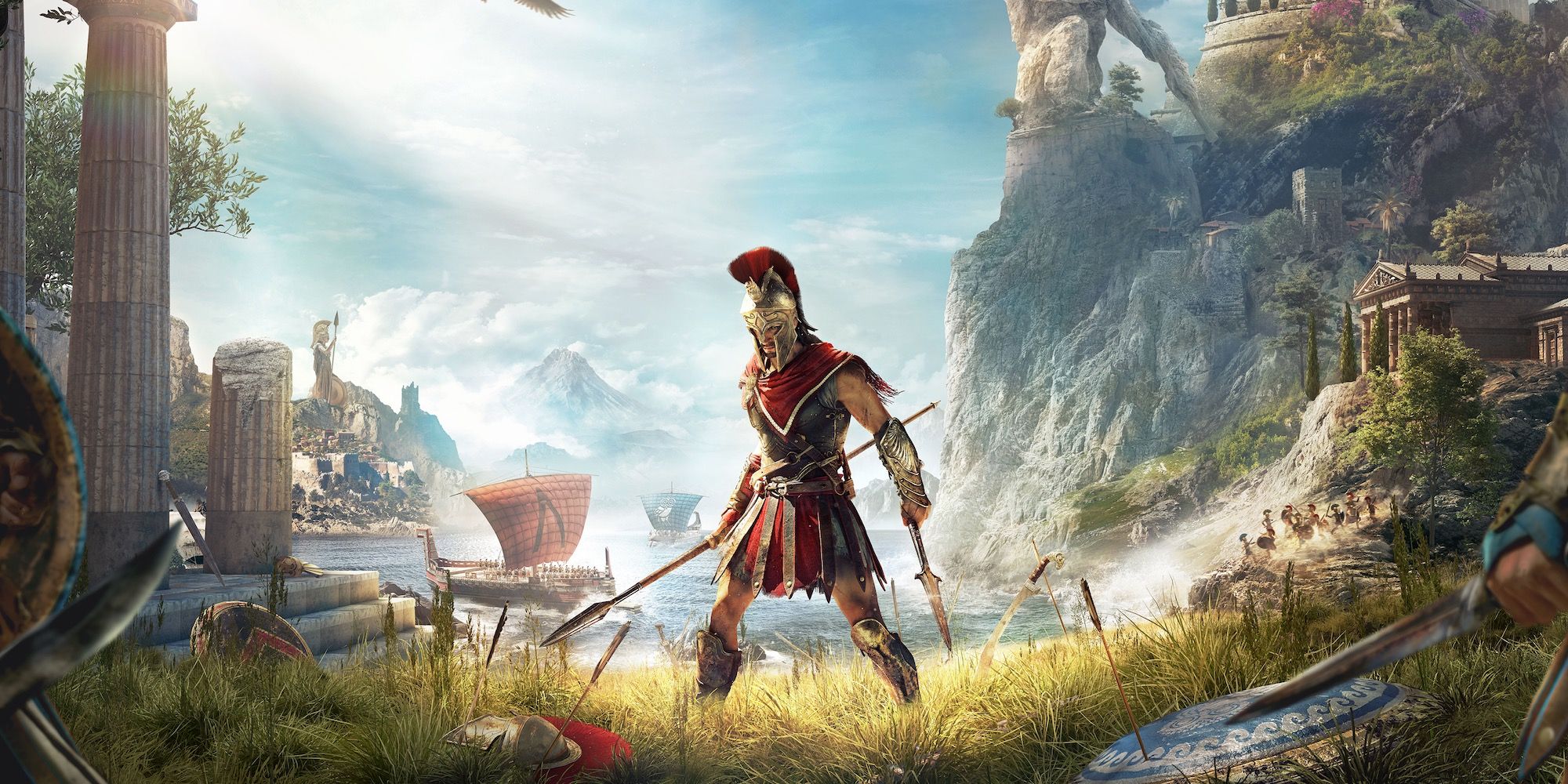 The entire world map for Ubisoft's upcoming video game, Assassin's Creed Odyssey, has been revealed online. Despite having previously suggested that they would not release a new Assassin's Creed title in 2018, Ubisoft revealed Assassin's Creed Odyssey back in May. Two weeks later, Ubisoft debuted a gameplay trailer at E3 2018, which highlighted the franchise's move from Ancient Egypt to Ancient Greece.
Odyssey was confirmed after an incident involving a key-chain, which was in the shape of a Corinthian helmet. Now, with less than six weeks to go before the release of the game, the world map has been revealed. Scott Phillips recently confirmed that there would be no multiplayer in Odyssey, but with a map this good, it won't need any.
Related: Assassin's Creed Odyssey Somehow Includes Syndicate's Evie
The map was shared online by PowerPyx, who caught a glimpse at the map during Gamescom 2018. At 130km², Assassin's Creed Odyssey's map is a whopping 62.5% bigger than the map for Assassin's Creed Origins, which is 80km². Boasting almost 40 real Grecian locations, Odyssey will be in the same vein as Origins, in that it will place particular emphasis on geographical and historical accuracy. If the stunning vistas from Origins are anything to go by, Odyssey will aim to display the magnificence of Ancient Greece in all its glory.
Click Here to See Assassin's Creed Odyssey's World Map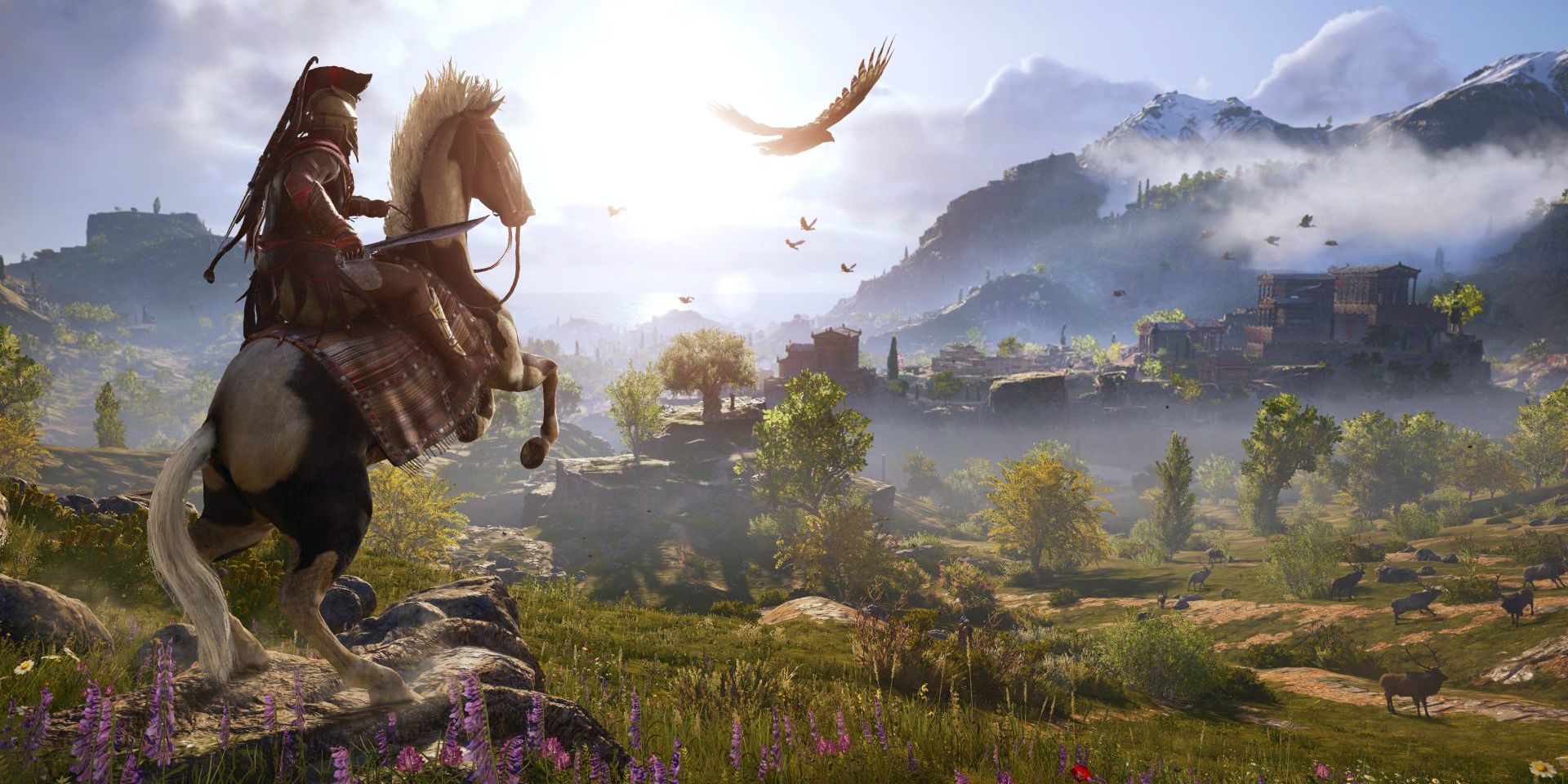 Odyssey pays homage to its eponymous parent, Homer's The Odyssey, in that the player uses a boat to navigate the map, which is mostly constituted by water. However, it's already known that Odyssey's water is full of sharks, which implies that it plays a significant part in the game's environmental design, and can be interacted with outside of the boat. The juxtaposition of this huge body of water with the game's mountainous regions introduces a vertical plane for exploration as well, which makes it perhaps the series' most ambitious effort yet.
Odyssey will potentially draw inspiration from its predecessor, Assassin's Creed: Black Flag, in relation to how it approaches the mechanics of seafaring around around its gargantuan map. However, it will be most comparable to Origins, which marked a significant change in direction for the franchise last year. Compared to the earlier titles in the Assassin's Creed series, which were more linear in nature and were usually set around a single city, Origins placed far more emphasis on the player's ability to explore the map freely. The transition from the series' traditional linearity towards a more RPG kind of approach was executed perfectly, as Origins boasted one of the most impressive maps of 2017, which helped the game to attain both critical acclaim and commercial success. As a result of this, Odyssey quickly established itself as one of the most highly-anticipated games of 2018.
In relation to previous installments of the franchise, it has also been revealed that Evie Frye will appear in Odyssey. Evie is one of the protagonists in Assassin's Creed Syndicate, which takes place two millennia after Origins, but she is apparently available to unlock as a Special Lieutenant on board the player's ship. Players will just have to wait and see how that works out when the game releases later this year. Assassin's Creed Odyssey is set to release on October 5 for PlayStation 4, Xbox One, and PC.
Source: PowerPyx