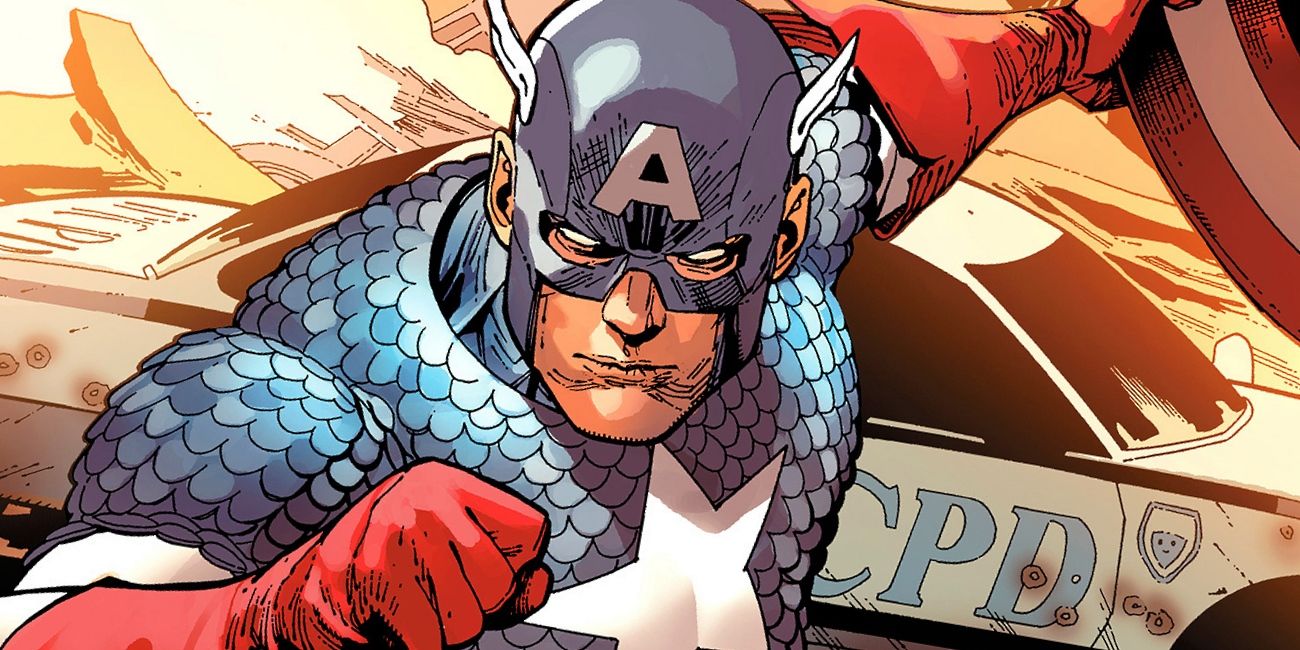 Ahead of its July 4th debut, a preview for Captain America #1 from Ta-Nehisi Coates and Leinil Yu has arrived. While Steve Rogers has gone through a couple of changes in the MCU, it's nothing compared to his comic book counterpart. The Sentinel of Liberty spent last year as the head of Hydra before the whole incident was swept under the rug and the status quo was more or less reverted. But the Marvel Universe won't completely ignore Cap's fall from grace, as Black Panther comic writer Ta-Nehisi Coates is tackling Captain America.
The issue, which launches appropriately on Independence Day next week, will pair Coates with artist Leinil Yu (with covers by Alex Ross) as Steve seeks to regain the public's trust whole battling some classic enemies. The past few issues of the comic have been telling a story about Steve's descendants in the future following the death of Captain America in issue #700.
In truth, that was a bit of time-hopping confusion, or just another day in the life of Steve Rogers. Coates, however, is likely to keep things a little more grounded even as his other Marvel book heads into space.
RELATED: 20 Craziest Facts About Captain America's Body
EW has the first look at Captain America #1, which sees Steve back in his classic costume battling what looks to be multiple versions of Nuke. Whether clones or lackeys, it's unclear – but Nuke is a fitting first villain for the new run. And an always-relevant one, embodying the darker side of nationalism.
Take a look:
Along with the new pages, EW spoke with Coates about what makes Cap tick. For one, Coates attempted not to place his history into Steve's story but instead try to get into the character's head. He even looked to the MCU for inspiration, noting that it's been especially good at showing how Captain America is often at odds with his namesake country.
I think the cool thing about those movies is they got across how Cap can be a defender of American ideals, and yet so often find himself in opposition to his own government. In two out of his three movies, he's on the run from the American government, even though he's Captain America! That is a very consistent theme in Captain America's history, and one of the things people miss. You see the flag, and if you don't think too hard about it, you just assume he's a flag-waving defender of the American government. In fact, he's a defender of American ideals, which is a very different thing. So those moments where the government doesn't live up to those ideals, he finds himself in conflict with them.
Since his origin, Captain America has always been more about the supposed ideas of America than the country, or rather its government. That's become especially true in modern stories, such as those by Ed Brubaker, and, of course, the Marvel Cinematic Universe. Coates' realignment of Black Panther certainly helped to inspire this year's film, so it's only fitting the MCU is now informing his take on Cap.
Marvel is currently reestablishing many of its core characters. The Hulk is embracing horror in his new solo book, while Iron Man has a legion of suits as he tries out a team-based approach that goes beyond his own ego. So while Captain America will be back in his familiar garb, it's clear his story will see him go in some new directions. But despite any new themes, the time-honored traits of Steve Rogers will remain.
Captain America #1 debuts on July 4th, 2018.
Source: EW
The post The First Look at Marvel's NEW Captain America appeared first on ScreenRant