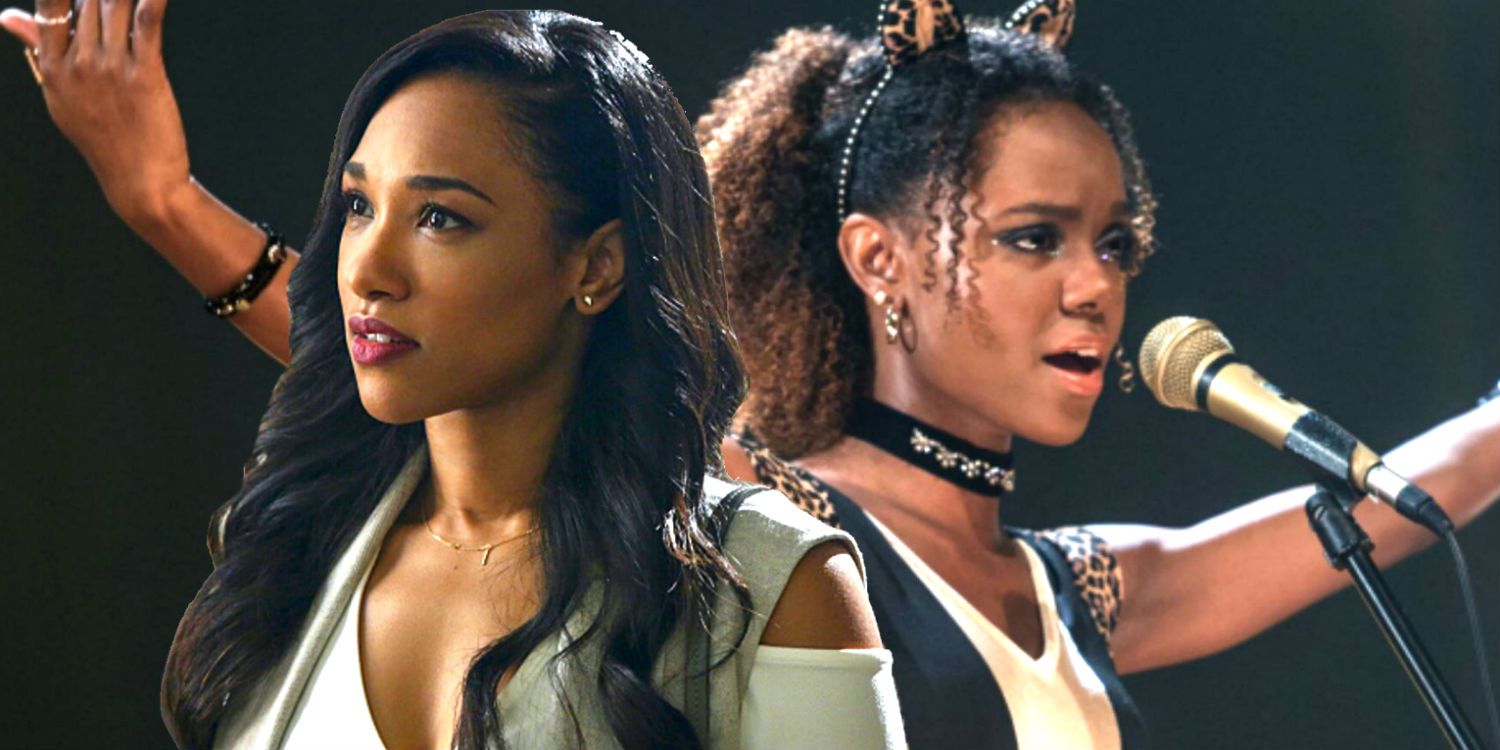 The Flash actress Candice Patton and Riverdale's Ashleigh Murray both faced racist backlash when they were cast as traditionally white characters, and the two reflected on their experiences during a panel at POPSUGAR's Play/Ground festival. Patton plays Iris West, the love of Barry Allen's life, while Murray plays the lead singer of Riverdale's homegrown pop stars Josie and the Pussycats.
Comic book fans are sticklers for accuracy when it comes to adaptations of their favorite comic book characters, but given that the vast majority of established comic book characters are white, networks sometimes choose to cast people of color in traditionally white roles in order to make their shows better reflect a diverse viewing audience. Unfortunately, race-swapped casting has a tendency to draw anger from certain corners of the comic book community, ranging from those who are unhappy that the actor doesn't look exactly like the character in the comics, to full-blown racist vitriol.
Related: Candice Patton Wants Iris & Barry to Have a Kid
"Comic book fans are very opinionated, very vocal," Patton said during the panel (via Comic Book). "So it was very scary stepping into that role when I started the show." She recalled that, after she was cast, one of The Flash's executive producers warned her not to go online, so that she could at least avoid seeing the worst of the backlash. However, as fans of The Flash got used to seeing her as Iris, Patton says that she came to feel accepted in the role:
"But what's great is, I think over time, people have embraced me and have embraced this character and I think it's really important. And I think what's great is, you know, years to come, people will remember Iris West as being African-American. And that's a really, really cool thing."
Murray says that her experiences were in line with Patton's, and that after she was cast she was warned not to go online or look at social media. Ultimately, however, it seems like playing Josie has been a positive experience for her, with the love drowning out the hate:
"I have seen people say some really unfortunate things, but there was so much happiness and gratitude and support outside of that negativity, that it kinda outweighed it. And now it's just white noise. I don't even notice it or see it much anymore. And it's probably thanks to [Candice], because [she] had to go through it before I did. You probably made the transition a little bit easier."
Following on from that point, Patton suggested that the online mob can only get outraged by so many castings like hers and Murray's before they wear themselves out, and that hopefully soon it won't be considered a big deal when an actor is a different ethnicity to the character in the comics: "The more we get cast, the more we unfortunately take the brunt, the easier it's going to get on every woman of color that comes after us that's cast on a show."
The Flash season 5 will premiere on October 9, 2018, and Riverdale season 3 will premiere on October 10 – both on The CW.
Source: Comic Book
The post The Flash & Riverdale Stars Reflect on the Racist Backlash to Their Casting appeared first on ScreenRant