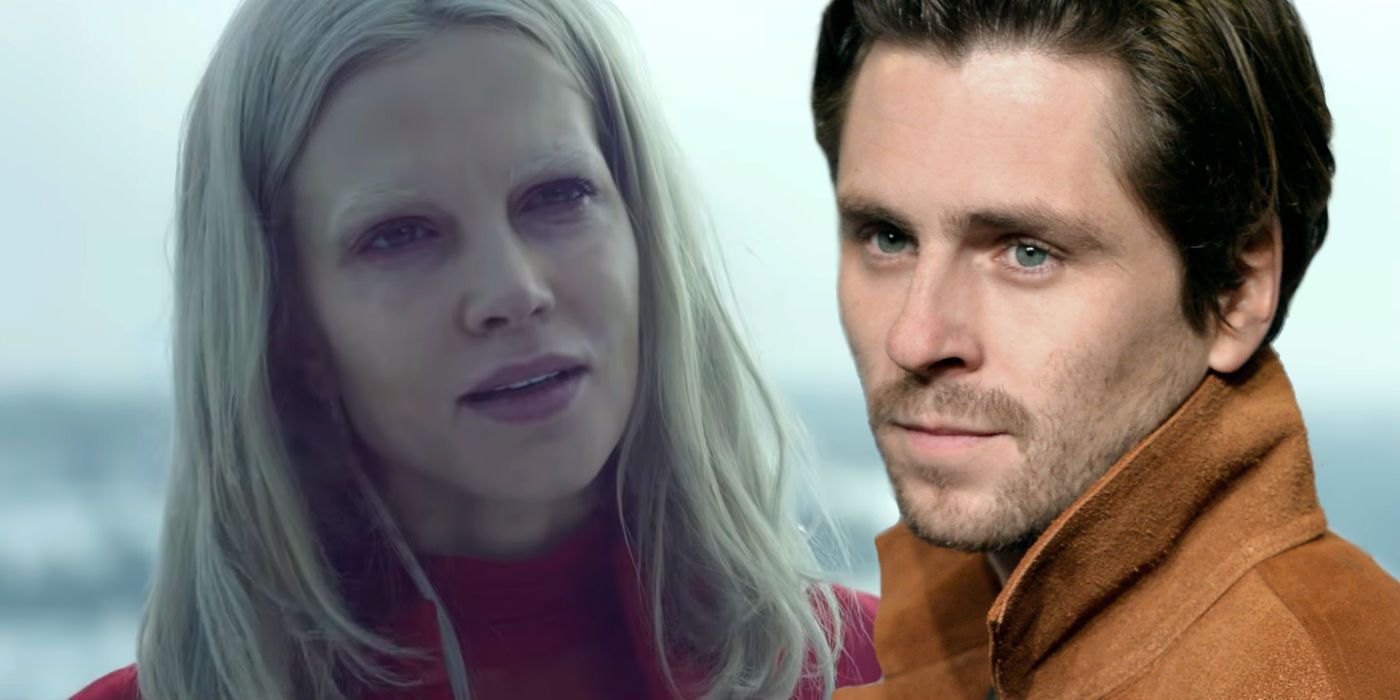 When Lisbeth Salander returns to the big screen in The Girl in the Spider's Web, she'll have a ghost from her past to contend with. Specifically, her sister Camilla, who is played by Blade Runner 2049 star Sylvia Hoeks. Also returning to her life is dogged investigative journalist Mikael Blomkvist, who this time around is played by Sverrir Gudnason (Borg McEnroe).
The Girl in the Spider's Web was directed by Fede Alvarez (Don't Breathe) and stars Claire Foy as Lisbeth Salander – the role previously played by Rooney Mara and Noomi Rapace. The film is an adaptation of the fourth novel in the Millennium series (only the first three have previously been adapted), and sees Lisbeth caught up in a web of cyber-crime, assassination, and conspiracy, while also being forced to confront the trauma of her childhood and her memories of her father.
Screen Rant paid a visit to the set of The Girl in the Spider's Web earlier this year, where we spoke to Hoeks and Gudnason along with their co-star, Lakeith Stanfield. Here's what they had to say about this latest twisted tale of the girl with the dragon tattoo.
This Page: Camilla and Blomkvist's Relationships With Lisbeth
As her estranged twin sister, can you talk about some of the mixed feelings that Camilla might have?
Sylvia Hoeks: In my view… she really missed [Lisbeth] a lot. I think that is the most that I can tell you about this character [laughs]. It's hard to tell you a lot without revealing anything – I'd like to! But I think they're both very intriguing characters and I think they support each other in their history, but they have such a past that it would be hard to reconnect.
We saw a glimpse of some flashback scenes, to their childhood. Is that something we're going to see a lot of – where they came from and their relationship with their father?
SH: I think that's what this film is really also about, is the past and what we see of the past, there's a lot of Lisbeth's past revealed through this film, and Camilla's a big part of that. I think what we know of Lisbeth is she's a very strong female character that represents kind of a Robin Hood, but for women, abused women. She's striving for them, and I think in a time like this, that's very important. And to have another strong female character next to her that reflects on her past and the pain that she has… that is something that we want to know and we want to learn more about.
What's your take on that [to Gudnason]?
Sverrir Gudnason: I play Blomkvist, the journalist and editor of the magazine, and Blomkvist and Salander had a lot to do with each other in the past and she's a very, very special person for him. She's his fuel, in a way. And when she needs his help, he's always there to do what he can.
In the book, Blomkvist is under fire for being a bit of a dinosaur.
SG: Yeah, I mean he kind of lost his mojo in the beginning of the story, but reteaming with [Lisbeth] and starting this mission gets him going again.
Is Blomkvist kind of the entry point character, who needs the technological jargon explained?
SG:I would say he's probably one of the- he might be the only normal person in the movie, for sure.
SH: [Laughs] What is normal?
We've seen Lisbeth and Blomkvist's relationship explored before in films. Is this a little different than we've seen their dynamic before?
SG: I mean, they share a very special bond, and I can't really reveal how it's done in this movie but I can say that they're very, very special to each other.
You were talking about how you couldn't have predicted things would have happened the way they did over the past several months in the entertainment industry, but what do you imagine the conversations will be like by November, and how welcome will this character be?
SH: I really think that for women and the characters that are written for actresses, I think there's a really good vibe and a really good wave of interesting female characters, and I think this movie's one of them, and [Lisbeth] was one of the first few great female characters in cinema. So to see another film of her will be fantastic to have that legacy going forward. I think in a time like this it will hopefully be more applauded and seen.
The post The Girl in the Spider's Web: Sylvia Hoeks & Sverrir Gudnason Interview appeared first on ScreenRant