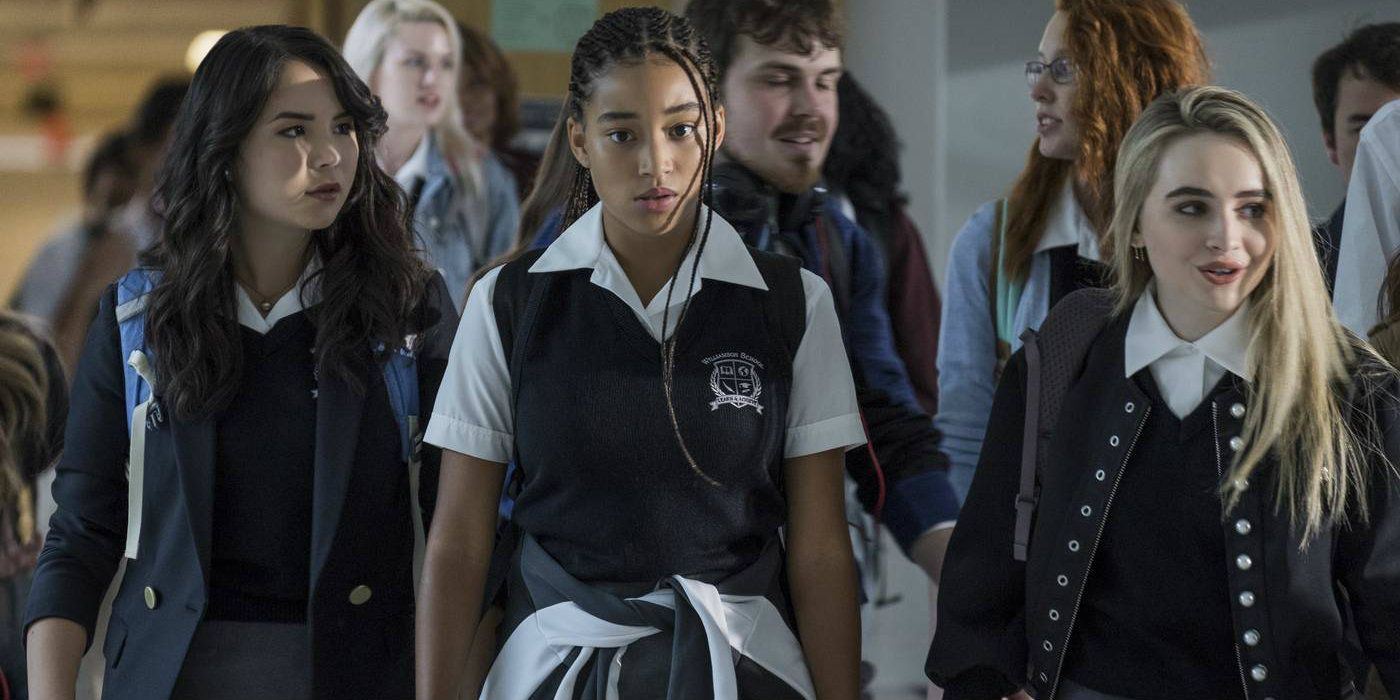 Amandla Stenberg plays a young teenager who witnesses a fatal police shooting in the trailer for The Hate U Give movie adaptation. The film is based on the 2017 novel by Angie Thomas, which itself was partly inspired by the police shooting of Oscar Grant on New Year's Day 2009. Hate U Give is also one of two 20th Century Fox-produced young adult book adaptations that Stenberg is starring in later this year, with the other being this August's teens (with superpowers) on the run sci-fi thriller, The Darkest Minds.
Stenberg (The Hunger Games; Everything, Everything) stars in The Hate U Give as Starr Carter, a teenager who lives in the poor and predominantly black neighborhood of Garden Heights, but goes to school at the largely white and affluent Williamson Prep. Everything changes one night when Starr and her best friend since childhood, Khalil (Algee Smith), are pulled over by a cop and Khalil is shot and killed. Facing immense pressure from both sides of her community, Starr struggles to find the courage to take a stand and speak her truth about what really happened that night.
Written for the screen by Audrey Wells (The Game Plan, A Dog's Purpose) and directed by George Tillman Jr. (Notorious, Faster), The Hate U Give cast also includes K.J. Apa (Riverdale), Anthony Mackie (Avengers: Infinity War), Regina Hall (Girls Trip), Common (John Wick: Chapter 2), Issa Rae (Insecure), Sabrina Carpenter (Girl Meets World), and Russell Hornsby (Fences). Fox debuted the film's trailer during last night BET Awards, but has now released it online for everyone to watch. Take a look in the space above.
As the trailer shows, The Hate U Give tackles the issues of police violence and racism more directly than just about any other mainstream film in recent memory. Thomas' book has already been widely celebrated for that very topicality, in addition to being an otherwise engrossing read. Films like Ryan Coogler's true story-based Fruitvale Station have been similarly praised for exploring these issues in an engagingly cinematic fashion, so the hope is that The Hate U Give likewise manages to bring Thomas' story to life in a way that resonates with YA moviegoing audiences in particular.
The Hate U Give is set to open in theaters mid-October, where it will face-off against the Halloween sequel/reboot, the new Jungle Book adaptation Mowgli, and the Matthew McConaughey and Anne Hathaway thriller, Serenity. As jam-packed as that frame will be, there's enough room for all four (very different) movies to find a sizable audience at the box office. Hate U Give will be further aided in its efforts by its great cast and the way it uses YA tropes to make its difficult, yet very relevant subject matter more accessible for young moviegoers in particular.
The Hate U Give opens in U.S. theaters this year on Friday, October 19.
Source: 20th Century Fox
The post The Hate U Give Trailer: Amandla Stenberg Finds Her Voice appeared first on ScreenRant