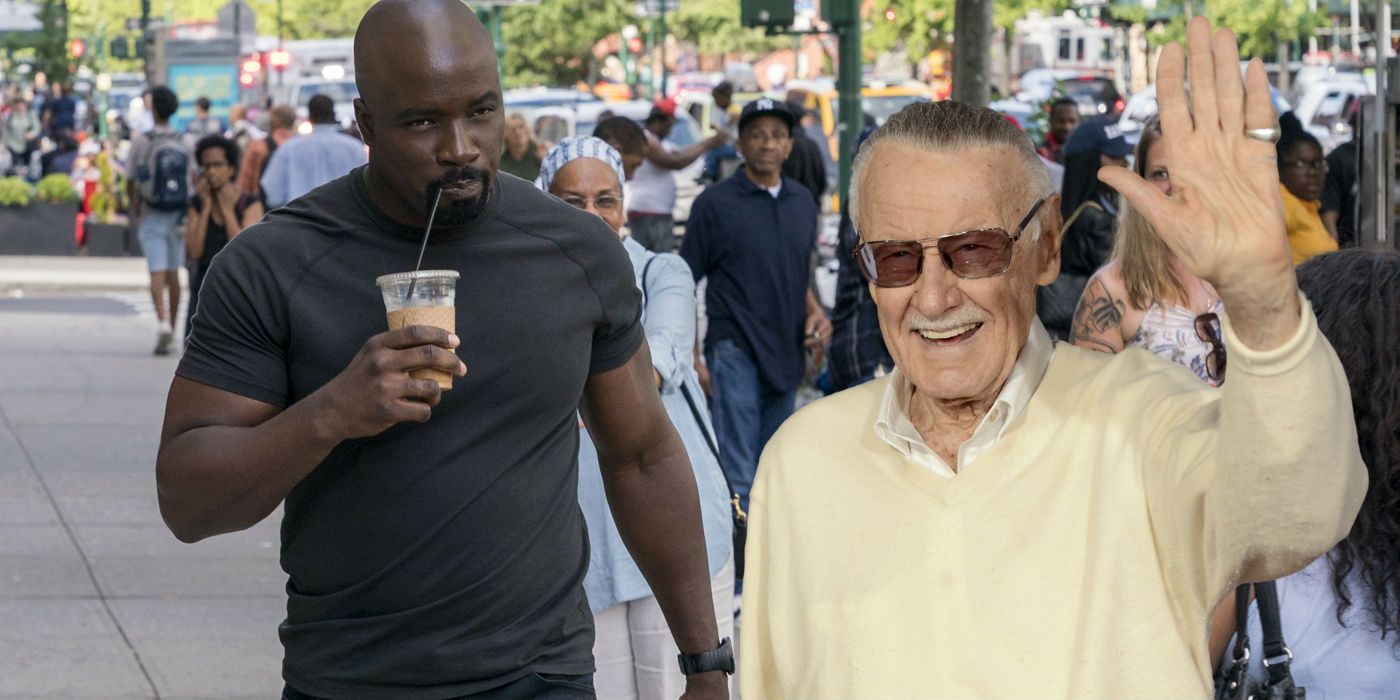 Luke Cage season 2 is available now on Netflix, and like all the other Defenders shows it features a (sort of) cameo by Marvel Comics legend Stan Lee. While the movies in the Marvel Cinematic Universe always include an in-the-flesh cameo by Lee, the TV shows often have to make do with simply incorporating a picture of him somewhere in the background – and the Marvel/Netflix shows all share the same "version" of Lee.
Of course, there are multiple Stan Lees running around New York (one of them was Peter Parker's bus driver in Avengers: Infinity War), and many more running around the MCU. Lee's Guardians of the Galaxy Vol. 2 cameo revealed that all of Lee's cameos are actually the same person, and that he's one of the Watchers – a group of aliens who are dedicated to amassing knowledge about the universe.
Related: When Are Marvel's Other Netflix Shows Returning?
You could be forgiven for thinking that Luke Cage season 2 skipped over the obligatory Stan Lee cameo, but an eagle-eyed user on Reddit spotted a poster featuring Lee in the background of a scene. If you want to spot the poster for yourself, watch episode 12, "Can't Front on Me," and keep an eye out at around the 24:40 mark. Based on what we can see of the poster, it seems this latest incarnation of Lee is a personal injury lawyer offering to help you "get what you deserve."
It's hardly surprising that most people missed this cameo, since the poster is only very briefly on-screen, and it's half-obscured by Luke when it is on screen. The poster is similar to the one that was seen on the back of a bus in Jessica Jones season 2, and advertises a law firm called Forbush and Associates. In the first seasons of Daredevil, Luke Cage, Jessica Jones and Iron Fist, Lee appeared in background plaques and posters as an NYPD police officer called Captain Irving Forbush, so either Irving decided to pack in law enforcement in favor of a lucrative career in ambulance-chasing, or he has an identical twin brother.
Irving Forbush is actually a character from Marvel Comics. Though by day he is an underdog at the in-universe publisher Marble Comics, Irving Forbush's super-secret, totally-impenetrable superhero identity is Forbush-Man, a comedic figure who wears a red onesie and a cooking pot with eyeholes on his head. Perhaps all of these sort-of cameos are actually building up to a real cameo appearance by Lee as Forbush-Man – cooking pot and all.
The next time we'll see the Defenders' corner of the MCU will be in Iron Fist season 2, which is set to debut later this year. When those episodes do arrive, be sure to keep half an eye on the background, and see if you can spot another Forbush and Associates poster.
Luke Cage season 2 is available now on Netflix.
The post The Stan Lee Cameo in Luke Cage Season 2 That Everyone Missed appeared first on ScreenRant