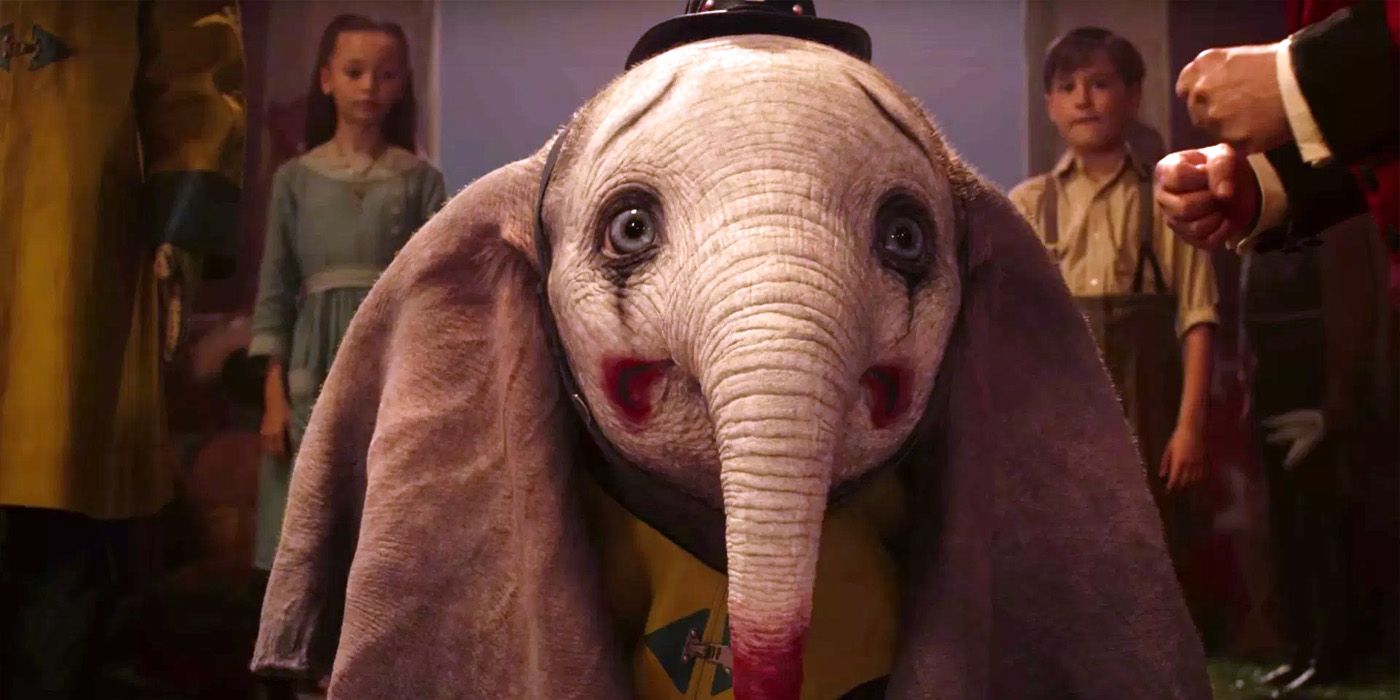 Because Disney didn't have access to a flying elephant in creating the live-action Dumbo film, the studio resorted to using two stand-in props for Dumbo when on set. The original 1941 film was entirely animated, but the live-action version will use CGI to create its animal characters, including the elephant.
In the original animated film, Dumbo had to overcome bullying and learn to believe in himself. Although the concept of the live-action movie is similar, there is a more original story at its heart. In the new film, the elephant is born into a small circus owned by Max Medici (Danny DeVito). After war veteran Holt Farrier returns home, he takes a job with the circus and witnesses Dumbo becoming a star after learning to fly. The flying elephant, though, attracts the attention of the villainous V.A. Vandervere (Michael Keaton) who wants Dumbo for his project called Dreamland.
Related: Dumbo Gets His Name Differently Than In The Original Movie
The use of CGI has become standard for this kind of live-action adaptation, particularly for those that star animals. However, Disney tried to use practical set pieces when filming as much as possible. That included providing two elephant props for actors to work with while on set. On the set of Dumbo, Screen Rant spoke to actor Joseph Gatt, who portrays Skellig, a man who works for Vandervere. Gatt said:
Regarding working with Dumbo, specifically, there are different ways of doing that. We have an actual lifesize, beautiful looking Dumbo. And I think we have him at two different ages, which they put in to give us an idea of his size and his shape in the scene; an idea of the lighting, and that kind of thing; where he's going to be for camera.
Although Dumbo did have practical set pieces for actors to work with, some of what audiences will see in Dumbo is still CGI. This leads many to begin questioning how these movies can refer to themselves as "live-action." With CGI technology continuing to improve and becoming more common, the lines have blurred as to what's live-action and what isn't in modern movies. This question especially came to light after the release of the trailer for The Lion King live-action adaptation, which is pretty much all CGI. The main difference between the two films, though, is that Dumbo will feature a cast of real human actors.
Although Disney continues to release live-action adaptations that aren't by definition live-action, one thing is sure: These films are among some of the most anticipated by moviegoers. When The Lion King trailer released in 2018, it got 224.6 million views globally in just 24 hours, making it the most successful launch trailer in Disney history at that time. Although everyone seems to complain about all the live-action adaptations coming out of the studio, they still seem to not only have an interest in these films, but have plans to flock to theaters when they finally release.