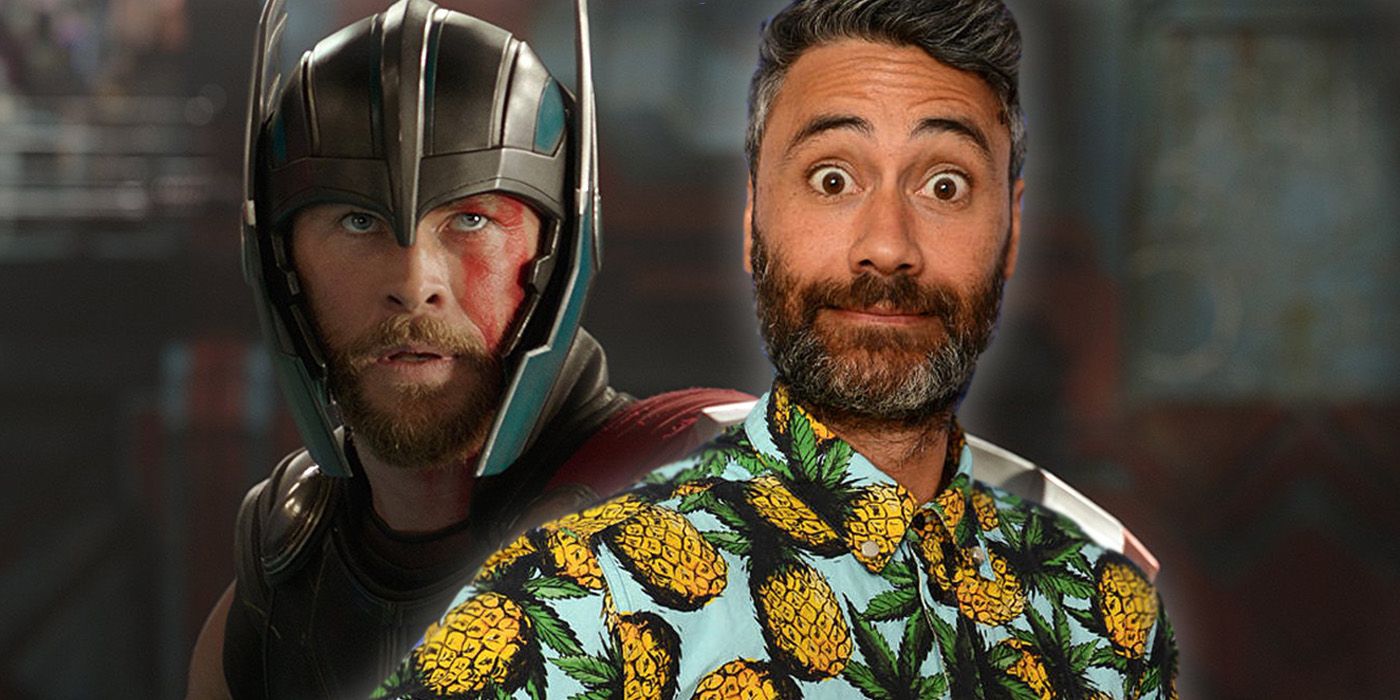 Thor: Ragnarok's Netflix description reveals a hilarious collection of puns. The Taika Waititi-directed sequel is a standout film in the Marvel Cinematic Universe, and not just for its abundant thrills and epic visuals. It's also among the funniest comic book movies ever made, with Waititi's signature wit peppered throughout the script. Ragnarok's sharp sense of humor elevated it above its predecessors in the Thor series and put it in rarefied air among the MCU's best entries.
Ragnarok officially arrived to Netflix on June 5, giving MCU fans their fix between the release of Avengers: Infinity War and the July premiere of Ant-Man and the Wasp. Thor's scenes in Infinity War did seem influenced by Waititi's comedic sensibilities, but as far as full movies in the MCU, Ragnarok is uniquely hilarious – and sometimes self-referential. Apparently, that extends to its equally funny description on Netflix.
Related: Mark Ruffalo & Taika Waititi Joke About Thor 4
At the risk of inducing eye-rolls due to blatant corniness, Reddit user "dabonthemhatersjp" posted a photo of the Thor: Ragnarok description and noted that it reads like it was written by Waititi himself. With its wealth of meta-puns, it certainly could pass for a rapid-fire delivery of Waititi-inspired jokes, which he fired off relentlessly throughout Ragnarok. The description reads, in full:
"When it rains, it pours for the God of Thunder. Stuck on a cosmic scrap heap, he is being hammered from all sides."
Waititi, who also played four different roles (most notably Korg) in Thor: Ragnarok, has long been active on social media to comment on MCU-related matters. He sarcastically praised himself in an interview with the Los Angeles Times last fall. He pitched a romantic comedy based on Scarlet Witch and Vision and wants to make a comedic Black Widow movie. And he even provided his own intro to the Ragnarok Blu-Ray set that stayed on-brand with his usual type of humor.
In that intro, he essentially describes Thor: Ragnarok as a mix between Terminator 2, Peter Pan, Independence Day, Beaches, On Golden Pond, and My Fair Lady. The man is simply relentless with his witticisms and can't even be escaped in the Netflix description. It's unlikely he wrote that description himself, but it speaks to the influence that he had on the whole production and Ragnarok's unique legacy in the MCU that apparently nothing about it can be totally serious.
Waititi is apparently out to prove that even Adolf Hitler can be used in a comedic fashion with his next project, Jojo Rabbit. He plays an imaginary version of Hitler that also vaguely resembles the main character's father. It's quite an ambitious and arguably risky undertaking for the director, but he's already proven in all facets with Thor: Ragnarok that he's not afraid to deliver his style of humor in any possible context.
More: All the Taika Waititi Trademarks in Thor: Ragnarok
Source: Reddit
The post Thor: Ragnarok's Netflix Description is Hilariously Pun-Filled appeared first on ScreenRant