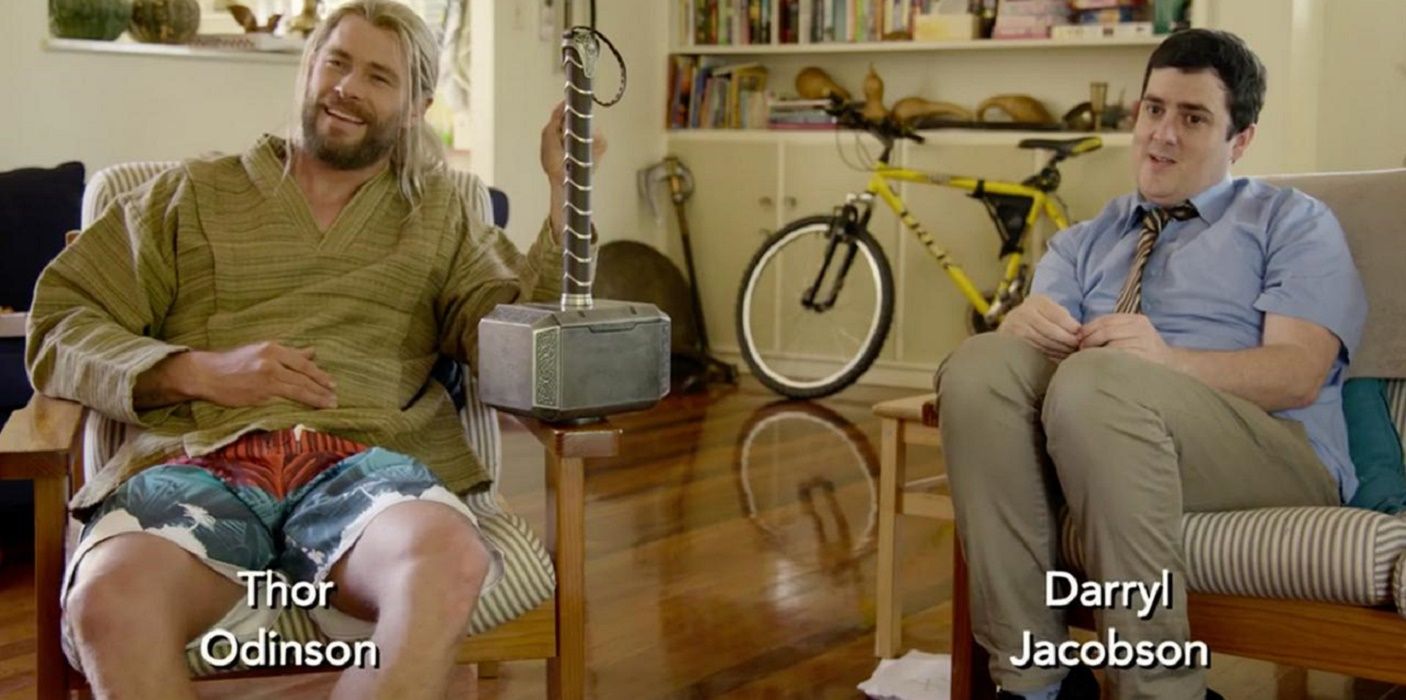 Thor's roommate Darryl is now confirmed to be one of the survivors of Avengers: Infinity War. Marvel Studios' epic team-up ended much differently than most installments of the franchise, with villain Thanos realizing his goal. Acquiring all six Infinity Stones, the Mad Titan snapped his fingers and wiped out half of the universe's population (including plants and animals), leaving the rest to start scrambling. Viewers know characters like the original Avengers and Ant-Man lived to see another day, but the fates of several supporting players were up in the air by the time the credits rolled.
Marvel has spent the last few months revealing what happened to people like Aunt May, Valkyrie, Ramonda and Shuri, but that only scratches the surface of the MCU's extensive library of characters. One fan-favorite is everyman Darryl, who was introduced as the God of Thunder's roommate in the "Team Thor" short films. Those who are hoping for that series to continue at some point are in luck, since Darryl was spared by Thanos.
Related: Check Out This Hilarious Infinity War Gag Reel
Actor Daley Pearson, who portrays Darryl, took to Twitter to post a belated birthday message to Thor himself, Chris Hemsworth. Apologizing for the lateness, Darryl explained that he's been working more hours in the office since most of his co-workers weren't as fortunate. The video ends with an instrumental rendition of "Happy Birthday." Check it out for yourself in the space below:
Fans may recall Darryl is supposedly living with his new roommate, The Grandmaster, who also likely survived Infinity War (at least, according to Jeff Goldblum). Still, the eccentric ruler of Sakar doen't seem like the type of person interested in finding gainful employment, which would explain why Darryl is desperate for Thor to transfer some money so he can pay the rent. Odinson obviously has more important things on his mind now, having to work with his old allies to undo Thanos' mass genocide. Of course, Thor is partially to blame for the current state of affairs in the MCU, since he made the grave mistake of not going for Thanos' head. That allowed the villain to snap his fingers and carry out his plan. It would be interesting to see how Darryl might react to that bit of information.
Darryl may not be the most integral part of the MCU, but he's proven to be a highly entertaining presence, and it's nice to see him still around. Hopefully, there comes a day when he's reunited with Thor. Perhaps the Avengers 4 Blu-ray could include one last "Team Thor" short, serving as a satisfying bookend to the series. With Hemsworth's contract expiring in the near future, there's a chance the God of Thunder could hang up the hammer after Thanos is vanquished, spending the rest of his days keeping Darryl company at work.
Source: Daley Pearson