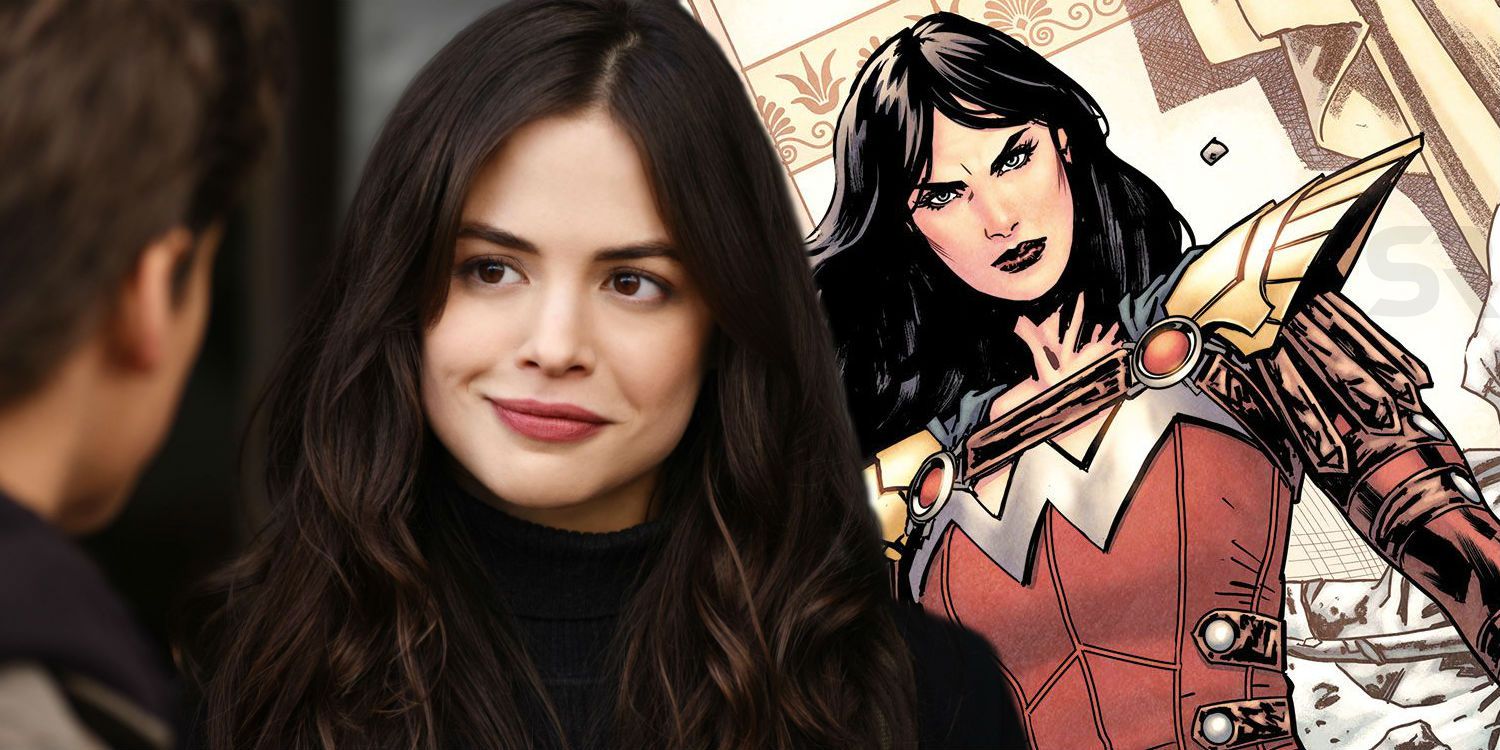 A new Titans photo of Conor Leslie as Donna Troy reveals her Wonder Girl costume. The first of DC Universe's slate of original programming, Titans season 1 premiered late in 2018 shortly after the launch of the subscription service itself. The series is a more mature take on the Teen Titans of the DC Comics, with season 1 following as Dick Grayson (Brenton Thwaites), Kory Anders (Anna Diop), Rachel Roth (Teagan Croft) and Gar Logan (Ryan Potter) formed the titular team. Since Titans is set in a larger DC universe, the show also introduced other comic book characters and confirmed the existence of certain superheroes, including major Justice League members like Batman, Superman and Wonder Woman.
In fact, much of Titans season 1 sees Dick trying to distance himself from Batman after leaving the role of superhero sidekick Robin. At one point in the season, Dick symbolically destroys his Robin suit, marking a major point in his character arc. However, Dick isn't the only sidekick to appear in Titans – he's not even the only Robin to show up – as season 1 also introduced Conor Leslie as Donna Troy aka. Wonder Girl. As established in Titans, Dick and Donna are old friends, having bonded when they were younger over being sidekicks. But when Dick and Donna reunite, she's no longer active as Wonder Girl. Now, a new Titans photo reveals what Leslie looks like suited up as Wonder Girl.
Related: All 40+ DC Character Referenced In Titans
Film hair designer Debra Johnson posted on Instagram what appears to be a costume and hair test photo of Leslie in her Wonder Girl costume. Though Johnson has since deleted the post, the photo has of course circulated online. Take a look at Leslie in costume as Wonder Girl below.
Although Titans is renewed for season 2, it's likely this photo was taken for season 1 as the show hasn't started production on their sophomore outing just yet. That said, with Titans season 2 reportedly filming next month, perhaps the show's crew has at least begun to test costumes for the series' return. Until the stars or DC Universe confirms work has begun on the season 2 costumes, though, it's safest to assume this Wonder Girl costume test comes from season 1.
If that is the case, then it marks another aspect of Titans season 1 that changed somewhere in the development process. After the Titans season 1 finale, showrunner Greg Walker revealed the original planned finale was turned into the season 2 premiere, which is a major change to the show's debut season. Further, there's evidence of Titans reshoots that changed other aspects of the first season, including Dick's Robin arc and the introduction of villain Trigon.
As for Leslie's Wonder Girl costume, it's unclear when in the development process Titans planned to include it. However, fans hoping to see Donna Troy in her Wonder Girl suit who were disappointed that didn't happen in season 1 can at least rest assured the costume does exist. Perhaps Donna Troy will suit up as Wonder Girl in Titans season 2, but fans will have to wait and see.
Titans season 1 is now available on DC Universe, season 2 will reportedly premiere later in 2019.
Source: Debra Johnson/Instagram