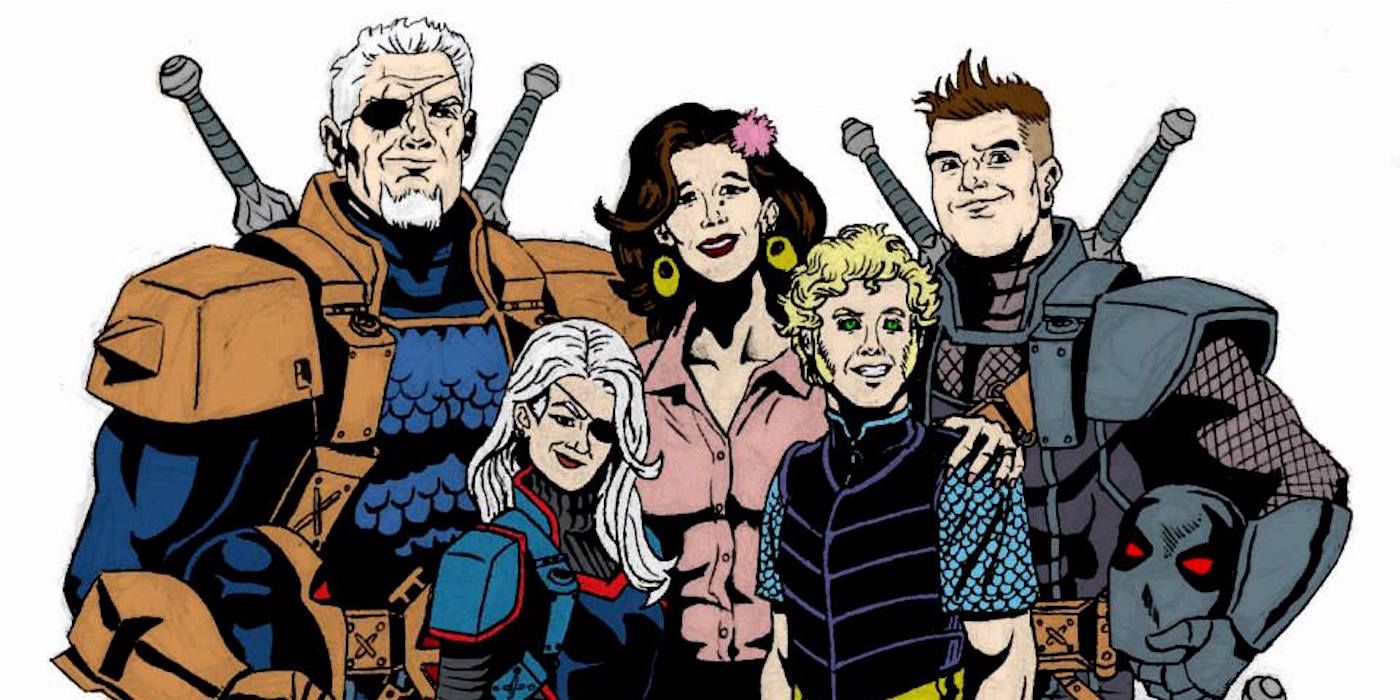 Deathstroke, his daughter Ravager and his son Jericho are reportedly coming to Titans season 2. The DC Universe streaming series was slow to introduce villains for the young heroes to fight. The bulk of season 1's plot was about Dick Grayson removing himself from Batman's shadow and creating his own team. There wasn't much time for a steady and recurring threat.
This doesn't mean that Titans didn't have any villains. The demon father of Raven, Trigon, was the closest thing to a Big Bad of season 1. Trigon appeared in several episodes and was responsible for the nightmare world of the finale where Dick had to hunt down a deranged Batman. Trigon still fell short of what fans would typically expect from superhero show's bad guy. Season 2 will evidently be a lot different with Deathstroke and his whole family descending on the Titans.
Related: Titans Got MORE Popular As The Season Went On
According to That Hashtag Show, Titans is looking to cast Slade Wilson (otherwise known as Deathstroke) and his two children Joe and Rose Wilson. While it seems like Joe, who becomes the hero Jericho in the comics, will be a minor role, Rose and Slade are far more meatier. A casting call reveals that Titans is looking for a Caucasian, Lantix or Asian actor who is 40 to 55 to play Deathstroke. Meanwhile Rose, otherwise known as Ravager, will be a mixed Asian or Lantix actress from ages 18 to 21.
The brief character descriptions for Rose and Slade make them sound familiar to fans of the comics. Although they are quite a bit different from versions of the characters who appeared in other mediums, specifically The CW's Arrow. Titans' Slade will be former military man whose aggressive nature ripped apart his family. Slade was dismissed from the military and now is on a mission of vengeance and wealth as the mercenary Deathstroke. Rose, meanwhile, is a "strong but damaged" woman looking to put her past and the family her father destroyed behind her. It's unclear if, like the comics, Rose will be the illegitimate daughter of Slade and a Cambodian princess. It does seem like Titans' Rose will share considerable dislike and mistrust of her merc father with her comic counterpart.
It's not known how many episodes of Titans season 2 in which Deathstroke and his daughter will appear. The duo does have a very long history with the superhero group in the comic . Although he has become more of universal DC threat, Deathstroke debuted as primarily a Titans villain. Rose has a more of complicated history with the Titans. She has sometimes been a ally, sometimes an antagonist of the team but she's almost always been in feud with her father. The machinations of the Deathstroke family are so complicated and violent that it could easily fill Titans season 2 and beyond. The Wilson family could also appear in only one episode of Titans before spinning off into their own show ala Doom Patrol.
It's interesting that Titans is using Deathstroke at all. Slade Wilson was a recurring character on Arrow for several seasons. However after Deathstroke made his DCEU debut in Justice League the character was made off-limits for Arrow. This doesn't necessarily mean that the DCEU's plans for Deathstroke are on ice. With several "appearances" by Batman Titans has always been a bit more free about what DC characters they can choose to use as opposed to the rest of DC TV.
Source: THS