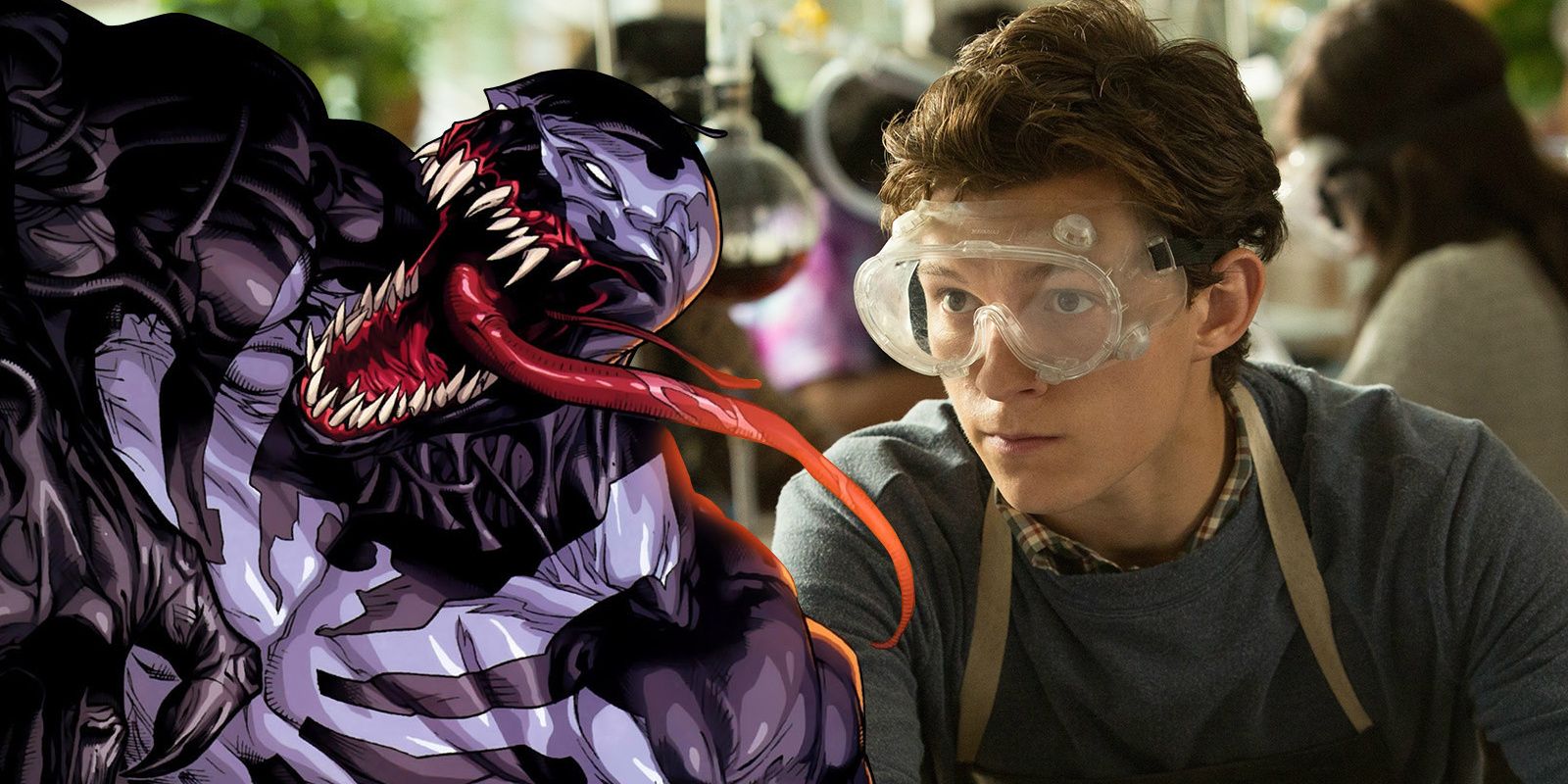 Tom Holland says that he would like to see Venom in the Marvel Cinematic Universe. With Holland having already defeated Vulture in the Jon Watts's Spider-Man: Homecoming and a standalone Venom movie hitting theaters this fall, his response would seem to fit quite naturally with the way Sony's Marvel Universe is currently unfolding.
Since the news of Venom first broke and throughout much of production, it has been rumored that Sony and Marvel Studios' deal that allowed Holland to play the young Peter Parker in the MCU would also allow him to cross over for Sony's planned Spider-Man-related series. While Venom's director will neither confirm nor deny the rumors that Holland is making a cameo as Spider-Man, the actor may have inadvertently added fuel to the fire with his response.
At Ace Comic-Con in Seattle, Tom Holland was asked, which Spider-Man villain would he want to see in the MCU? And his answer was, "Maybe Venom?" While Holland has somewhat of a history for "accidentally" revealing key film details to the public, and may have dropped a massive spoiler at the same event in revealing that Spider-Man's second standalone feature could be titled Spider-Man: Far From Home, it would hardly be much of a surprise if the two characters do, in fact, square off at some point in the future. As for that confrontation taking place in the upcoming Venom, none of the trailers released to this point have indicated these rumors are true.
While it was reported that the actor seemed nervous before answering the fan's question, this news would be far less sensitive than the Avengers: Infinity War spoilers he seemed to reveal prior to release. If, however, Holland was purposely setting up a surprise cameo in Venom rather than just expressing a sincere answer, the move could conceivably allow for Venom to establish itself as being part of the larger Marvel universe without greatly altering the MCU.
It's expected by many fans that Holland's Spider-Man will appear in next May's untitled Avengers 4, but at the very least, the web-slinger swings back into theaters in his standalone sequel next summer. As for Venom, Tom Hardy will be portraying Eddie Brock and the symbiote Venom when the film is released this October. Co-starring Michelle Williams as Anne Weying, Brock's love interest, and Riz Ahmed as Dr. Carlton Drake, head of the Life Foundation that's interested in studying and harnessing the symbiotes, the film continues the trend of adding bankable Hollywood stars to an expanding superhero universe. While some fans would want Hardy's Venom to show up in the MCU, it seems more likely that Marvel Studios would cast their own actor in the role that fits within their continuously-growing Spider-Man story.
Source: ComicBook
The post Tom Holland Wants His Spider-Man To Take On Venom In The MCU appeared first on ScreenRant