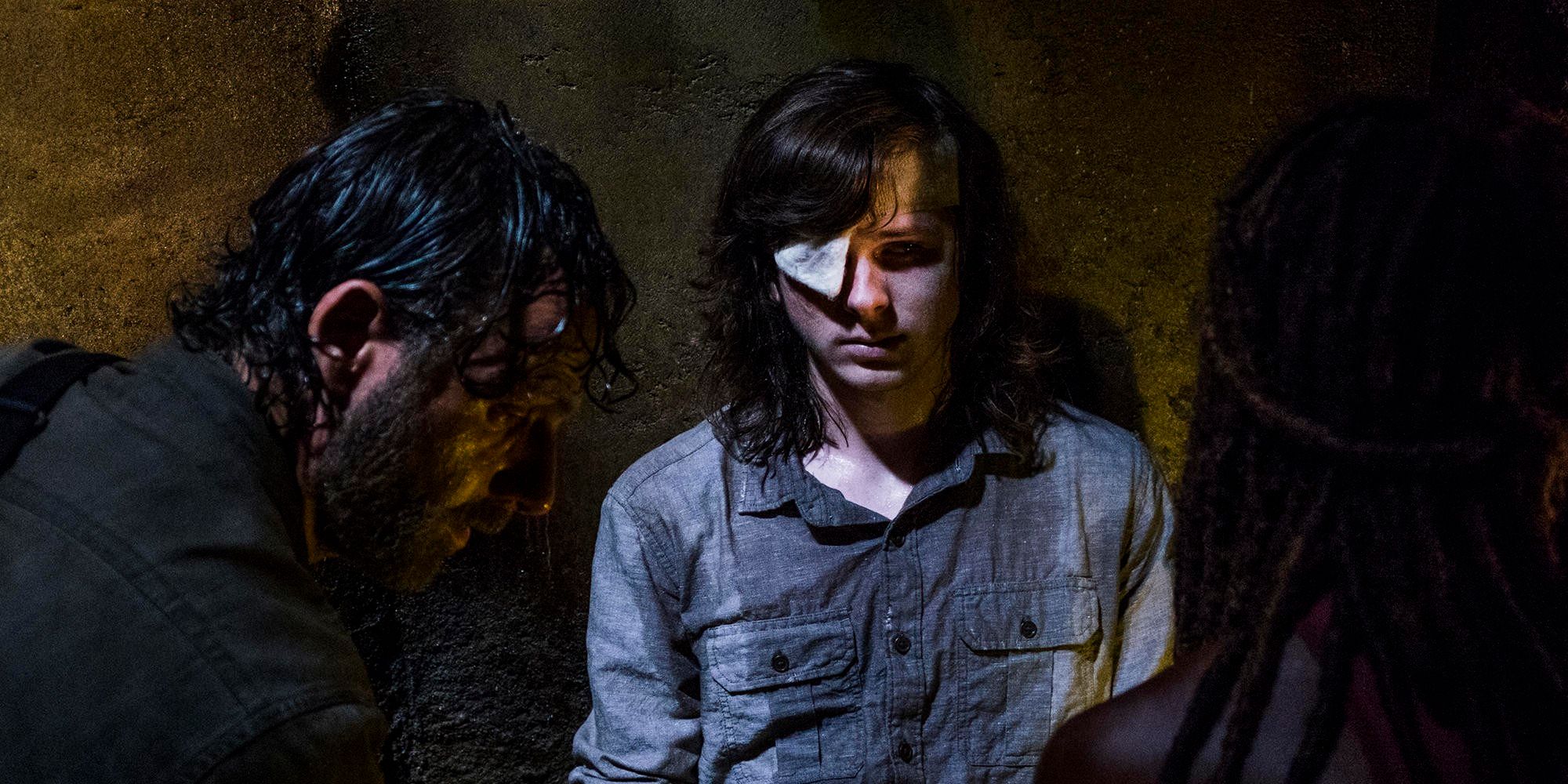 Scott M. Gimple, the former showrunner of The Walking Dead, has revealed that he and franchise creator Robert Kirkman didn't always agree when it came to making major changes to the original comic book story lines. As with almost every live-action adaptation of a comic book or novel, AMC's The Walking Dead has done a number of things differently in comparison to its source material. While some of these alterations have been very well received, for example the addition of Daryl Dixon and the vastly more formidable on-screen iteration of Carol, other diversions have not been met with quite as much acclaim.
Perhaps the most recent example of a change from the comics stirring up controversy is the TV death of Carl Grimes. In a shocking turn of events, it was revealed that Carl had been bitten by a zombie while attempting to aid newcomer Siddiq and after a procession of emotional farewells, the wound eventually took the youngster's life. Many fans were unhappy at Carl's death, particularly as the character is still a vital component of the comics, and this anger was compounded when it was revealed that actor Chandler Riggs had no desire to leave the show and had no part in his character's exit.
Former showrunner Scott M. Gimple has now addressed his stance on making major changes to the comic books and reveals that he often disagreed with Robert Kirkman on this topic. Speaking at an AMC panel in New York City (via Business Insider), Gimple stated:
"Back when we started, Robert and I argued a lot because I wanted to do the book just as the book and he actually wanted to do changes because he had already done it. And, yeah, I wanted to see those moments that I saw in the book. And yet, as I worked more and more on it, because I was so familiar with those moments, I knew that making those little twists… it's actually doing right by the people who read the book and know what's coming… Being a fan of it to start with, you want to do right by the moments that you've seen. But to do right by the moments you've seen, sometimes you have to remix them because people like myself who are familiar with the work know what's coming, So you're not going to get that surprise. You're not going to get that emotional twist."
The difference in opinion between Gimple and Kirkman represents somewhat of a role reversal in the sense that it's usually the creator pitching for absolute authenticity to the source material, with TV producers trying to instill changes. However, it's certainly understandable that, as a writer, Kirkman would seek to avoid telling exactly the same story over two different mediums and Gimple's desire to cater for comic readers by offering something different also makes total sense.
But while there is a definite logic to "remixing" TV stories so that those who have read The Walking Dead's comic output can still be surprised, it could be argued that the changes that ruffle fans' feathers the most aren't so much remixes but completely different songs altogether. It's easy to see how Andrew Lincoln not losing his hand or Judith surviving the prison escape were necessary alterations for TV but when it comes to killing off Carl, many viewers might just be wishing Gimple had stuck to his guns.
The Walking Dead season 9 is set to premiere later this year on AMC.
Source: Business Insider
The post Walking Dead Creator & Ex-Showrunner Argued Over Changes To The Comics appeared first on ScreenRant