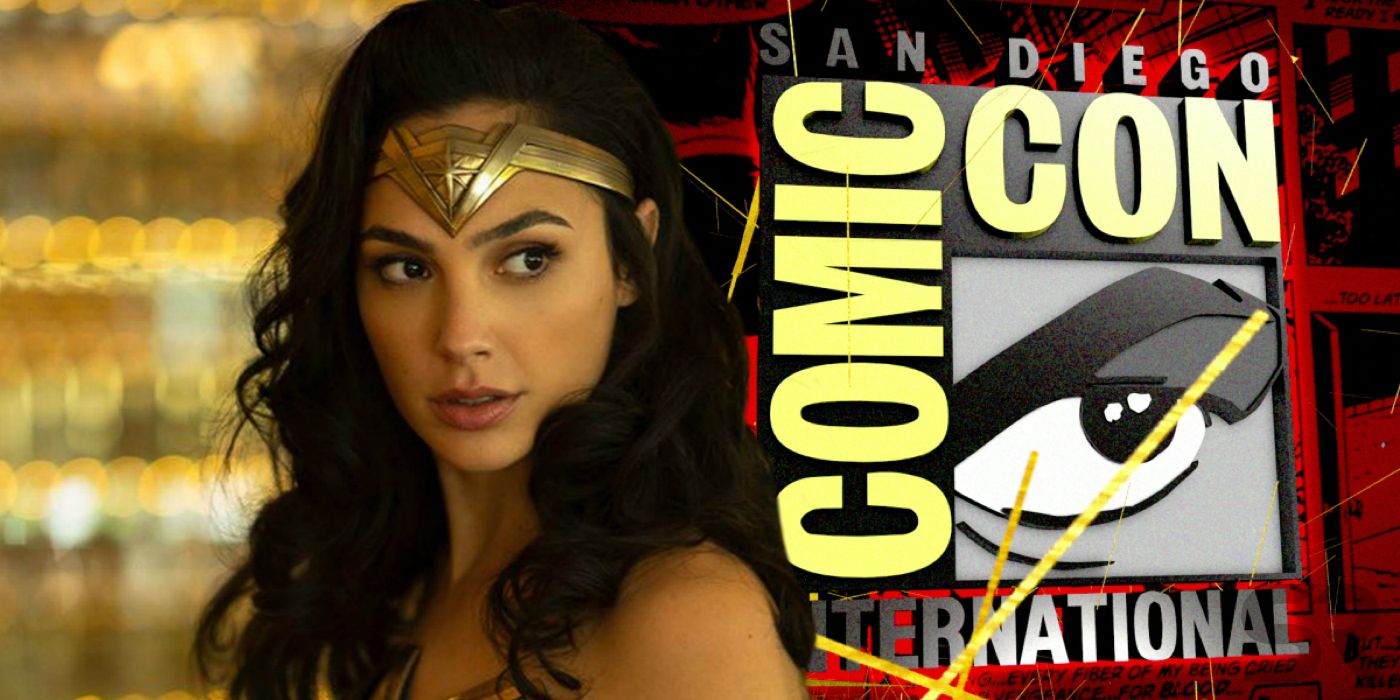 Gal Gadot and Wonder Woman 1984 are likely heading to San Diego Comic-Con 2018. Now that DC Films is under Walter Hamada's control, decisions on the franchise's future are being finalized. There are dozens of projects in development but only a few are guaranteed to make it into theaters. Aquaman will hit theaters this December, followed by Shazam! next April. But, it is arguably the sequel to the smash-hit Wonder Woman late next year that has the most interest.
Filming is underway on the sequel and director Patty Jenkins isn't wasting time getting fans excited for what is to come. She confirmed Chris Pine's return as Steve Trevor the day filming began, and star Gal Gadot has shared a few looks at her superhero return. Even though production will continue throughout the summer, it looks like those in Hall H at SDCC next month will get some fresh details.
Related: Wonder Woman 2 Photo: Gal Gadot Is Back in Costume
Deadline reports that plans are being finalized right now to bring Gal Gadot to Hall H at San Diego Comic-Con next month. She will reportedly provide a brand new look at Wonder Woman 1984. What exactly Gadot will bring with her remains to be seen, but there are quite a few options at WB's disposal. But, with WW84 being just one of several DC properties set to be put in the spotlight, attendees shouldn't expect too much on the sequel as WB is likely to prioritize the projects closer to hitting theaters.
This isn't the first time reports of WW84 going to SDCC have surfaced, but this news comes from the most legitimate source so far. The previous report pointed to the WW84 section of DC's presentation revealing the first look at Kristen Wiig's Cheetah. With the first looks at Steve Trevor and Diana Prince already out, that feels like a logical next step in the early marketing process. Since this isn't confirmed, though, it's possible they'll reveal much more. Potential footage exclusive for those in Hall H could come along with details on Pedro Pascal's character.
As mentioned, WW84 is just a piece to DC's potentially huge panel this summer. With Marvel Studios, Star Wars, Game of Thrones, Westworld, and more not heading to SDCC, WB has been given the perfect opportunity to to win the weekend. They've already confirmed that the first Aquaman trailer is going to debut at the convention and then release online. There are also rumors of the first footage from Shazam! premiering. All of these trailers and photos may not be released officially, but there's sure to be plenty of other details. Whether that comes through casting announcements, story details, or a full slate reveal, San Diego Comic-Con 2018 looks primed to be a major source of information on Wonder Woman 1984 and the future of DC.
Source: Deadline
The post WB Possibly Bringing Gal Gadot & Wonder Woman 2 to SDCC 2018 appeared first on ScreenRant