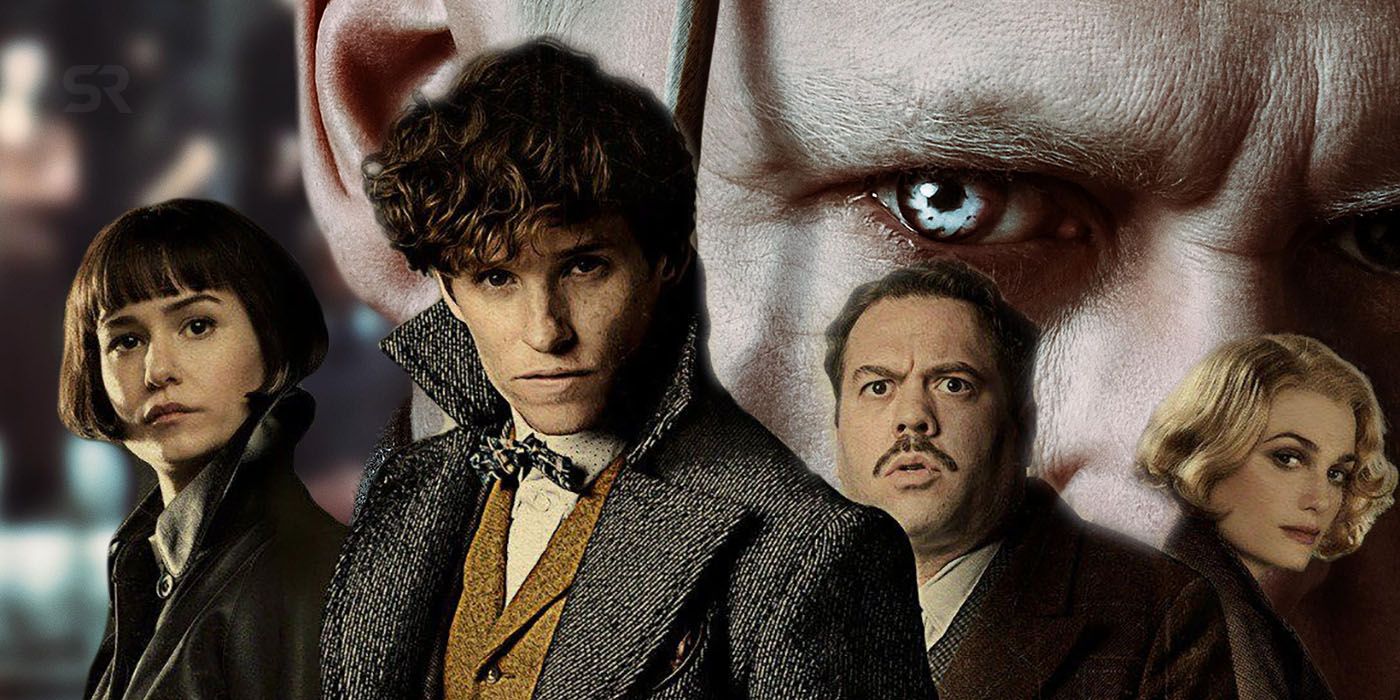 Warning: SPOILERS ahead for Fantastic Beasts: The Crimes of Grindelwald
Fantastic Beasts 3's production start date has been pushed back, which in turn could result in a release date delay – but why is Warner Bros. slamming the brakes on the Wizarding World? Fantastic Beasts 3 will serve as the middle of a five-movie arc, exploring the dark wizard Gellert Grindelwald's (Johnny Depp) rise to power, and how unlikely hero Newt Scamander (Eddie Redmayne) helped to stop Grindelwald from taking over the world.
The massive success of the eight Harry Potter movies made it a near-certainty that Warner Bros. would find a way to continue the franchise, and author J.K. Rowling was brought on board to write screenplays for the five Fantastic Beasts movies, which are based on a very short tie-in textbook that was published as a way to raise money for the charity Comic Relief. While Fantastic Beasts and Where to Find Them was well-received, the tide of opinion turned in the lead-up to Fantastic Beasts: The Crimes of Grindelwald, with the studio criticized for giving Depp such a key role amid allegations of domestic abuse.
Related: Fantastic Beasts' Grindelwald Is A Better Villain Than Voldemort
The decision to delay the start of filming on Fantastic Beasts 3 was almost certainly spurred by the mixed success of Fantastic Beasts: The Crimes of Grindelwald. But what – if anything – is the studio planning to change about the direction of the Fantastic Beasts franchise?
This Page: How Crimes of Grindelwald Derailed Fantastic Beasts
Fantastic Beasts: The Crimes of Grindelwald Received Poor Reviews
While some enjoyed Fantastic Beasts: The Crimes of Grindelwald, overall the reception was much more mixed than Fantastic Beasts and Where to Find Them. The sequel received a paltry 37% score on Rotten Tomatoes, and audience polling resulted in a B+ CinemaScore – down two grades from the A that the first movie received. This wasn't particularly a case of a movie dividing fans and critics; The Crimes of Grindelwald was regarded as a bit of a disappointment across the board.
The main criticisms of the movie had to do with its somewhat convoluted plot, which was tasked with setting up a one-two punch of twists at the end of the movie that were tied into various characters' family trees. Despite being the protagonist, Newt Scamander was somewhat sidelined within the ensemble and much of the movie was spent watching different characters trying to track each other down in Paris. The bombshell reveal at the end of the movie – that Credence Barebone (Ezra Miller) is actually Dumbledore's long-lost brother – was more confusing than it was mind-blowing, and many fans were unhappy with the characterization of Queenie Goldstein (Alison Sudol), who decides to leave her friends and family behind and join Grindelwald's cause.
That's not to say that The Crimes of Grindelwald was a total disaster. The movie certainly boasted some impressive visuals that brought the Wizarding World to life, as well as some interesting new creatures and an enticingly darker tone than the first movie. Unfortunately for Warner Bros., however, the movie's lukewarm critical reception was reflected at the box office.
Related: Fantastic Beasts 2 Is Harry Potter's First Box Office Misfire
Fantastic Beasts: The Crimes of Grindelwald's Box Office
Fantastic Beasts: The Crimes of Grindelwald was a modest success at the box office, with a production budget of $200 million and a total worldwide gross of more than $650 million. However, this is a significant downturn from the $814 million total of Fantastic Beasts and Where to Find Them, and The Crimes of Grindelwald also struggled at the domestic box office, with 75% of its total garnered from overseas markets. While it's not uncommon for sequels to have a smaller gross than the first movie (there was a similar downturn between The Avengers and Avengers: Age of Ultron, and between Star Wars: The Force Awakens and Star Wars: The Last Jedi), this trend is cause for concern given that The Crimes of Grindelwald was only the second entry in a five-movie franchise.
While The Crimes of Grindelwald's box office total wasn't a total disaster, Warner Bros. simply cannot afford to let ticket sales continue to slip for future sequels. These are very expensive movies to make and market, and the studio is almost certainly hoping to hit box office totals that match or come close to those of the Harry Potter movies. Something needs to change, but what will it be?
Fantastic Beasts' Grindelwald Is Very Unlikely To Be Recast
Given the backlash that Johnny Depp's casting as Gellert Grindelwald has attracted, not to mention the fact that the first movie featuring Depp as the main antagonist proved less successful than Fantastic Beasts and Where to Find Them, some may be wondering if the production delay could be down to Warner Bros. figuring out a way to recast the role. Colin Farrell's performance as a disguised Grindelwald in the first movie was highly praised, and Rowling could probably figure out a way to work in Grindelwald adopting his Percival Graves disguise again.
That being said, at this point Depp is extremely unlikely to be recast – not least because the actor presumably has a contract covering all five movies. Responding to criticism over Depp being cast as Grindelwald, Rowling remained steadfast, saying, "The filmmakers and I are not only comfortable sticking with our original casting, but genuinely happy to have Johnny playing a major character in the movies." She went on to add, "I accept that there will be those who are not satisfied with our choice of actor in the title role. However, conscience isn't governable by committee." It seems as though she, director David Yates, and the studio have made their decision, and they're unlikely to be swayed from it. Moreover, Depp himself has already confirmed that he'll be returning.
Related: All The Fantastic Beasts 3 Plot Clues In The Crimes of Grindelwald
The situation might be different if Depp's performance had been a major criticism of Fantastic Beasts: The Crimes of Grindelwald, but by all accounts the problems with that movie weren't any single actor, but rather its overall structure, pacing, and story. And based on what we know so far, the production delay is designed to address those problems.
The Production Delay Allows For More Development & Prep
According to the original report about Fantastic Beasts 3's production delay, the fundamental reason is a need for more prep time. The film's naturally need a lot of pre-production for design purposes, since each new movie introduces fantastical new creatures and locations, but it's also the result of a general change in Warner Bros.' approach to producing movies. Per Deadline:
Previous Warner Bros. administrations had the tendency to rush event films to meet release dates, and in this case Fantastic Beasts 3 was rumored to be 2020. Warner Bros. executives now have a new approach of allowing big productions to brew as needed.
Warner Bros. has been burned recently by the race to meet release dates. The script for DC movie Suicide Squad was written in six short weeks and filming began almost right away, resulting in heavy (and expensive) reshoots being required to refine the film into what the studio thought audiences wanted, which in turn led to overwhelmingly negative reviews. More recently Warner Bros. has placed less priority on meeting originally planned release dates, and more emphasis on being sure that they deliver the best possible version of the movie. For example, Wonder Woman 1984's release date was pushed back to June 2020, after having previously been moved up six weeks from December to November 2019.
It could be argued that trying to churn out a new Fantastic Beasts movie every two years was simply too ambitious for a franchise that doesn't have a clear road map (like the Harry Potter movies did). There is still plenty of time to right itself, and there's no shortage of criticism for the filmmakers to take on board after Fantastic Beasts: The Crimes of Grindelwald. With luck, those extra few months in the planning stage will result in a strong middle act that puts the Fantastic Beasts franchise back on the right track.