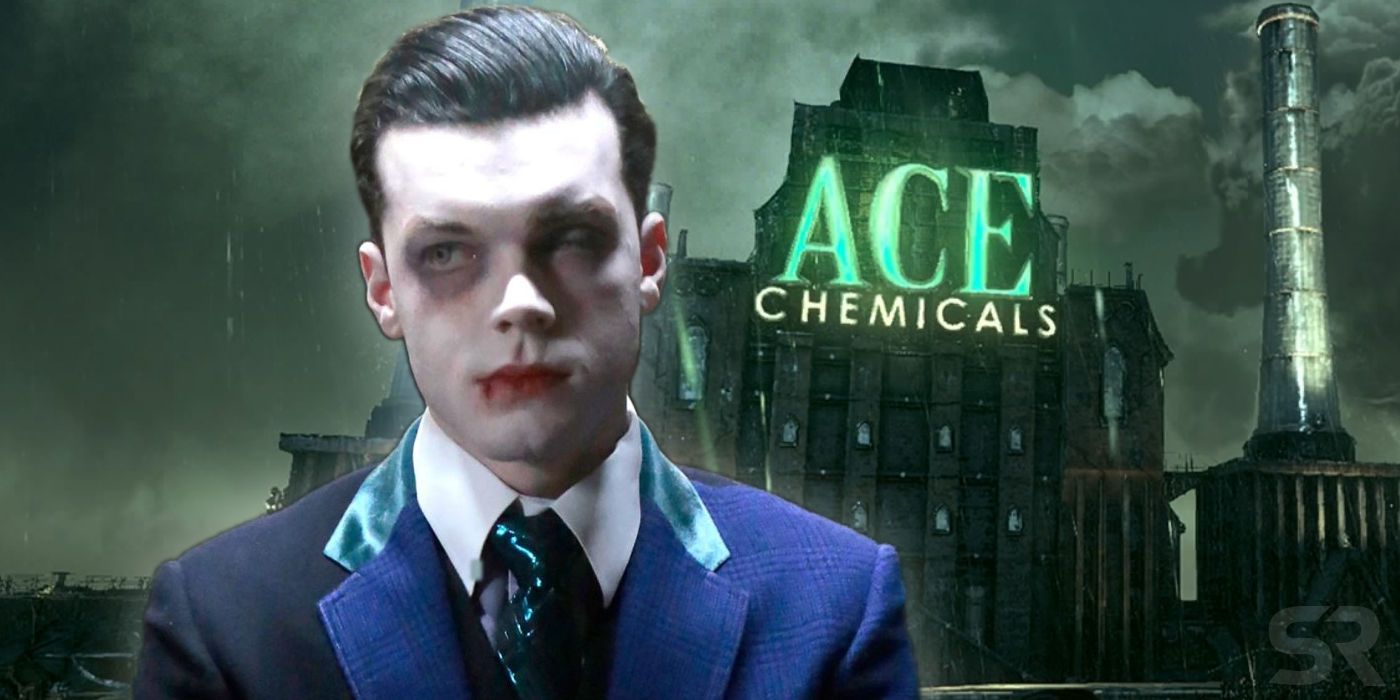 Gotham season 5 episode 4, "Ruin," delivered a shocking scene that left the fate of Jeremiah, the show's version of the Joker, hanging in the balance; however, it's unlikely that viewers have seen the last of the Joker. In Gotham's season 4 finale, Jeremiah took inspiration from The Killing Joke and shot Selina Kyle (rather than Barbara Gordon) in the stomach, leaving her paralyzed.
Fortunately, Gotham season 5 saw Selina cured after Bruce collected some mystical vegan hoodoo from Poison Ivy that not only cured Selina's condition, but also turned her into Catwoman. Since being cured, Selina's primary goal has been to exact revenge on Jeremiah Valeska, aka the unofficial Joker, by killing him once and for all, and the young Catwoman finally got her wish in last week's episode, "Ruin," after infiltrating Jeremiah's base and stabbing him in the gut several times. But that may not be the end for the Joker.
Related: Gotham Season 5 Finds A Solution To Its Batgirl Problem
Clearly, Jeremiah was not left in a good way, but Bruce and Alfred managed to drag Selina away before she could inflict any obviously fatal wounds, leaving Jeremiah's status unclear. A short promo for episode 4 seems to confirm Jeremiah's death, showing the Sirens toasting Selina as his killer, but the situation is unlikely to be quite straightforward, since many of Gotham's villains have come back from far worse. The fact scenes of Jeremiah used in Gotham's season 5 trailer still hasn't featured in an actual episode is also a big hint towards the character's eventual survival.
While the teaser for Gotham season 5 episode 5, "Pena Dura," sees Barbara Kean in an unusually chipper mood as she lauds Jeremiah's death, it's not clear where she got her information. Selina may have assumed her attack on Jeremiah was fatal, when the Joker-esque villain is actually clinging to life and being gently nursed by his version of Harley Quinn. However, it seems that Jeremiah's future is headed in the same direction whether he survived Selina's attack or not.
Episode 7 of Gotham's fifth and final season is reportedly titled "Ace Chemicals", and people familiar with Batman lore will know that this could mean something significant for the show's version of the Joker. While the Joker's origin story is often altered and shuffled to add to the villain's sense of mystique, many versions of his background involve falling into a vat of some dangerous substance at Gotham City's Ace Chemicals plant. The use of this location as an episode title would suggest that Gotham isn't done with its Joker just yet. Further evidence that Jeremiah Valeska isn't permanently dead comes from showrunner John Stephens, who claimed (via TV Guide):
"You never see a full transformation into the Joker, but you do see another transformation. Jeremiah undergoes another evolution in his character to become another amalgam of Jeremiah and Jerome that I think audiences are gonna look at and say, 'If it's not the Joker then it's definitely an antecedent or a proto-Joker that lives there.'"
Related: Gotham's Riddler Just Referenced Jim Carrey's Batman Forever Version
Combine this quote with Gotham's forthcoming "Ace Chemicals" episode offering and an exciting potential storyline rapidly emerges. Jeremiah's rabid followers could throw his lifeless corpse/badly injured body into a chemical vat at the Ace Chemicals plant in an attempt to cure him, triggering the "evolution" Stephens refers to above. This scenario would also explain last year's reports that a new version of the Joker would appear in Gotham season 5. Perhaps an even more crazed and unhinged Jeremiah awaits, fueled by a concoction of unknown ingredients.
While some may view this as a cheap way of avoiding Jeremiah's exit, death is rarely a permanent thing in Gotham, and the show has a long history of characters coming back from the grave. Only last season, the Riddler and Lee Thompkins killed each other in Romeo and Juliet fashion, only to be revived by Hugo Strange in the very same episode without much fanfare. Bruce's butler, Alfred, and Barbara Kean have both been revived with the help of a Lazarus pit, Butch was resurrected as Swamp Thing, and Jada Pinkett Smith's Fish Mooney came back from certain doom on several occasions. Jeremiah's twin brother, Jerome, the first of Gotham's Jokers, also died once before his actual death last season.
As a result of death's fluidity in the world of Gotham, murder scenes that aren't absolutely conclusive have somewhat lost their impact and the list of characters that have returned from the afterlife is almost as long as the cast list itself. It remains to be seen as to whether Jeremiah's death is permanent, or if he even died at all following Selina's attack, but in either case, it feels like Gotham's Joker still has an ace up his sleeve.