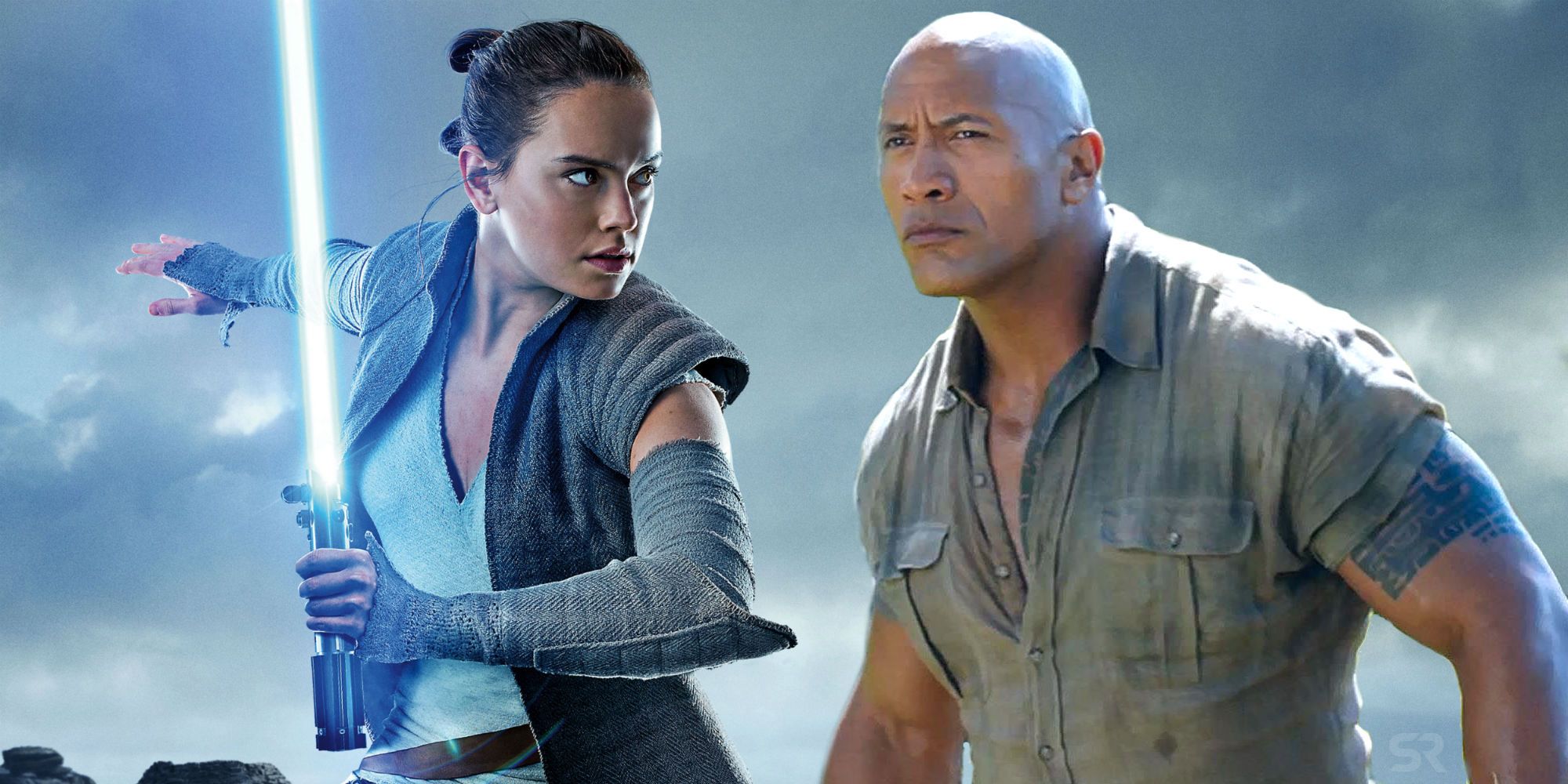 J.J. Abrams' Star Wars: Episode IX may be facing some serious competition at the box office next year, as the Dwayne Johnson-starring Jumanji 3 is now set to release just one week earlier, on December 13, 2019. If we'd heard this news a year ago it would have seemed like box office suicide for Jumanji 3, but the massive surprise success of Jumanji: Welcome to the Jungle means that perhaps it's Disney who should be worried.
Welcome to the Jungle, which was a loose sequel to the 1995 movie, was released in December 2017, just one week after Star Wars: The Last Jedi. While the Jumanji sequel scored a modest $36 million opening weekend, it went on to have legs as powerful as Dwayne Johnson's, grossing a staggering $961 million worldwide by the end of its run.
Related: No, Disney Isn't Killing Star Wars
We already knew that Jumanji 3 was targeting a 2019 Christmas-time release, but (to borrow Johnson's phrasing) planting the flag so close to Star Wars 9 is still a bold move. It may well have been influenced in part by the recent release of Solo: A Star Wars Story, which became the first ever Star Wars movie to flop at the box office. With Solo proving that the Star Wars brand isn't the unstoppable juggernaut that it was previously assumed to be, Sony may have been emboldened to challenge Star Wars 9 at the coveted holiday box office.
On the other hand, the release date may simply be an attempt to get out ahead of Star Wars 9 and score the big opening weekend that Welcome to the Jungle didn't quite manage. Sony may, understandably, be working on the assumption that Jumanji 3 won't have the same legs that the previous movie did, and will therefore need to be more top-heavy in order to see similar success.
While counter-programming can allow very different movies to peacefully co-exist at the box office, Jumanji 3 and Star Wars 9 are both family action-adventure movies with four-quadrant appeal and a nostalgia factor for adults. Star Wars 9 has the weight of the franchise's mega-popular brand behind it  – not to mention being the final chapter in a trilogy – but Jumanji 3 has Johnson, who is a mega-popular brand unto himself. Though Star Wars 9 is virtually guaranteed to have a massive opening weekend no matter what, there's a chance that Jumanji 3 could put a dent in it.
On the other hand, Jumanji 3 releasing ahead of Star Wars 9, rather than after it, may actually be good news for Disney. Though it scored a predictably huge opening weekend, The Last Jedi had the biggest Friday-to-Friday drop of any Star Wars movie, and grossed more than a third of its domestic total in its opening weekend. Strong competition from Welcome to the Jungle and The Greatest Showman (which is still in theaters, and grossed nearly $87,000 over the last weekend) contributed to The Last Jedi's rapid drop-off, so it may benefit Star Wars 9 to have its biggest rival release beforehand, rather than taking the wind out of its second weekend.
It's hard to say which of these two blockbusters is most at risk of being cannibalized when neither of them have even started filming yet. Johnson has said that Jumanji 3 writer/director Jake Kasdan has come up with a "dynamite pitch" for the sequel, though, and given how well the last Jumanji movie performed, Disney can't afford to be complacent.
The post Will Jumanji 3 Hurt Star Wars 9 At The Box Office? appeared first on ScreenRant